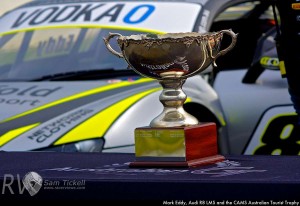 We were able to catch up with Mark Eddy, former Australian GT Champion and after Phillip Island, the 2011 Vodka 0 Australian GT Championship leader and winner of the 2011 CAMS Tourist Trophy.  With the Championship heading to Bathurst this weekend for round 6 of the 7 round calendar, Mark has the momentum to try for his second Australian GT Crown.
Hi Mark, thanks for joining us, a great weekend at Phillip Island, can you take us through the weekend from your point of view?
Yeah, we got pole position that got the weekend off to a really good start.  The concept of having 75 seconds, then 5 seconds down for each grid slot (the pole man had a mandatory 75 second pitstop, 2nd had a 70 second stop etc) made for an interesting weekend.  The first race was fantastic and getting second in the second was fantastic.  The weekend was more about doing well for the Championship, which we did.  The guys at Melbourne Performance Centre did a great job on the strategy and the tyre selection was really good.
You now have a couple of race wins with the Audi R8 LMS – you seem to really have that car sorted now.

Yeah, it has taken us a while but we have it now.  The information we were able to get from Germany when we did the 12 Hour with the German Audi guys along with Craig Lowndes and Warren Luff, really gave us some good technical data.  The car is really sorted now and we are really happy with it.
You have are the latest name to be added to the CAMS Australian Tourist Trophy after your Eastern Creek and Phillip Island – must be an honour?
It's a bit embarrassing actually!  To have my name on there – there are some real legends on that trophy, with Sir Stirling Moss being the inaugural winner.  It is an honour to be on it and I am really taken by it.
 The car is really sorted now and we are really happy with it.
 The remainder of the season – all out attack?
Yeah I think it will be all out attack now.  With Bathurst and Sandown – the Championship is really close.
Looking to next year, what are the plans? Will you be a part of the Phoenix Audi effort at the Bathurst 12 Hour?
I will be running in that squad.  It looks like it will be Lowndes, Luff and myself again and we really want to win it.  We came so close last year but that puncture ended our charge.
Other plans to do major races and the Australian GT?
At the moment we are planning on the Australian GT.  We will see three of four Audis out here next year for the Championship.  That will make it really interesting and hopefully we will see a lot of other new cars.  It will be exciting next year.
Thanks Mark – best of luck for the remainder of 2011
Cheers
Interview and article (c) Sam Tickell, September 2011.
For more information on the Championship, visit www.australiangt.com.au