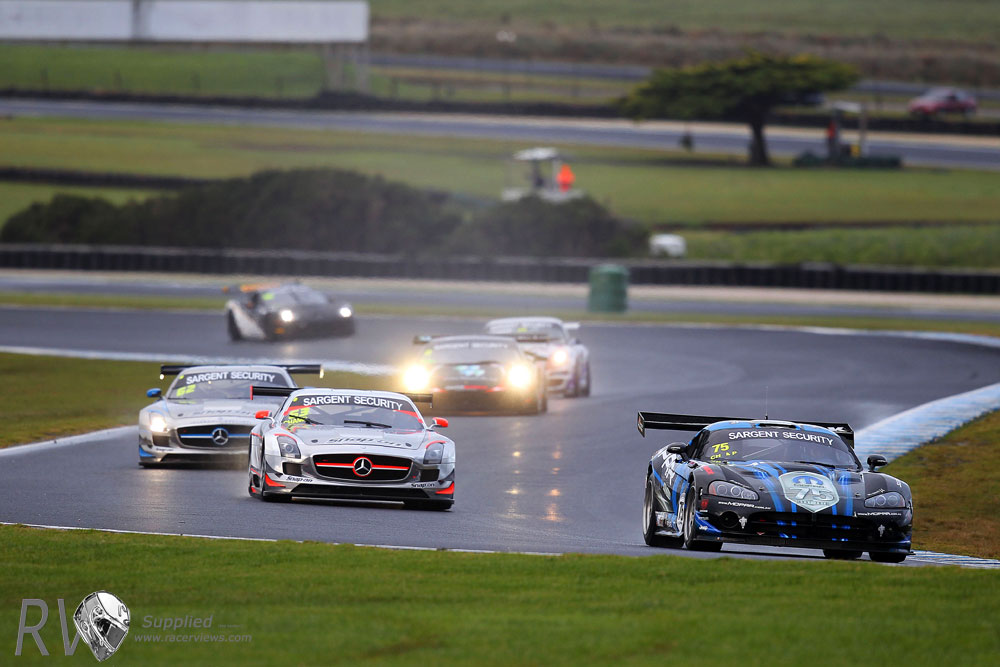 Round 2 of the Sargent Security Australian GT Championship was held at Phillip Island over the weekend.  Run in wet and changing conditions, the drivers had their work cut out for them.  The Erebus Racing team scored a 1-2 in the first race with Greg Crick in his Mopar Dodge Viper winning race 2.
In the Australian GT Championship, qualifying points are awarded but the further up you qualify, the more time you spend in the pits for your compulsory pitstop – something which Greg had to battle against through the weekend.
We talk to Greg about his round win, the challenging conditions and those pitstop rules.
A full race recap is available on the SpeedTV website.
Hi Greg, thanks for speaking with us.
A good weekend in trying conditions, particularly with you win in race 2.
Yeah, Friday was the same for everyone with a washout.  We got one or two laps, and then we got one lap in qualifying – so it was a bit of a mess too.  Come the race on Saturday, we changed our to get a good wet setup and we also used an old set of wets, as I know we were going to trash them – if the track was to dry out, which it did.  Changing the car setup and not using a new set of wets probably cost us a little bit.
The thing that really cost us on the Saturday was Klark Quinn only qualifying 12th and therefore having a much shorter compulsory pitstop time.  He then came out in front of me after the pitstops and as they cut the race short – it really cost us a podium position.  Apart from that the car was good.
On Sunday morning we changed the setup and I did one lap in the warm up and on new tyres the car felt good, so we left it at that.  We started the race in the dry.  I knew straight away the car was good – it was turning beautifully – it just felt nice.  After about four or five laps, I could put the pressure on the Mercedes.  They started to squirm and coming onto the straight I could slipstream them. I had a couple of goes to pass them before I got it done but I was able to get past going into turn one.
My car remained very good, we looked after the tyres very well.  Allan Simonsen did catch me and I had nothing for him.  That Ferrari is amazing – so there was nothing I could do about him.  The rest of the race was quite interesting.  When we got the safety car – the board came out just after the pit exit, so I had to do another lap.  Race Control fortunately sorted it out.  After that, it was a matter of survival.  Ben Eggleston had a short pitstop too and came out in the lead, so I had to do the job on him, which wasn't easy.  He was driving very well and his car was good.  It was still damp in places too which made for an exciting finish.
With the qualifying and pitstop rules, where you have a longer pitstop if you qualify higher – is that now a tactical consideration for the drivers?
It is for some people.  I don't do it.  Every time I get in the car I drive as fast as I can.  I don't agree with it but I think some people are taking advantage of it.
There is no way that you can catch up 30 seconds on a race track but it is easy to do it in the pits now.  So it opens up a floodgate.
The way to fix it is to give full race points in qualifying or cut down the penalty in qualifying.
As we saw with the Ferraris – they went to the back but they were quick.
It is hardly a penalty.  You get sent to the back but then you get a much shorter pitstop – so in essence, it is a non-penalty.  You gain 30 seconds in the pitstop by going to the back, so it's hardly a penalty.  I am sure they will look at these issues and address them.  They [GT Championship management] are aware of them.  I think it is a good idea to make it more competitive.  I think that people taking advantage of it by taking a lowly qualifying position is just wrong.  If you get a penalty, you should go to the back but keep the original pitstop time.
…it was a matter of survival.  Ben Eggleston had a short pitstop too and came out in the lead, so I had to do the job on him, which wasn't easy.
You still have the pace.
That's true. You don't lose the pace just because you got penalised.
Now looking at the next round in Winton – a tight track, conditions will most likely be cold – are you confident?
Yeah, it won't be an ideal track for our car with the tight and twisty stuff.  We don't have traction control so getting out of the slow corners – we will give a fair bit of time away.  Getting out of the slow corners, compared to the Mercedes or even Klark's Porsche – and those with the traction control.  We do give a bit away but I think when we go to Eastern Creek we will be a lot better off with a fast and flowing track.
Thanks Greg and congratulations again.
Thanks.
—
Interview by Sam Tickell, May 2012
Photo courtesy of Nathan Wong/www.thenationals.com.au 
RacerViews was established in 2011 and with the aim of delivering a new web experience to motorsport fans.  We bring exclusive interviews and photos from motorsports finest drivers of yesterday, today and tomorrow.  Our team of photographers, writers and driver has decades of experience in the motorsport field.  With a heavy presence on Facebook,  iTunes , Pinterest and Twitter where we have over 2900 followers,  our mission to bring exclusive content is in safe hands.  We have partnered with motorsport teams like Stig Richards Motorsport, One of a Kind Motorsport, Dark Horse Racing, Andreas Wirth Racing and MRT Performance in order to give you the best exclusive motorsport coverage.
We are always looking for new people to join our team.  If you are a motorsports photographer or journalist looking for additional exposure or a great place to learn your trade, contact us