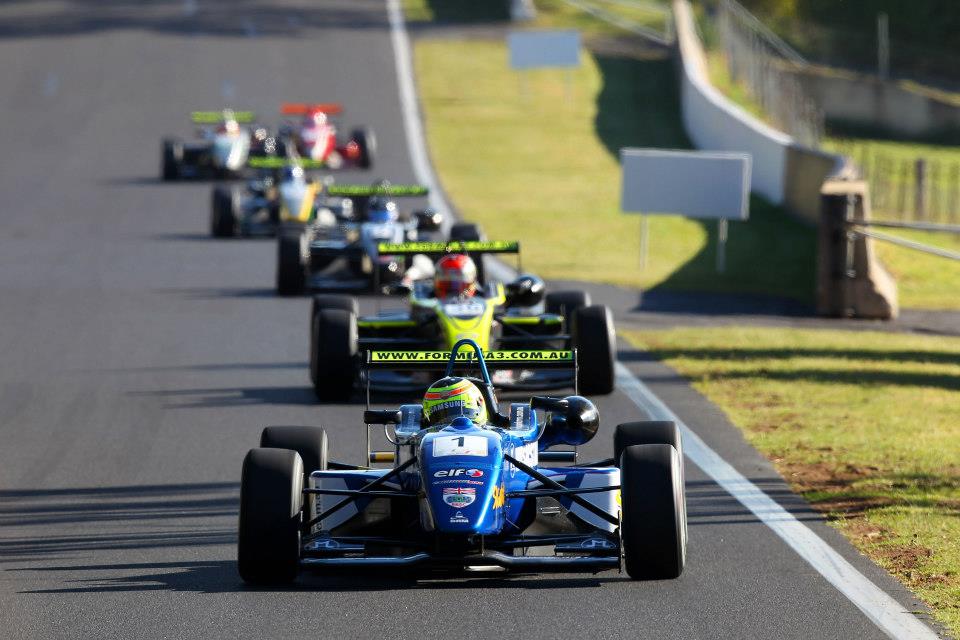 James Winslow took to the grid at Bathurst in the Australian Formula 3 Championship with the #1 on the front of his car.  The 2012 Champion was quick at Bathurst, taking a win and a second – but his win came in controversial circumstances after a final lap clash with Steel Guiliana.
James was eager to tell his side of the story, along with taking us through his weekend.  It is an interesting story and we will leave it to you to decide who, if anyone was in the wrong in the Winslow/Guiliana incident.
He continued to tell us about his future ambitions – figuring that four F3 titles won around the world is enough – despite still enjoying driving an F3.
We also talked to James last year about his F3 Championship.
The Australian F3 Championship will take place over seven rounds in 2013.
Click here to download the interview with James Winslow (right click and save as)
Click here to subscribe to RacerViews iTunes channel
For more information about James, visit his Facebook page.
—
Interview by Sam Tickell, April 2013
RacerViews was established in 2011 and with the aim of delivering a new web experience to motorsport fans.  We bring exclusive interviews and photos from motorsports finest drivers of yesterday, today and tomorrow.  Our team has over 30 years of experience in the motorsport field.  With a heavy presence on Facebook, Twitter and iTunes where we have over 2800 followers,  our mission to bring exclusive content is in safe hands.  We have partnered with motorsport teams like Stig Richards Motorsport, One of a Kind Motorsport, Dark Horse Racing and MRT Performance in order to give you the best exclusive motorsport coverage.
We are always looking for new people to join our team.  If you are a motorsports photographer or journalist looking for additional exposure or a great place to learn your trade, contact us