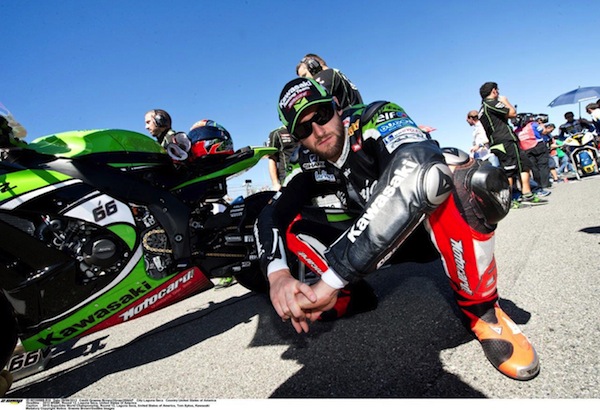 As the World Superbike Championship title race heats up, the field went to Laguna Seca over the weekend. In a battle between Kawasaki's Tom Sykes and the two Aprilia riders, it came out near on evens, producing a tight title race in the tail end of the season
Aprilia certainly had the pace at Laguna Seca – superfast in qualifying…and the race

Great #wsbk #Superpole at Laguna Seca: Sylvain is 1st and Eugene 3rd! pic.twitter.com/tj4cyDosqt

— Aprilia (@ApriliaOfficial) September 28, 2013
The race 2 win for Aprilia was super-important for their championship
Eugene Laverty took a spectacular victory in the final race at Laguna Seca to keep the championship alive. #WSBK pic.twitter.com/esV57f0doX

— Paddock Spy (@PaddockSpyUK) September 30, 2013
As a solid weekend including a win for Tom Sykes saw him extend his championship lead with just 2 rounds left
Tom Sykes wins the first race at Laguna Seca to widen his championship lead #WSBK pic.twitter.com/yypBolfr2v

— Paddock Spy (@PaddockSpyUK) September 29, 2013
It was a round where the wildcards made their presence known
@rogerhayden95 good showing in race 2. Hopefully you can land a good WSBK ride for '14 if you're looking that way.

— Douche McGee™ (@Douche_McGee) September 30, 2013
And some Aussie humour
We made this sign for the grid at #WSBK Laguna Seca, USA. Using cultural differences to make a joke? yeah, that's me. pic.twitter.com/unHA4Obage

— Tom Reynolds (@thomasrdotorg) September 29, 2013
Where something like this just seemed normal for the weekend
Was I the only one shocked by Champagne being necked after #WSBK race one? Is that a first?

— Jared Earle (@jearle) September 28, 2013
Harsh but Michel does need to reach the line more…
I don't want to curse him, but so far, this is the furthest Michel Fabrizio has been into a WSBK season without crashing in a race…

— Oli (@Oli_Rushby) September 29, 2013
Crash are always great for their video content
Laverty takes close race two win – VIDEO HIGHLIGHTS http://t.co/jMv8XbujPT #WSBK pic.twitter.com/u2YfbU0K3l

— Crash.Net (@CRASH_NET) September 30, 2013
Agreed
Before I finish my weekend WSBK report, one comment on GPs: If Marquez is penalised, MotoGP potentially gets boring. Close racing is racing.

— Jared Earle (@jearle) September 30, 2013
2 rounds to go, the race is tight – who is your tip?
#WSBK championship standings after Laguna Seca pic.twitter.com/i5U4FzEBfb

— Moto Race Feed (@MotoRaceFeed) September 29, 2013
—-
By Sam Tickell, September 2013
RacerViews was established in 2011 and with the aim of delivering a new web experience to motorsport fans. We bring exclusive interviews and photos from motorsports finest drivers of yesterday, today and tomorrow. Our team has over 30 years of experience in the motorsport field. With a heavy presence on Facebook, Twitter and iTunes where we have over 2800 followers, our mission to bring exclusive content is in safe hands. We have partnered with motorsport teams like Stig Richards Motorsport, One of a Kind Motorsport, Dark Horse Racing and MRT Performance in order to give you the best exclusive motorsport coverage.
We are always looking for new people to join our team. If you are a motorsports photographer or journalist looking for additional exposure or a great place to learn your trade, contact us