Scroll down for our exclusive interview with Mark Pedder!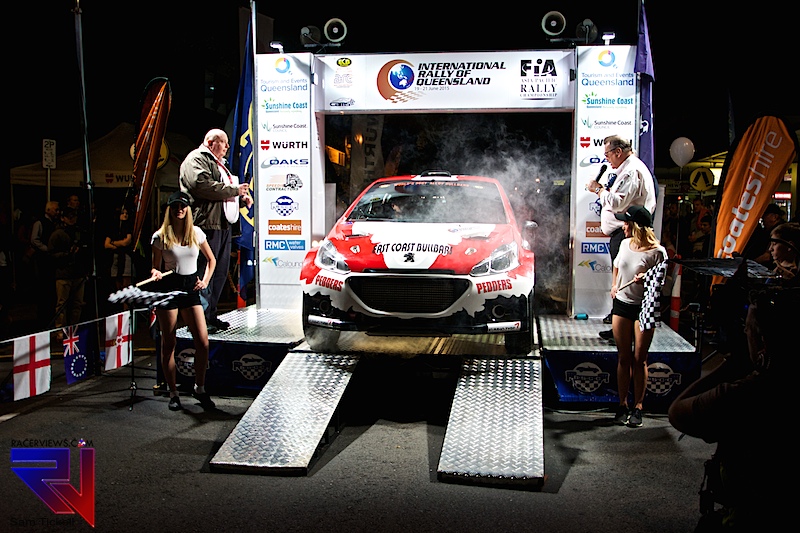 One of the absolute crowd favourites at the International Rally of Queensland was Mark Pedder's Peugeot 208 Maxi. A new car to Australia in a class that returns 4WD to Australian rally for a new age of car.
It was a successful outing for the Peugeot – taking the 4WD win in its only its second rally (its first was truncated by some mechanical issues). Pedder has, in the past rallied Mitsubishi Evo and a Honda Jazz and as a result, he has experience of both the 2WD and front wheel drive in his recent and top line rally career.
As we find out in this interview he rates this car as one of the best he has driven, though it has a way to go in its development and reliability in this country.
But what it does, is bring a new affordable rally solution to the country – one of the key facts is that it uses a lot of common parts and as Mark explains in the interview, no matter if you want to run a Peugeot, Ford or any other car, they use common parts. This controls the cost and brings an important element back to Australian rallying – a common marketplace. This is important as parts become easier to come by and price is controlled.
Needless to say, he enjoyed IROQ and is looking forward to the future with the car -and will be running up against his brother – Scott Pedder in WRC Rally Australia in the WRC2 category – so it will be exciting to see how this Maxi Peugeot goes when up against a WRC2 Ford Fiesta…
Learn about the car, and Mark's rally in the interview below…
Download this episode (right click and save)
Click here to subscribe to RacerViews iTunes channel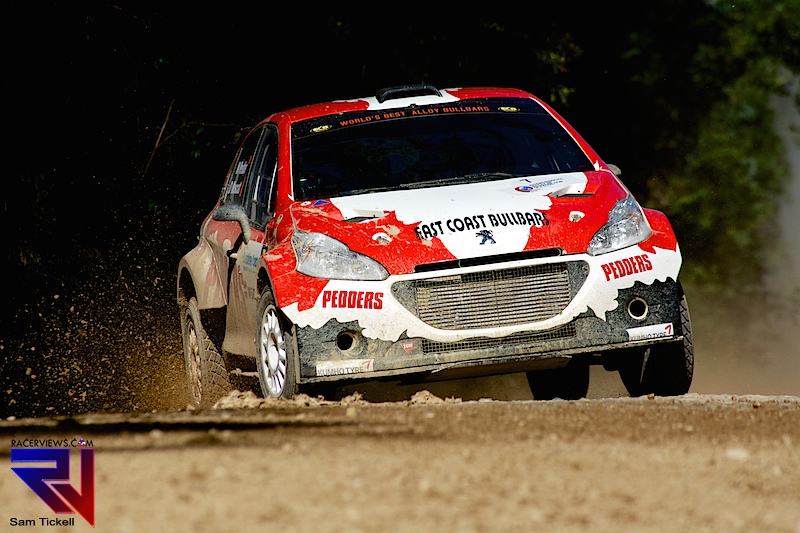 By Sam Tickell, June 2015
RacerViews was established in 2011 and with the aim of delivering a new web experience to motorsport fans. We bring you more than just the news.  Our exclusive interview and galleries brings you the views from the track, from the racers. Our extensive race review collection allows you to keep up with the action from around the world. Our team of passionate pros have decades of experience in the motorsport field. Our social media presence on Facebook, Twitter and iTunes  bring you more, a holistic experience.  We have more than 3100 followers on Twitter and more than 1.5million views on Google Plus.  Our mission is to bring exclusive content is in safe hands. Over the time we have partnered with motorsport teams like Andreas Wirth, Stig Richards Motorsport, One of a Kind Motorsport, Dark Horse Racing and MRT Performance in order to give you the best exclusive motorsport coverage.
We are always looking for new people to join our team. If you are a motorsports photographer or journalist looking for additional exposure or a great place to learn your trade, contact us