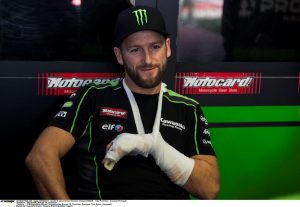 Tom Sykes (Kawasaki Racing Team) has undergone surgery on the fracture he sustained on his finger following his crash on Saturday in Portugal. The operation took place on Sunday (17th September) at the iMove Traumatology centre of the Mi Tres Torres Clinic in Barcelona and a rapid, favorable recovery is expected.
KRT rider Sykes suffered a tough crash in FP3 at round 10 of the season at turn 9 of the Portimao track, resulting in a displaced fracture of the little finger of his left hand and fissures of the fourth finger of the same hand and the left wrist.
The operation at the Mi Tres Torres Clinic to repair his left hand and wrist lasted less than two hours and was performed by Doctor Jordi Font Segura and Doctor Enric Domínguez, of the Hand and Elbow Unit of iMove.
"We undertook surgery which consisted of the osteosynthesis on the fifth finger of the left hand, where a plate was placed," explained Dr. Font. "Tom will stay in for 24 hours for post-surgery observation and medical treatment, and during the next week, a new check-up will be performed. Also with a scan, we have confirmed that Tom had a fissure in the fourth finger of the left hand and in the left wrist. The recovery period depends on the rider and in the best case scenario he can return to competition soon."
Sykes stated post-surgery: "I have had an operation and the doctor seems to be happy with how it went. Obviously it was a nasty break and basically snapped the little finger clean in half, so it was more than a dislocation and he found a couple of other things in the hand as well – a crack in the finger next to it and a crack on the radius on the wrist. I have had that injury before and raced with it four days later in Australia, so I have been able to race with a broken wrist before. We will see what happens from now on, and see how the fingers get on in the next few days."