Willowbank Raceway, in its 30th year of Drag Racing, is going strong, judging by participation rates at the recently held Spring Thunder meeting.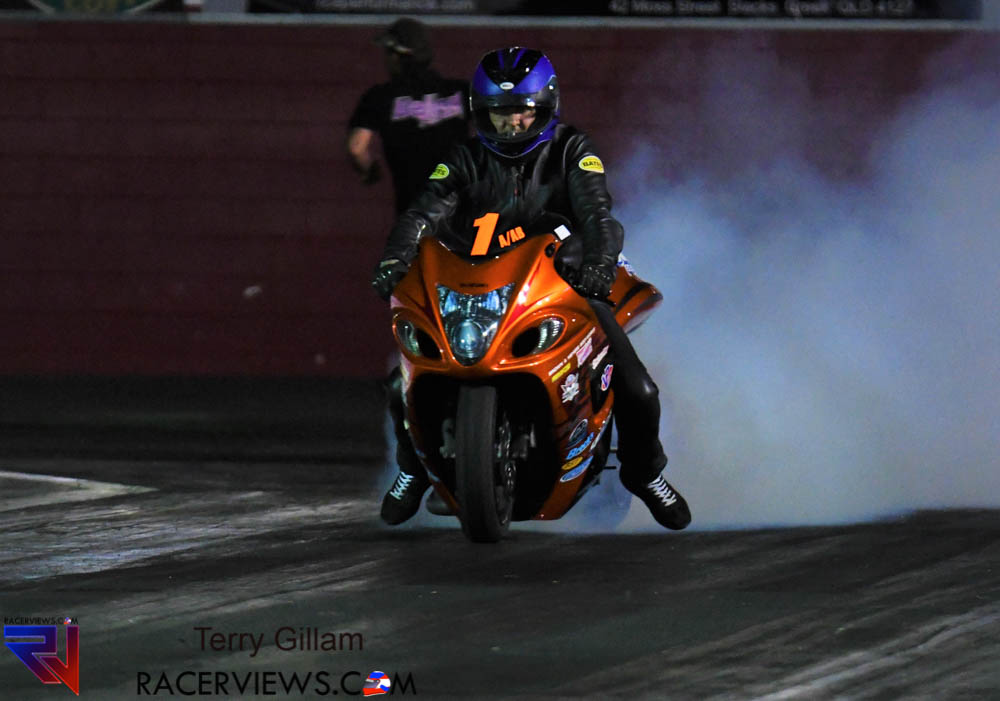 Coming under the umbrella of 400 Thunder Australian Professional Drag Racing (APDR) Spring Thunder gave racers in a number of categories a chance to blow the cobwebs out before the Christmas/New Year period.
By no means was this a high profile meeting, but try telling that to eventual winner of the Night Sini Sveiger (8.36 sec)in his blown Torana Hatchback or runner up Stew Walsh in his fantastic looking Camaro. These guys are running in a category called Sedan Rumble, and the name is very appropriate.
Other winners on the night included a young female racer Nicole Doeblien with an (7.55 sec ) pass defeating Kellie Kidd who broke out beating her nominated (8.06 sec) with an outstanding (8.04 sec) handing the trophy to Doeblien. All of the cars were superbly turned out on the day by owners, drivers, family members and volunteer pit crew.
At this level of racing there are no professionals, just a professional attitude towards their passion for going fast in loud cars. These racers travel far and wide to compete at these meetings. This is grass roots motorsport, the competitors would not be doing anything else with their lives on this Saturday afternoon, they are Drag Racers. They have exhaust fumes running through their veins. They will do anything to get to the races. The stage is set, lets go racing.
A massive entry list for Competition Bike and Modified Bike the riders didn't disappoint and some fast times were posted including a 200 MPH pass by Comp Bike Runner up Brandon Gosbell with the category winner Peter Puznik running his Comp Bike down the runway in (7.86 sec). The biggest surprise to me was how big a burnout the riders do to warm their tyres up before a race. Better to run on very hot tyres apparently.
The next high profile meeting will be held at Willowbank on the 6th of January with the big boys and girls coming to town for New Years Thunder Party. Local top Fuel competitor Kelly Bettes and Peter Xiberras will be supported by another category called Supercharged Outlaw, should make for some outstanding racing.
Kelly Bettes is the first Australian woman to crack the 500km/h mark in Australia and she achieved that speed at a test day on her home track Willowbank Raceway. This meeting apart from the famous Winternationals (July 2018) is one of the biggest on the Queensland Calendar.
I look forward to bringing www.racerviews coverage from 400 Thunder events in 2018.
The RacerViews info
Photos by Terry Gillam  November 2017
RacerViews was established in 2011 and with the aim of delivering a new web experience to motorsport fans. We bring you more than just the news. Our exclusive interview and galleries brings you the views from the track, from the racers. Our extensive race review collection allows you to keep up with the action from around the world. The team of passionate pros have decades of experience in the motorsport field. Our social media presence on Facebook, Twitter and YouTube bring you more, a holistic experience. We have more than 3100 followers on Twitter and more than 2 million views on Google Plus. Our mission is to bring exclusive content is in safe hands.
Our commitment to motorsport can be seen with unrivalled coverage of the Queensland Rally Championship. Additionally, over the time we have partnered with motorsport teams like Ben Gersekowski, Andreas Wirth, Stig Richards Motorsport, One of a Kind Motorsport, Dark Horse Racing, Nat Rallysport and MRT Performance in order to give you the best exclusive motorsport coverage.
If you have a motorsport story to share contact us!