Wayne Taylor Racing Captures Motul Pole For Rolex 24 At Daytona
With everyone on pit road watching the scoring monitors from the edge of their seats, Wayne Taylor Racing's Renger van der Zande stole the Rolex 24 At Daytona Motul Pole Award from Acura Team Penske and Helio Castroneves on the final lap of the 15-minute qualifying session Thursday at Daytona International Speedway.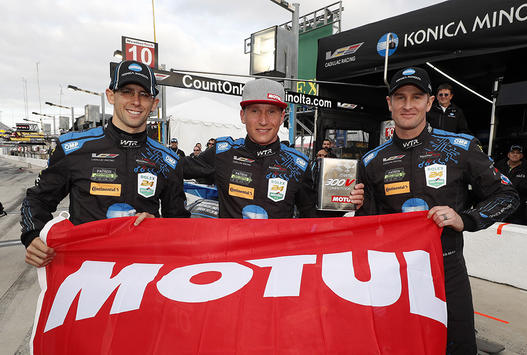 Van der Zande's lap of 1:36.083 (133.378 mph) edged Castroneves by 0.007 seconds as time expired. Van der Zande joins defending Prototype champion Jordan Taylor in the No. 10 Konica Minolta Cadillac DPi-V.R. this season and will be joined in the Rolex 24 by IndyCar star Ryan Hunter-Reay.
Ironically, Castroneves' teammate this season is Jordan Taylor's former co-driver and older brother Ricky Taylor.
"Stepping up to Prototype class and getting promoted to the championship team, these guys expect a lot from you," van der Zande said. "I think that's why these guys are champions. I can't thank this whole team and crew enough. Being here feels incredible. I didn't expect to grab this pole. They waited until I was in turn 5 before they told me I was on the pole and I was over the moon. I thought it was a good lap. I thought I overshot on turn 5, so I floored it and managed to get the car going, maybe that's what did it, but I made it."
Castroneves moves to the IMSA WeatherTech SportsCar Challenge full-time in 2018 following a sure fire Hall of Fame career in open-wheel competition. He'll start from the second position in the team's debut of the No. 7 Acura DPi.
"I did everything I could," he said. "Unfortunately, just got beat by .007 seconds.  Nothing you can do about that. It's ok though. We looked strong. The guys are going to have to fix a couple of things on the car because I was pushing it really hard.
"But we are starting on the front row, which is a pretty big deal.  It's a good start for our team.  We have a lot of things to learn still, but really happy for Acura Team Penske and all of the guys. We've worked hard to get to this point and we have a few more practices to fine tune it for Saturday."
Two-time Formula One world champion Fernando Alonso, who is making his IMSA debut this weekend, qualified 13th in the No. 23 United Autosports Ligier LM P2. Despite the qualifying position, Alonso knows he and co-drivers Lando Norris and Phil Hanson have plenty of time to make it up.
"Normally I have 60 laps or 70 laps to recover what I may have done in qualifying, and on Saturday we have 24 hours," he said. "The qualifying was not the key point of this weekend hopefully."
The top 13 cars in the Prototype class were separated by less than one second.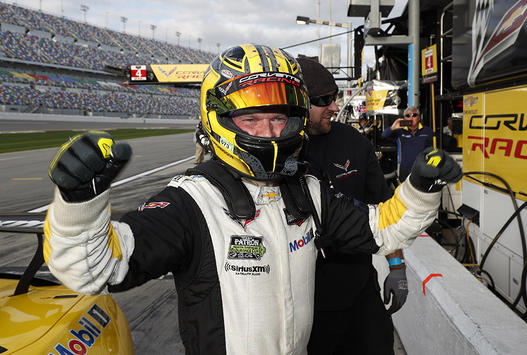 Magnussen Scores 20th Pole to Kick Off 20th Anniversary Season for Corvette Racing
As Corvette Racing celebrates the start of its 20th season at this weekend's Rolex 24 At Daytona, Danish racer Jan Magnussen fittingly earned his 20th career IMSA pole position in a hard-fought IMSA WeatherTech SportsCar Championship qualifying session Thursday afternoon.
Driving the No. 3 Chevrolet Corvette C7.R, Magnussen posted a best lap of 1 minute, 42.779 seconds (124.688 mph), beating defending Rolex 24 At Daytona GTLM winner Joey Hand to the pole by a scant, 0.019 seconds. It was the fourth WeatherTech Championship pole for Magnussen, who also earned four poles in the GRAND-AM Rolex Sports Car Series and 12 in the American Le Mans Series.
Magnussen and co-driver Antonio Garcia are the defending WeatherTech Championship GTLM class champions. They will look for their second GTLM win in the Rolex 24 alongside their endurance racing teammate, Mike Rockenfeller.
The race, which begins at 2:40 p.m. ET, will be televised live on FOX network beginning at 2 p.m. ET Saturday, with 25 hours of continuous streaming also available in the U.S. on the FOX Sports Go app. IMSA Radio also will have complete coverage on IMSA.com, as well as on SiriusXM Radio (Sirius Channel 138/XM 202/Internet App Channel 972).
"I have to say, I'm a little bit surprised by the results," Magnussen said. "Nobody on the team thought we could go for pole, but the lap came together fantastically. On top of that, I had a great big tow from my teammate and he didn't mess with me.
"It's a lot faster, a better time, than we've done before. It's a good feeling for the team to have the pole position. It means a lot today, but tomorrow it doesn't mean anything. It does pump the team up going into the race."
Hand qualified second in the No. 66 Ford Chip Ganassi Racing Ford GT with a best time of 1:42.798 (124.665 mph). He was the fastest qualifier for pit and garage selections at the Roar Before the Rolex 24 At Daytona three weeks ago and is looking for a second consecutive Rolex 24 win along with his teammates, Dirk Mueller and Sebastien Bourdais.
Laurens Vanthoor made it three different manufacturers in the GTLM top three with a best lap of 1:42.927 (124.509 mph) in the No. 912 Porsche 911 RSR for the Porsche GT Team. Vanthoor and teammates Earl Bamber and Gianmaria "Gimmi" Bruni are looking for their first Rolex 24 victory this weekend.
Patrick Pilet made it two Porsches inside the top five in GTLM with a best lap of 1:43.062 (124.346 mph) in the No. 911 Porsche 911 RSR, good for fourth on the class grid. Ryan Briscoe rounded out the top five at 1:43.091 (124.311 mph) in the No. 67 Ford GT.
The top seven cars in the GTLM field were covered by slightly more than eight-tenths of a second in qualifying.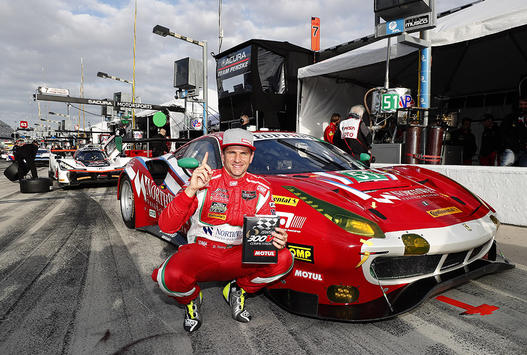 Serra Scores GTD Motul Pole Award for Ferrari
The Rolex 24 At Daytona always brings a variety of race cars from all over the world in addition to the full complement of full-time IMSA WeatherTech SportsCar Championship competitors. In GT Daytona (GTD) class qualifying for the Rolex 24, it was one of those international teams that came away with the pole position for this weekend's race.
Daniel Serra posted a best lap of 1 minute, 46.049 seconds (120.844 mph) in the No. 51 Spirit of Race Ferrari 488 GT3 to earn the top starting spot in the GTD class. It was Serra's second career WeatherTech Championship pole, the first coming in the GT Le Mans (GTLM) class at Mazda Raceway Laguna Seca in 2016. He and co-drivers Paul Dalla Lana, Pedro Lamy and Mathias Lauda go in search of their first Rolex 24 At Daytona victory in 2018.
"The car was really, really good," Serra said. "This morning I did just a few laps and the balance was just not there. Our engineer did a few changes and the car came back really good. I'm really happy. I had a little bit of a tow on that last lap, so yeah, I'm really happy."
GTD will feature an all-Ferrari front row, as Miguel Molina placed the No. 82 Risi Competizione Ferrari 488 GT3 second on the grid with a best lap of 1:46.502 (120.330 mph). The longtime GTLM team has expanded to the GTD class at the Rolex 24 to field the entry for Molina and co-drivers Ricardo Perez de Lara, Martin Fuentes, Santiago Creel and Matt Griffin.
Mirko Bortolotti qualified the No. 11 GRT Grasser Racing Team Lamborghini third in the GTD session, but the car will be moved to the rear of the class grid after the normally aspirated race car failed a required stall test in post-qualifying technical inspection.
As a result of the penalty, Jack Hawksworth was moved to third on the GTD grid with a best lap of 1:46.714 (120.091 mph) in the No. 15 3GT Racing Lexus RC F GT3. Hawksworth's teammates this weekend include David Heinemeier Hansson, Dominik Farnbacher and Rolex 24 legend Scott Pruett, who will retire as a driver following this weekend's race.
Pruett is going for his 11th Rolex 24 class win, which would extend his own record. He is tied with Hurley Haywood for most overall Rolex 24 victories with five, and he's the all-time win leader in IMSA competition with 60 career victories.