Heat 1
Toyota Genuine Parts' Harry Bates has taken out heat one at the Courier Eureka Rally in Ballarat today.
Bates, with co-driver John McCarthy, led from start to finish, claiming five stage wins along the way and finishing 15 seconds clear of Contel Communications' Steve Glenney in second.
Bates said it was a big relief to finally have the first win in the Toyota Yaris AP4.
"It's been an amazing day," he said.
"At this point I owe a lot to the team who put a lot of work into this car and stayed really determined even though it's been difficult.
"It wasn't an easy day by any stretch, we still have a lot to learn with the car but it was a pretty good day."
Glenney, who made a late switch from co-driver to driver this week, wasted no time settling in to the Subaru Impreza WRX Sti. With co-driver Michael Potter, the pair were never lower than third fastest on today's stages and set the fastest time on the final stage of the day.
"I was fortunate enough to sit in the other seat in the car last year so handling wise it translated really well," he explained.
"I just tried to keep it really clean…just tried to find the rhythm, get the technique right in the car… we just crept up on it all day."
Tankformers Eli Evans, with new co-driver Ben Searcy, held down third outright, but trailed Glenney by over 50 seconds at days end.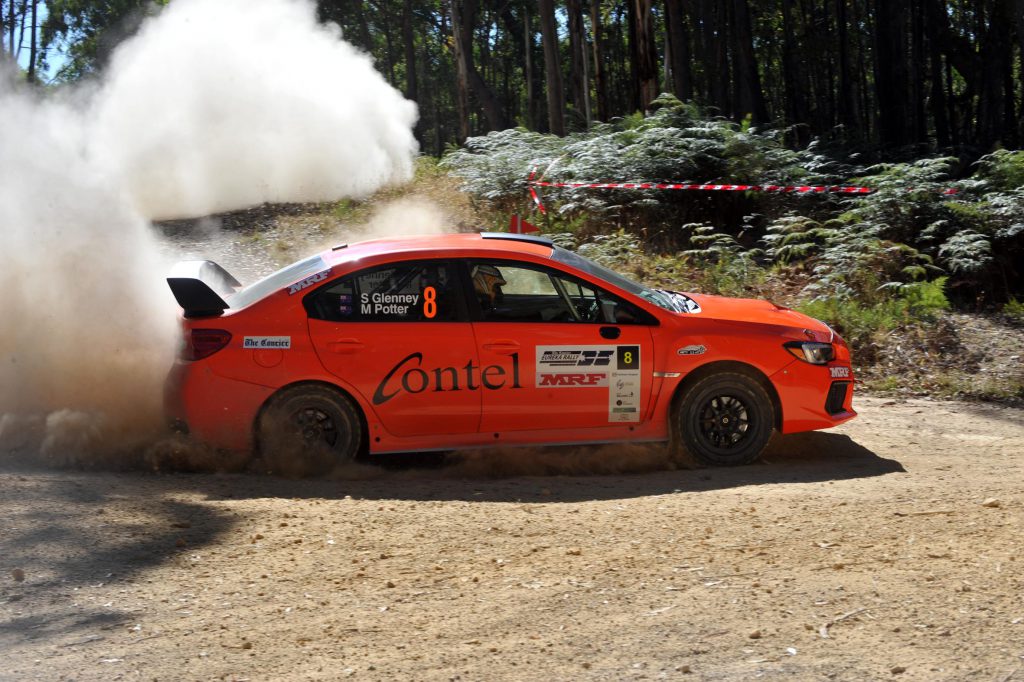 Evans said he felt they were really moving forward with the Mini Cooper.
"We were on the pace, not consistently, but the pace was there which is positive, as it hasn't been in the past," Evans said.
"We've made some really good changes for this event and we will continue to make a few more to see if we can bridge the gap to Harry and Steve, who did an exceptional job today.
"We'll take third today. Are we happy? No, we're not happy until we're winning right? But we'll try again tomorrow."
Neal Bates Motorsport's Lewis Bates delivered a standout performance today, finishing heat one in fourth outright in the Toyota Corolla S2000, campaigned in the past by both his father Neal and brother Harry.
Subaru do Motorsport's Molly Taylor and Malcolm Read made a solid start to the event, the pair sitting in third after the first two stages. However, a flat tyre on stage four saw them lose over three minutes, dropping them to eleventh.
Taylor pushed hard in the closing stages, clawing her way back to fifth position.
Maximum Motorsport's Brad Markovic, with co-driver Toni Feaver, made a strong return to the ARC after a seven-month absence due to back surgery, claiming sixth outright in heat one. He also took out heat one in the ARC2 class.
Glen Raymond and Kate Catford showed glimpses of why they are the current Victorian Rally Champions, consistently setting times to be third and fourth fastest on this afternoon's stages. Their heat one result was hampered however by this morning's issues, two flat tyres sending them back to the service park early to rectify an issue with the brake system causing the punctures.
Heat 2
Toyota Genuine Parts' Harry Bates and John McCarthy have taken the win at this weekend's The Courier Eureka Rally, giving the Toyota Yaris AP4 its maiden CAMS Australian Rally Championship (ARC) round victory.
Bates took out heat wins on both Saturday and Sunday to claim 11 of 15 stages, finishing heat two 28 seconds ahead of Contel Communications' Steve Glenney and Michael Potter.
The competition on day two of the event was fierce with the top five competitors within two and a half seconds of each other after the first stage.
The victory gives Bates and McCarthy back-to-back wins in Ballarat, alongside claiming maximum points and an early lead in the championship.
"Coming here and winning 11 out of 15 stages certainly exceeded our expectations," Bates said this afternoon.
"If I could have come here and just won a few I would have been happy. So yeah, it's been sort of a dream weekend I guess."
Bates will now look towards round two of the ARC in Western Australia.
"The plan now would be to do some more testing with the car between now and WA," said Bates.
"As far as my driving goes I think I need to work on a couple of areas, but moving forward if we carry this momentum we can keep improving and keep finding more pace."
Steve Glenney made a stellar return to the ARC as a driver after a ten-year absence, claiming second for the round with a string of fast and consistent stage times.
Despite the results, the Tasmanian was a little disappointed with his day two performance.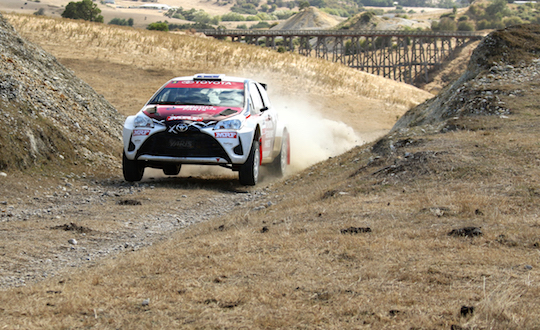 "We didn't get a great run this morning and then this afternoon we stepped it up a little bit and just had some errors…so it probably shows my lack of experience at this level. But you've got to give it a try don't you?," Glenney said.
"It was good to finish second, Harry drove very well, a very mature drive from him. And the guys behind me, Raymo and Eli, were chomping at our heels. So you've got to cut out any mistakes, or they're onto you."
Tankformers Eli Evans and new co-driver Ben Searcy rounded out the podium in their first event together, finishing Sunday's heat in fourth position behind Glen Raymond and Kate Catford but with enough points from heat one to claim third for the round.
While Evans was pleased with the points, he wanted more.
"It's not ideal, I wanted to come here and win. I made that clear at the start but we weren't able to," Evans said.
"I've got some work to do as a driver and car and team, to try and bridge the gap.
"It's a long gap but there's five more rallies to go. To be third overall after the first one, we can't whinge too much about it so we've got to be happy."
Victorian Glen Raymond bounced back after a horror day one, that included two flat tyres and a broken differential, to post the second fastest times in two of the afternoon stages and claim third in heat two.
Subaru do Motorsport's Molly Taylor and Malcolm Read signalled their intentions early by setting the fastest time of the day on stage one, but sustained damage to the Impreza WRX Sti in stage two when she came across a kangaroo.
With damage to the power steering, Taylor was forced to muscle the car through the morning's stages until repairs could be made at the lunch-time service. She was able to salvage sixth in heat two and fifth for the round.
Neal Bates Motorsport's Lewis Bates and Dale Moscatt secured fifth on day two and claimed fourth for the round, giving the Bates family their best ever combined result in the ARC.
In the ARC 2WD championship, reigning champions Adam Kaplan and Aleshia Penny took out the round win by just one point from Jason Lennae and Amanda Ramia. Haowen Chu and Xinan Mao claimed third.
Round two of the CAMS ARC heads to the west for the Make Smoking History Forest Rally on 27-29 April in Busselton.
Visit rally.com.au for all the rally news, results and video.