The GRT Grasser Racing team began their defence of the overall Blancpain GT Series title in perfect fashion at Zolder, with Mirko Bortolotti and Christian Engelhart winning the season-opening race aboard their Lamborghini Huracan GT3.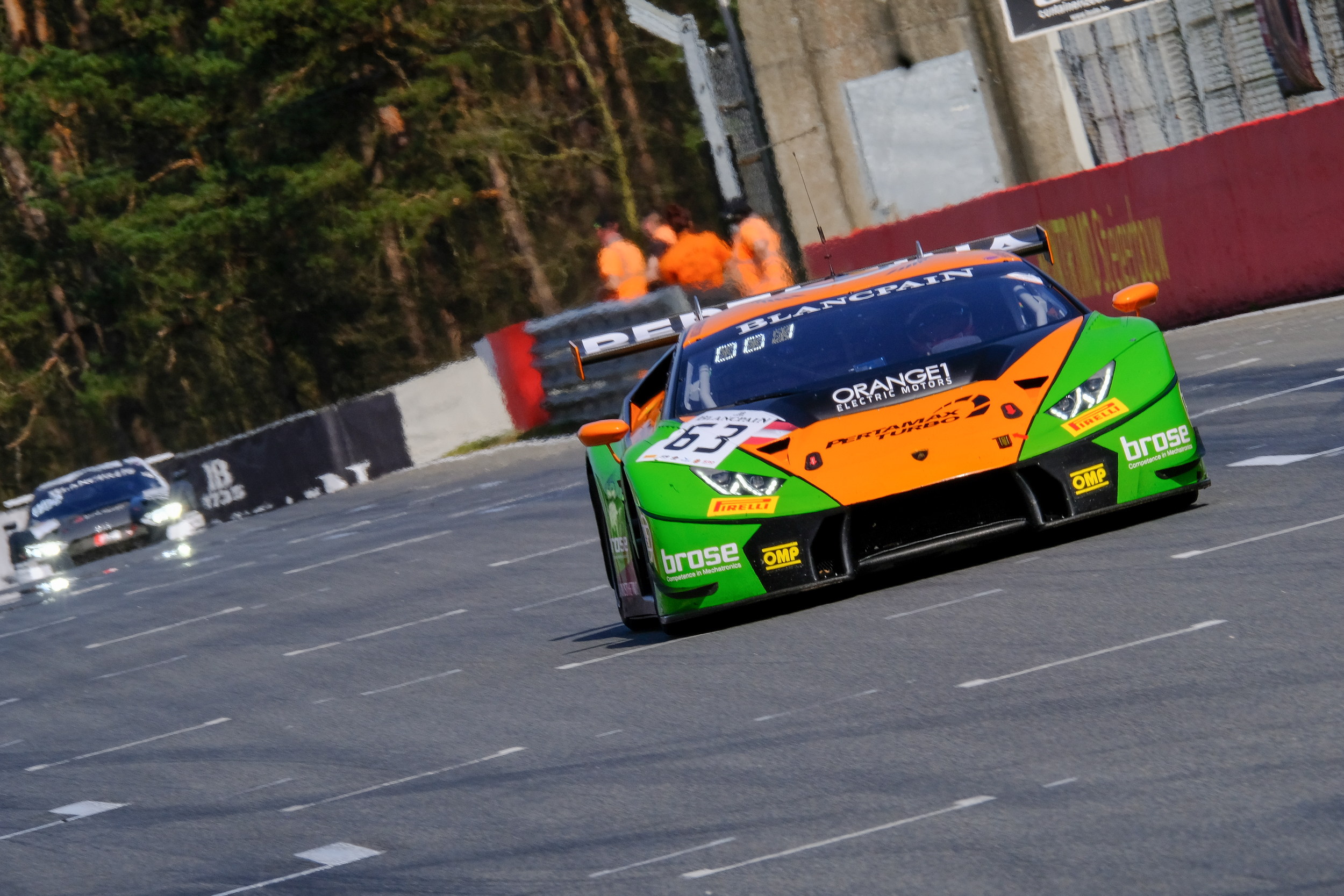 This was a genuine team effort that combined a strong in-lap from Engelhart, a perfect pitstop from the Grasser crew, and excellent out-lap pace from Bortolotti. What's more, the win will taste all the sweeter for having come at a track where Audi cars were expected to dominate.
The German manufacturer was on pole thanks to the #2 Belgian Audi Club Team WRT machine shared by Dries Vanthoor and Will Stevens, but crucially Engelhart had put Grasser in the fight by securing second on the grid.
Mirko Bortolotti, #63 GRT Grasser Racing Team Lamborghini Huracan GT3: "It's the best possible way to start the season. After yesterday we made some big changes to the car and took some gambles, which have paid off. We had a really good first stint thanks to Christian and a great pitstop. Then I had a good out-lap, which gave me the chance to get ahead of Will. I knew that without any mistakes it would be difficult for the guys behind to overtake us, so I'm really happy."
Vanthoor led from the opening lap with Engelhart slotting in behind the Audi R8 LMS. It was a clean start to the season, with the #14 Emil Frey Lexus Racing machine of Albert Costa the only casualty. The car left the track at turn 1 and suffered damage that ultimately ended their race early.
The first stint saw Vanthoor maintain a two-second lead over Engelhart, with the #1 Belgian Audi Club Team WRT car of series debutant Alex Riberas keeping a watching brief in third.
The race swung during the pitstop phase. The Lamborghini stopped first, with the Grasser Racing crew working perfectly to turn the Lamborghini Huracan GT3 around. Bortolotti took over from Engelhart and set about making up time to the #2 Audi.
Dries Vanthoor, #2 Belgian Audi Club Team WRT Audi R8 LMS: "I had a good start and from there I could pull a gap and control it throughout my stint. Everything was okay, but on my in-lap it didn't help that I got slowed down a little bit. Anyway, second gives us important points for the championship and we have a good starting position tomorrow."
Vanthoor made his stop soon after, but the young Belgian felt he lost time to traffic on his in-lap. Combined with the rapid stop from Grasser, this was to prove crucial.
As Stevens left the pits it was clear that it would be a close-run thing – and so it proved. Bortolotti just edged in front, securing vital track position over his rival. When the pitstop phase ended, the Italian had assumed the lead from Stevens.
In third the #1 Belgian Audi Club Team WRT entry held station, with Christopher Mies taking over from Riberas. P4 would also remain with the #66 Attempto Racing Audi, which Steijn Schothorst had done well to move up the order during the first stint, before handing over to Kelvin van der Linde.
Alex Riberas, #1 Belgian Audi Club Team WRT Audi R8 LMS: "Third is definitely a good way to start the season and the team did a great job today. We had hoped to stay with the top two guys and try to jump them in the pits, but unfortunately our stop was not as good as we had hoped and we had to settle for third. I feel like our pace is strong enough to fight for victories so I'm sure we can progress to that in the future."
Fifth spot was hotly disputed early in the second stint. Robin Frijns had taken over from Stuart Leonard in the #17 Belgian Audi Club Team WRT and was in determined mood. The Dutchman rapidly closed in on the #19 Grasser Racing Lamborghini driven by Andrea Caldarelli, passing the Italian in style after applying increasing pressure.
Out front Bortolotti was able to gradually edge away from Stevens, calmly increasing his lead over the second half of the race. The #2 Belgian Audi Club Team WRT driver was under more pressure from behind, with Mies closing to within as little as 0.7 seconds of the sister R8 LMS.
Alessio Picariello, #3 Belgian Audi Club Team WRT Audi R8 LMS: "As usual our team did a great job. The car was really good for the first few laps of my stint, so I was able to build a lead. This was my first time at Zolder and I'm really happy to be racing at home after spending two years competing in Asia. It's a great feeling to be here with a Belgian teammate and a Belgian team, so I'm really happy."
Bortolotti remained unchallenged, coming home 3.4 seconds clear of the #2 Audi to claim the first win of the 2018 Blancpain GT Series season. The two Belgian Audi Club Team WRT cars completed the podium, with Van der Linde taking fourth and Frijns fifth. With that, Lamborghini led home a succession of four Audi cars.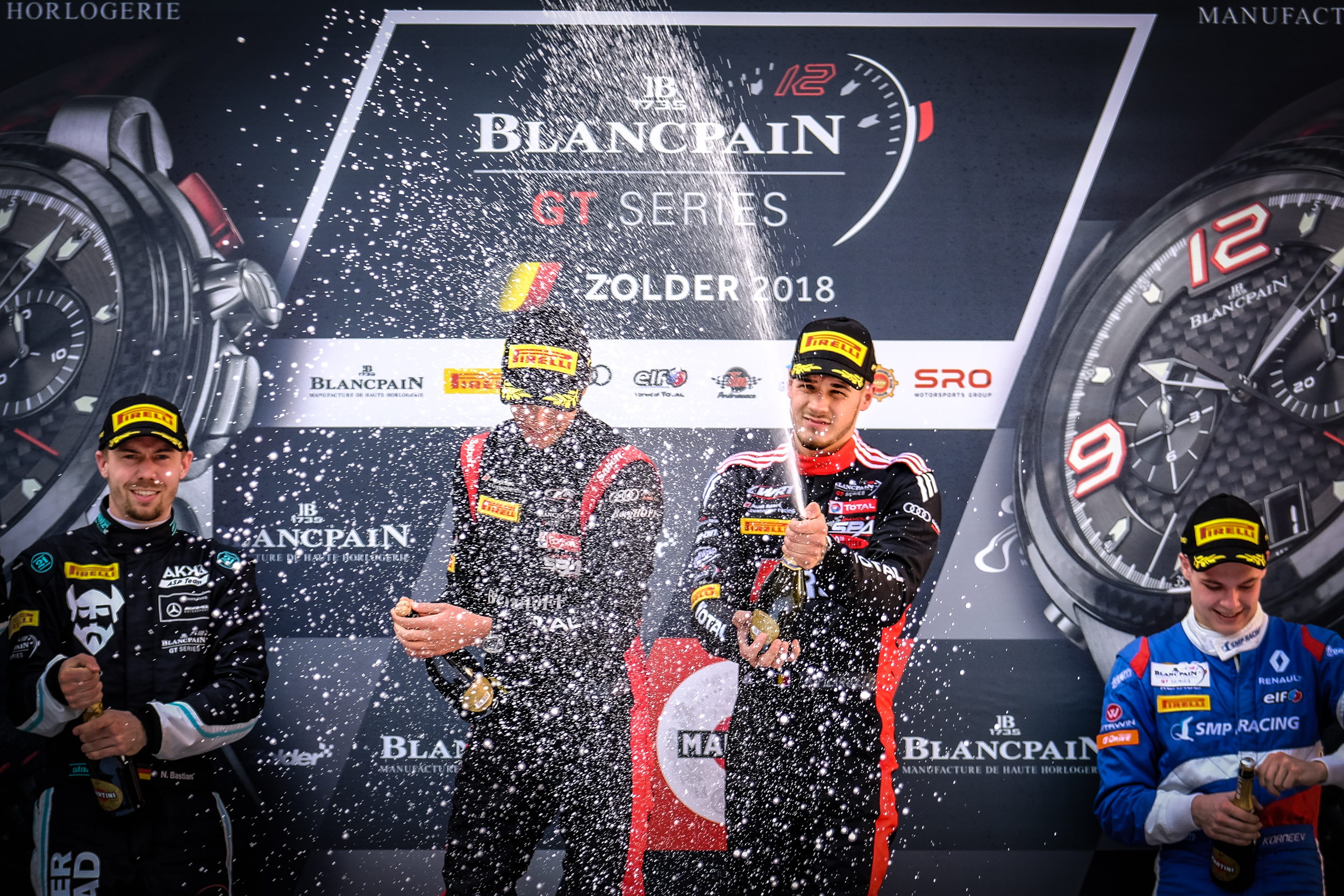 Sixth position went to the #19 Grasser Lamborghini of Caldarelli and Ezequiel Perez Companc, with the fourth Belgian Audi Club Team WRT entry of Gilles Magnus and Alessio Picariello taking seventh. This was an impressive result for the #3 machine, which claimed Silver Cup victory in the process, with both young drivers making their series debut at Zolder.
Eighth spot went to the top Mercedes-AMG runner of AKKA ASP. Michael Meadows began their progress from 17th on the grid in the first stint, then handed over to Raffaele Marciello for the second half of the race.
Carlo van Dam, #39 TP 12-Kessel Racing Ferrari 488 GT3: "The key to this race was Piti doing a good start and keeping up a steady pace in the lead. Our sister Kessel Racing car was never more than 200 metres away from us throughout the whole race, but I was able to keep them behind me. We are aiming for the Pro-Am title and now we have the first victory. It took us much longer last year, so I think we're better prepared."
The Italian was one of the stars of the day, producing several impressive overtakes to carve his way through to P8 at the chequered flag. They were followed home by the sister AKKA ASP Mercedes-AMG of Nico Jamin and Felix Serralles, with Simon Gachet and Christopher Haase (Sainteloc Racing Audi R8 LMS) completing the top 10.
Pro-Am honours went to the #39 TP 12-Kessel Racing Ferrari of Piti Bhirombhakdi and Carlo van Dam, who took 12th overall after an absorbing race-long battle with the sister Kessel machine of Michael Broniszewski and Giacomo Piccini. The Am class was won by the Butson Ginon team, whose #15 Lamborghini Gallardo of Claude-Yves Gosselin and Pierre Feligioni took 19th overall.
Tomorrow sees the second race of the weekend and a chance for Grasser Racing to complete the double at Zolder. The #63 will start on pole, with Bortolotti set to begin the race, but with the #2 Belgian Audi Club Team WRT car alongside them there is a strong chance for Vanthoor and Stevens to take their revenge after today's contest.