"It makes me feel a little bit old."
Those are the words of Markus Winkelhock as he talks about training young drivers and bringing them up to speed in series like the Audi TT Cup and in Blancpain.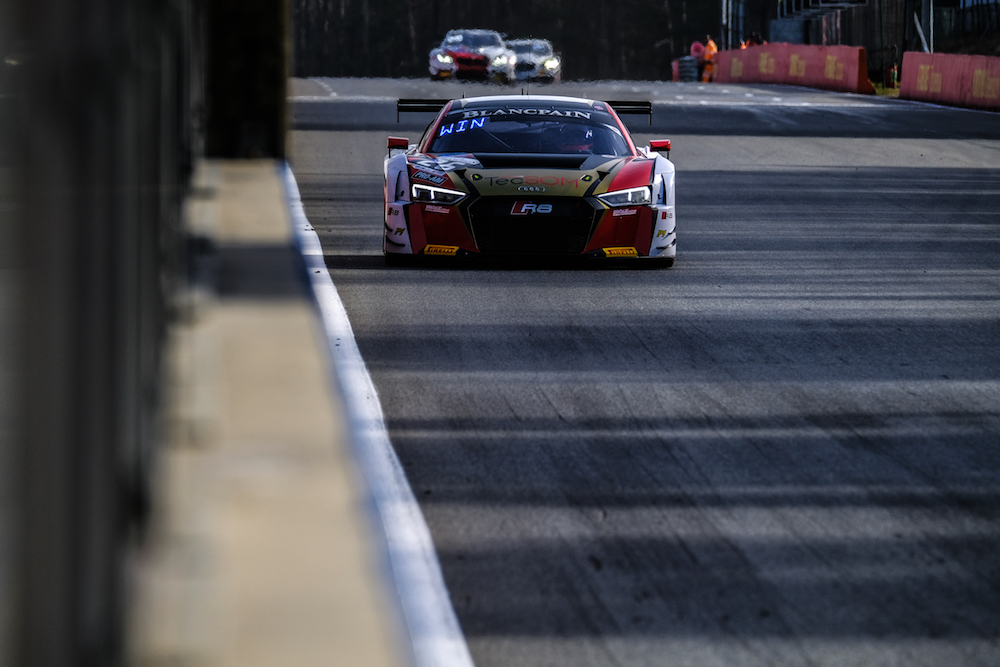 But those words are quickly followed by "It is a lot of fun" and "as long as I still have the pace, I will continue to race."
In a long career that has seen him climb to the heights of Formula 1, win the Blancpain GT Series; race in DTM and be a gun-for-hire to anyone series of winning, he has a world to offer the next generation of drivers.
And it is something that he relishes.
For his Blancpain campaign this year he joins the French Santiloc Racing outfit to coach their young charger – Nyls Stievenart. Stievenart's career boasts a handful of races in GT4 and LMP3 machinery in series like VdeV and the 24H Series.
Winkelhock acknowledged that his young charger is inexperienced but was certainly encouraged after their first weekend together.
"There is still a lot to learn and I am trying to give him as much of my experience as possible.
"He did quite well to be honest. He improved a lot during the weekend, we were running as high as P10 overall today which was a really good pace.
"Unfortunately we got a drive through and finished P15 but if he continues to show that sort of improvement over weekends like this, we are going to have a lot of fun.
The team, Santeloc Racing are accustomed to high level competition having achieved success on the rally stages around the world including the WRC and Interncontinental Rally Challenge.
This combined with a more recent history in sportscars and a strong team culture – not just technical skills – has impressed Winkelhock.
"They are professional. I know the car very well so I can help them make the car faster in that way but they are working at a very high level.
"It is a nice atmosphere with the team, which is a very importnat point for me as well."
"I want to make my teammate as fast as possible. Winning the Pro-Am would be the goal and then some top 10 results would be a great year."
So there are lofty aims for Stienvenart and Santeloc – and of course for oldtimer that is Markus Winkelhock.
The RacerViews info
By Sam Tickell, April 2018
RacerViews was established in 2011 and with the aim of delivering a new web experience to motorsport fans. We bring you more than just the news. Our exclusive interview and galleries brings you the views from the track, from the racers. Our extensive race review collection allows you to keep up with the action from around the world. The team of passionate pros have decades of experience in the motorsport field. Our social media presence on Facebook, Twitter and YouTube bring you more, a holistic experience. We have more than 3100 followers on Twitter and more than 2 million views on Google Plus. Our mission is to bring exclusive content is in safe hands.
This year we have full season commitments to cover the FIA WEC, British GT, Belgian Rally Championship and Laguna Seca. You will also find us at Blancpain GT, Supercars, IMSA, WorldSBK and more.
Our commitment to motorsport can be seen with unrivalled coverage of the Queensland Rally Championship. Additionally, over the time we have partnered with motorsport teams like Ben Gersekowski, Andreas Wirth, Stig Richards Motorsport, One of a Kind Motorsport, Dark Horse Racing, Nat Rallysport and MRT Performance in order to give you the best exclusive motorsport coverage.
If you have a motorsport story to share contact us!