Prototype
A Cadillac DPi-V.R. won Saturday's BUBBA burger Sports Car Grand Prix at Long Beach, but it wasn't the one fans may have expected coming into the weekend.
Joao Barbosa and Filipe Albuquerque ended a three-year winning streak for Wayne Taylor Racing's No. 10 Konica Minolta Cadillac DPi-V.R. team with an impressive performance that put the No. 5 Mustang Sampling Cadillac DPi-V.R. team into victory lane for the second time this season.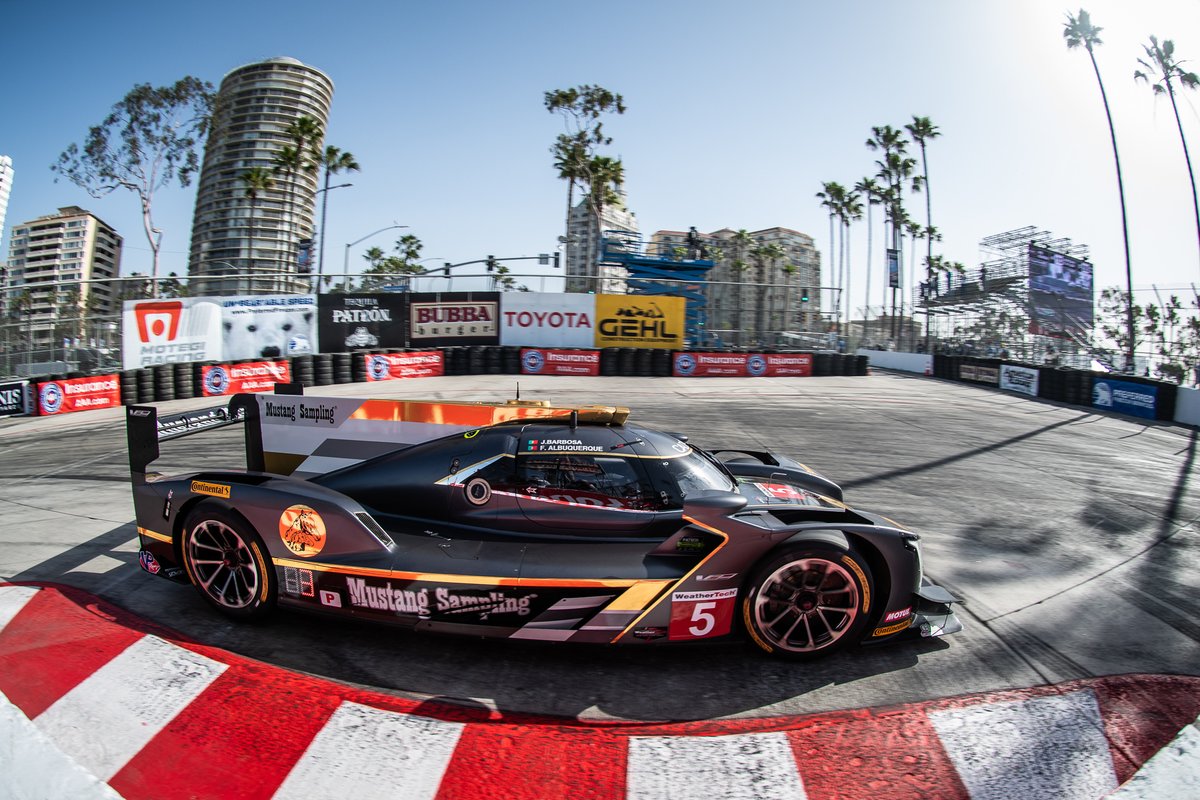 It was the first career Long Beach win for both drivers and moved the Rolex 24 At Daytona winners unofficially into the Prototype points lead through three IMSA WeatherTech SportsCar Championship events. It was also Action Express Racing's 20th win in IMSA competition (14 WeatherTech Championship, 6 GRAND-AM).
Albuquerque inherited the lead on a series of green flag pit stops with 40 minutes remaining. The No. 31 Cadillac DPi-V.R. of Felipe Nasr and No. 6 Acura DPi of Juan Pablo Montoya led much of the first half of the race before being jumped by Albuquerque on an impressive pit stop by the No. 5 team.
"Our strategy all day was perfect," said Albuquerque. "When I got in after the pit stop, I was able to get in the lead. We were in control and it was a great race for us. Action Express was amazing today. They gave me a great car."
"I was trying to stay up front and save fuel to shorten our pit stops, and it helped, we were able to jump some positions during our pit stops and we were off and running," added Barbosa. "We did a great job managing tough conditions and our Cadillac was good on long runs and we were able to make it run well for a really long stint. That made for good success today. And we made good decisions on the pit stand to move up in the standings."
Finishing second, 4.766 seconds back, was the No. 2 Tequila Patrón ESM Nissan DPi of Ryan Dalziel and Scott Sharp, a much-needed finish for the team after a best-finish of 16th through the first two WeatherTech Championship races of the season. It also was the second consecutive runner-up result at Long Beach for Sharp and Dalziel.
While Wayne Taylor Racing failed to make it four consecutive wins at Long Beach, the team did make it back on the podium with Jordan Taylor and Renger van der Zande finishing third. It was the duo's second consecutive runner-up finish coming off a second-place finish at Sebring in March. Jordan Taylor had to track down and pass brother Ricky Taylor – who he co-drove with to victory at Long Beach each of the last two seasons – in the closing minutes to secure the final podium spot.
The podium finish moves the defending WeatherTech Championship Prototype championship team to fourth in the standings following a DNF to start the season at Daytona.
LMGTE
he streets of Long Beach continue to be very, very good to Corvette Racing, and more specifically, the No. 4 Chevrolet Corvette C7.R team of Oliver Gavin and Tommy Milner.
On a picture-perfect Saturday afternoon, the No. 4 team claimed its second consecutive victory on the legendary Southern California street circuit, taking the IMSA WeatherTech SportsCar Championship GT Le Mans (GTLM) class victory in the 100-minute BUBBA burger Sports Car Grand Prix at Long Beach.
Milner took the lead from Earl Bamber in the No. 912 Porsche 911 RSR shortly after a restart with under 23 minutes remaining as Bamber encountered a right-front suspension failure. From there, he cruised to a 2.157-second victory over Ryan Briscoe in the No. 67 Ford GT.
"There is something about Long Beach," Milner said. "Something about having magic here. I don't know what it is. We had it today. We had it last year. Whatever it is, I want to keep it. Really tough race today. The track was really, really tough with the marbles off line. Super difficult.
"I almost threw it away on the last corner, last lap. Really, really tough conditions. But, Corvette was great. Michelins were great. They were super strong right to the end. Just had that little bit of magic, little bit of luck and that's all we needed today!"
It was Milner's third career Long Beach win and Gavin's record-extending fifth career victory on the street course. It also was the seventh win in 12 Long Beach races for Corvette Racing and the eighth Long Beach win for Chevrolet, tying with Porsche for most manufacturer victories at the venue.
Overall, it was the 107th win in program history for Corvette Racing and was Gavin's 48th career IMSA win (40 American Le Mans Series, six WeatherTech Championship, two GRAND-AM), moving him into a tie for sixth on the all-time winner's list with another Corvette Racing legend, Johnny O'Connell. It was Milner's 16th IMSA win (six WeatherTech, six ALMS, four GRAND-AM). Counting additional victories in the 24 Hours of Le Mans, it was Gavin's 50th victory with Corvette Racing.
"Amazing the way that all came around," Gavin said. "Yes, we had a little bit of luck, but Tommy had to drive brilliantly at the end there and stay out of trouble. There were a number of incidents there. Man, we could have gotten taken out. We could have gotten in the wall. Tommy just navigated. We had a great pit stop and the guys did an amazing job at the stop. We jumped a number of people and put us in position there so we could challenge for that victory. And we got it! That is our first win in season No. 20 for Corvette Racing. And it is my 50th victory with the team. That is pretty amazing. I am just thrilled."
Briscoe and his No. 67 co-driver Richard Westbrook led a 2-3 sweep for Ford Chip Ganassi Racing to preserve their GTLM points lead. With 95 points, they are seven points ahead of second place Gavin and Milner with three of 11 races complete.
Polesitter Joey Hand and co-driver Dirk Mueller finished third in the No. 66 Ford GT, followed by Antonio Garcia and Jan Magnussen in the No. 3 Corvette C7.R. John Edwards and Connor De Phillippi completed the top five in the No. 24 BMW Team RLL BMW M8 GTE.
Despite leading a race-high 42 laps, the No. 912 Porsche shared by Bamber and Laurens Vanthoor retired early and wound up seventh in the eight-car field.