Prototype
It was a six-hour race on a near 100-degree day at Watkins Glen International, but it all came down to an amazing restart by Stephen Simpson in the No. 99 GAINSCO "Red Dragon" ORECA LMP2 car that sealed the Sahlen's Six Hours of The Glen victory for the JDC-Miller Motorsports team in IMSA WeatherTech SportsCar Championship competition Sunday.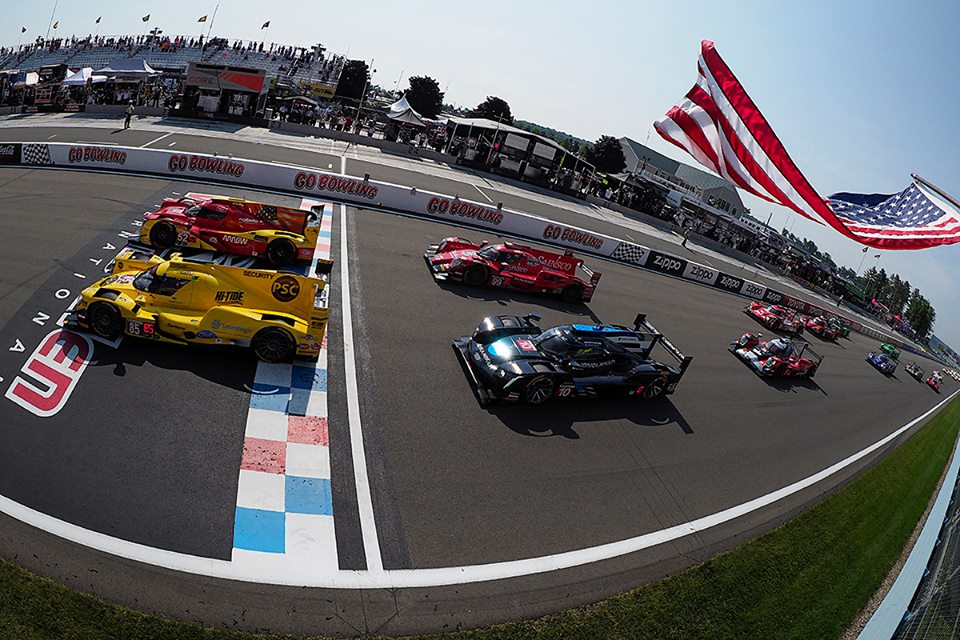 Simpson restarted the race in third place, behind race leader Jordan Taylor in the No. 10 Konica Minolta Cadillac DPi-V.R and Juan Pablo Montoya in the No. 6 Acura Team Penske ARX-05 DPi. While Taylor led the field through Turn 1, Montoya pulled alongside running uphill through the Esses and neither driver was giving the other an inch.
Simpson, meanwhile, had a full head of steam and as the two leaders began to slow for the famed Watkins Glen International "Inner Loop" chicane, he rocketed down the inside of Taylor and blasted past both cars to take the lead. Simpson then managed to build a gap on Montoya, who was able to get past Taylor for second.
However, that gap got smaller over the closing few minutes in the race and the race was still very much in doubt as Romain Dumas also joined the fray in the No. 54 CORE autosport ORECA LMP2 car. The top three cars were covered by less than two seconds as Simpson took the white flag, but the South African-born driver who recently became a U.S. citizen was able to keep both cars in his mirrors for the final 3.4 miles to score the victory for himself and co-drivers Misha Goikhberg and Chris Miller.
"I don't really know what to say," said Simpson, who put the GAINSCO colors back in victory lane for the first time since a GRAND-AM Rolex Sports Car Series race at Circuit of The Americas in 2013. "Setting me up for that restart was the guys in the pits. I mean, we jumped a bunch of cars. I wasn't sure if we could get there on fuel, but the guys weren't saying anything to save extra fuel in my car, so I thought, 'I'm going to go for it.'
Live in Sahlen's 6 hours of the Glen victory lane at Watkins Glen International

Posted by IMSA on Sunday, 1 July 2018
"I don't know who the guy was in the Penske car, but him and (Taylor) slowed each other down enough going up the Esses. I don't know, I might have had some wheels on the grass there, but I wasn't lifting off. After that, I really expected a lot of hard work from the Penske behind me, and after a lap or two, I realized that I had a bit more speed than he did. I wanted to build a gap and make sure that when I got to some GT traffic, I had a bit of a gap. I learned from last year. I'm just so proud of this team."
It was the first overall and Prototype class victory for all three drivers and comes after the trio finished second in the Sahlen's Six Hours of The Glen last year. It was third WeatherTech Championship race win for Simpson and Goikhberg. Both previous wins came in the Prototype Challenge (PC) class, the most recent coming in the BUBBA burger Sports Car Grand Prix at Long Beach in 2016.
"There's absolutely no words to describe what we all feel," Goikhberg said. "It's been such a long time coming and all the heartbreak we experienced along the way. To finally close the deal, to seal it and to win a race in the top class feels amazing. You don't understand the work that's been put into this, the time, it's really been a long time coming. Hopefully, this will give us a boost and give us more momentum so we can keep having respectable results in the championship."
It was Miller's second WeatherTech Championship race win. He previously joined Goikhberg, Simpson and Kenton Koch in winning the PC class in the 2016 Rolex 24 At Daytona.
"It's huge," Miller said. "We're such a small team and we've worked so hard for a couple years. Last year, we had two really close calls and you start to wonder how many more opportunities you're going to get. This year, the guys have really stepped it up. We've been pushing so hard. Stephen did an unbelievable last stint. For us, it's a huge moment and hopefully the beginning of even more wins to come."
Simpson won the race by 1.954 seconds over Dumas, who passed Montoya in the final turn of the race to score the runner-up result for the No. 54 team and co-drivers Jon Bennett and Colin Braun. It was their second podium result this year following a third-place run in the season-opening Rolex 24 At Daytona, and the team hasn't finished lower than fourth in any of the three Tequila Patrón North American Endurance Cup races this season.
Montoya and co-driver Dane Cameron combined to lead a race-high 124 of the 202 laps completed over the six hours. It was their second consecutive third-place result, matching their performance in the Chevrolet Sports Car Classic in Detroit last month.
After leading the race at the halfway point, Bruno Senna, Phil Hanson and Paul Di Resta came home fourth in the No. 32 United Autosports Ligier machine to make it three LMP2 cars inside the top four positions. Taylor and Renger van der Zande completed the top five with a fifth-place showing in the No. 10 Cadillac.
With a sixth-place result, No. 5 Mustang Sampling Cadillac DPi-V.R driver Filipe Albuquerque now leads Action Express Racing teammates Eric Curran and Felipe Nasr in the No. 31 Whelen Engineering Cadillac by one point, 169-168, in the Prototype point standings.
Albuquerque shared the No. 5 on Sunday with Christian Fittipaldi, the team's Patrón Endurance Cup driver in 2018, and Gabby Chaves, who was filling in for the injured Joao Barbosa. Curran, Nasr and endurance driver Mike Conway finished seventh in the No. 31.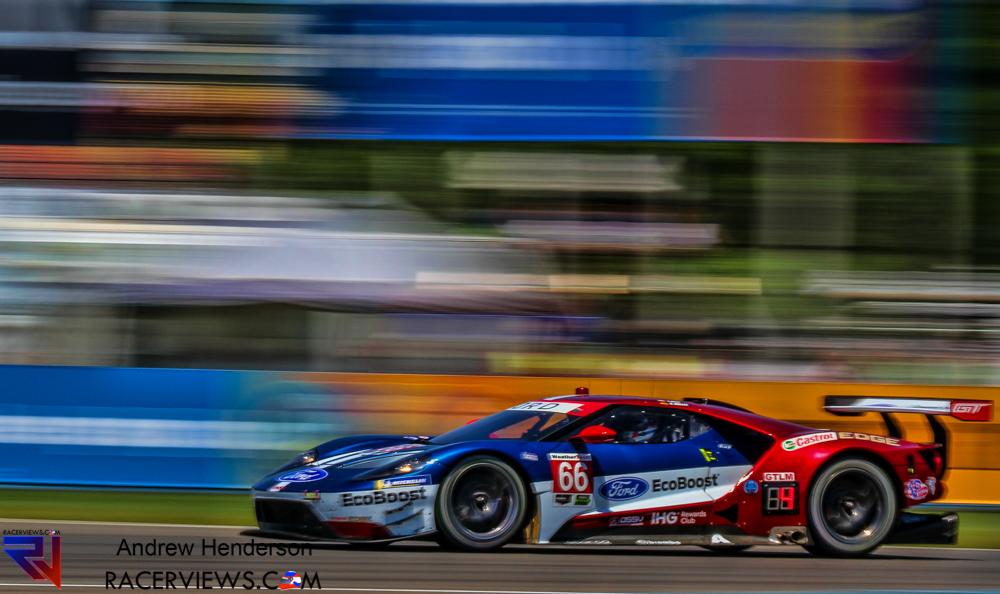 GTLM
It was a clean sweep for Ford at Watkins Glen International.
Joey Hand and Dirk Mueller co-drove to the Sahlen's Six Hours of The Glen victory Sunday in Ford Chip Ganassi Racing's No. 66 Ford GT, closing out a perfect weekend for the manufacturer in the IMSA WeatherTech SportsCar Championship's GT Le Mans (GTLM) class.
Ironically, Ford's sweep of a trio of practice sessions and qualifying on the weekend was done by Ford Chip Ganassi Racing's other entry, the No. 67 Ford GT of Richard Westbrook and Ryan Briscoe, which finished in the sixth position.
"All these guys, all our boys who did these pit stops today did such a great job, it was a flawless race for us," said Hand. "I love this race, I love this Independence Day week Fourth of July. I'm so thankful to be American. So thankful to drive for Ford and Chip Ganassi Racing."
The No. 67 Ford GT of Westbrook and Briscoe started on the pole – the team's third consecutive pole at Watkins Glen – and promptly led the race's opening 65 laps. Porsche's march from the third row to the lead was complete on lap 66 when Patrick Pilet took the lead just past the race's two-hour mark in the No. 911 Porsche GT Team Porsche 911 RSR.
While the weekend was all-Ford, Sunday's race saw Porsche and Corvette each spend significant time at the front of the field.
Pilet and co-driver Nick Tandy went on to lead much of the next 90 minutes of the race after getting by the race-leading Ford, before Corvette Racing's pair of Corvette C7.Rs took over from there, combining to lead roughly the race's next 90 minutes.
In fact, the No. 3 Corvette C7.R of Jan Magnussen and Antonio Garcia was leading the race with 52 minutes remaining before a timely pit stop by the No. 66 Ford GT team just prior to a caution for debris elevated Mueller to the lead for a final restart with 36 minutes remaining.
Mueller took over from there, holding off Garcia to win the race by 1.592 seconds.
Porsche took the next two spots with the No. 911 Porsche 911 RSR of Tandy and Pilet rounding out the podium over teammates Earl Bamber and 24 Hours of Le Mans winner Laurens Vanthoor. The No. 4 Corvette C7.R of Tommy Milner and Oliver Gavin finished fifth after leading 20 laps in the middle stages of the race.
The dominance of Ford Chip Ganassi Racing was no surprise with the team entering the weekend with the most Sahlen's Six Hours of The Glen victories among teams entered with a total of five, including a GTLM victory at the track in 2016.
It was the manufacturer's second win of the season with the No. 67 of Westbrook, Briscoe and Scott Dixon opening the season with a win in the Rolex 24 At Daytona, and the first win of the season for Hand and Mueller.
The win unofficially moves Mueller and Hand into the points lead with a one-point advantage over teammates Briscoe and Westbrook with six races remaining.
"We leapfrogged everybody when we came in a little shorter and got lucky on that yellow," said Mueller. "My team manager told me 'buddy if you want to win that race you have to give us your best ever out lap in your life. We need it in order to jump ahead of the Corvette.' And again we were low on [tire] pressure. I know we always get told not to really push hard there but I pushed like crazy and that basically jumped us ahead of the Corvette and just sailed it home. Sounds easy. But it wasn't. I gave it all. I was a sweaty one."
The WeatherTech Championship returns to action next weekend for the Mobil 1 SportsCar Grand Prix at Canadian Tire Motorsport Park on Sunday, July 8. The race can be seen on FS1 beginning at 4 p.m. ET. International, flag-to-flag coverage is available on IMSA.com and a variety of international television outlets at, as well as IMSA Radio commentary on RadioLeMans.com and SiriusXM Radio at 2:05 p.m. ET.
Turner Digs Deep for GTD Win at Sahlen's Six Hours of The Glen
On a blistering Sunday afternoon at Watkins Glen International, it was a victory for the underdogs in the IMSA WeatherTech SportsCar Championship GT Daytona (GTD) class.
The trio of Markus Palttala, Dillon Machavern and Don Yount in the No. 96 Turner Motorsport BMW M6 GT3 crossed the finish line first in the Sahlen's Six Hours of The Glen, giving Machavern and Yount their first WeatherTech Championship wins and Palttala his first since 2014, which he got with Turner as well.
The win was also Turner Motorsport's first since the Continental Tire Road Race Showcase at Road America last August.
"It's a real accomplishment to beat some of the best drivers in the world with up-and-coming race drivers that just did a fantastic job," said team owner Will Turner after the third of four Tequila Patrón North American Endurance Cup events. "Markus was the last one and he came over the finish line, but he didn't win the race for us. All my drivers won the race, all our pit stops won the race for us. It just came together. We took care of the tires, they did great at the end of the race for us and we were able to pull ahead. It's a great feeling."
It was a strange turn of events that ultimately gave Turner Motorsport victory after six hours of intense competition. With 50 minutes remaining in the race, the leading No. 29 Montaplast by Land Motorsport Audi R8 LMS GT3 of Sheldon van der Linde and Christopher Mies was penalized for working on the car during a closed pit. The No. 29 was subsequently penalized again for not serving its first penalty in a timely manner.
Between the two penalties, Palttala jumped past second-place Alvaro Parente in the No. 86 Meyer Shank Racing Acura NSX GT3. As a result, when the No. 29 came to pit lane to serve its penalties, the No. 96 BMW inherited the lead.
"I was happy first of all to return with Turner and do this race because we've always been strong here at Watkins Glen," said Palttala. "After practice and qualifying, I was thinking we have a good car, maybe top five. I couldn't believe after the last stop I was third and the penalty we knew about with the Audi and then I got the Acura. It's over the expectations. I have to thank my teammates who did a perfect job, but I think the team really gave us a car that really came to its own in these conditions."
The No. 86 of Parente and co-driver Katherine Legge – which partnered with SiriusXM Canada for the race – held on to second place, followed by GTD championship leaders Bryan Sellers and Madison Snow in the No. 48 Lamborghini Huracán GT3. However, with her fourth podium in five races, Legge closed to within one point (155-154) of the leaders, Sellers and Snow in the championship race.
"It was an awesome race," said Legge, who sits alone in second place of the championship, as Parente did not compete at the Chevrolet Sports Car Classic in Detroit last month. "It was hot. It was really hot out there. We didn't have the ultimate pace, but in the end, I think we did a good job."
It's a quick turnaround for the GTD field, as the WeatherTech Championship heads to Canadian Tire Motorsport Park next weekend for the Mobil 1 Sports Car Grand Prix. The race returns to the typical two-hour, 45-minute format and goes green at 2:05 p.m. ET with a delayed television broadcast beginning at 4 p.m. on FS1.
—
From PR Materials. Except Ford photo, from Andrew Henderson