Stéphane Lefebvre has lacked luck in 2018. Bringing the Citroen C3 R5 to the WRC2 Championship, the former JWRC Champion has had tough season, but for him, winning Condroz was more than just winning a rally.
It was something special.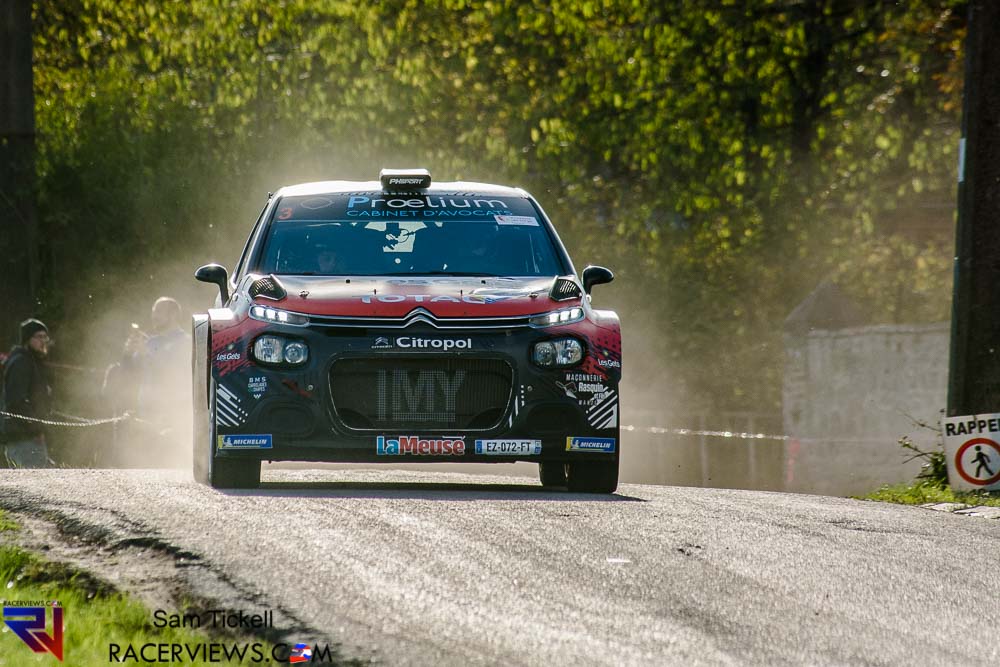 For the Frenchman who grew up not far from these roads, winning in Condroz means a lot. As a child he came to watch Condroz and Ypres with his father, so this rally means a little more to him than most.
Spurred on my a competitive entry list that included none other than Kris Meeke, he had a lot of motivation. It came through in his driving. Visibly committed, you could feel that he wasn't going to go home with second place.
"It was a challenging weekend for us. We started to push from the first stages. Since the second stage we took the lead and finally we took the win," Lefebvre said.
"It was like a dream for me. I have been coming to this rally since I was a child and it was satisfying to put my name on this rally."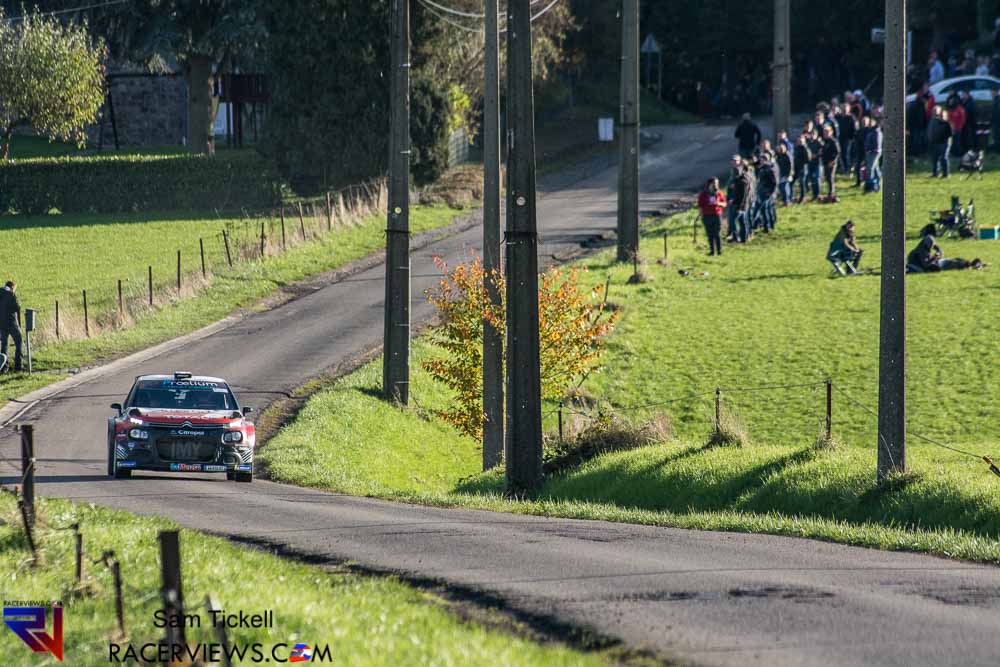 Throughout the rally he was engaged a tough battle with Adrian Férnemont in a Skoda. One can assume that had things gone to plan for Meeke, he would have had to contend with the Irishman as well.
The other leading Belgian runners had a tough rally with Vincent Verschueren just not having consistent front running pace and Belgian Rally Champion, Kris Princen withdrawing after the tragic events of Saturday.
That being said, Férnemont, who only has one BRC win to his name, kept Lefebvre honest and ensured that the win would not be an easy one.
By taking the win in Condroz, it brought a few firsts for Lefebvre.
"It was the first time (I have won in Belgium). I was very close in Ypres in 2016 where the gearbox was broken so we couldn't finish this rally. But this is my first win here and I am very happy about it.
"It is also the my first victory in the C3 R5.
"The campaign in WRC2 was a bit tricky but finally I win this rally. I think we are justified to win this rally. It is not so different to my home roads as I am not so far from Belgium. But this rally is tricky – it is slippery and very difficult to judge the grip.
"The key of the rally is to not do mistakes and we didn't make any mistakes."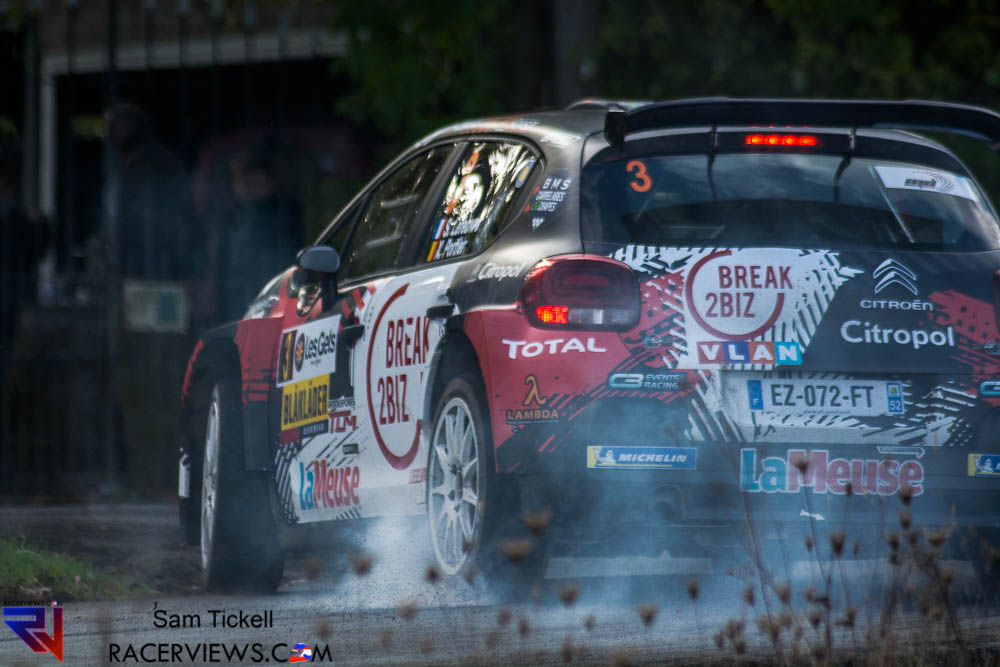 The fact that this is the first win for him in this car suggests the lack of luck that the C3R5 has had in WRC2 competition – and the strength of the Skoda team. Often he has had the pace but niggling reliability problems would always pop up.
And it has succeeded already, taking the French Tarmac title with Yoann Bonito. So the car has pace and Lefebvre confirms it is a good car to drive.
"We did a lot of testing this year. For me, the car is very nice."
And this result comes at an important time for the Frenchman. With a combination of factors that also has to include Ole Christian-Veiby coming into the Citroen fold, things are not so certain for Lefebvre.
He has been in the Citroen family since his JWRC success, being fast-tracked into a WRC seat and then playing a major part for the development of the C3R5.
But for now, the next phase for Citroen may be coming and it may be new phase for Lefebvre.
"I have no news for next year about Citroen. For the moment I am doing nothing."
But after performances like this one in Condroz, he wouldn't be unemployed for long. He had the pace all weekend, leading from the very start.
There were no mistakes, just pace.
And the desire to fulfill that childhood dream.
Stephane Lefebvre talks with us after winning Rallye du Condroz

Stéphane Lefebvre has lacked luck in 2018. Bringing the Citroen C3 R5 to the WRC2 Championship, the former JWRC Champion has had tough season, but for him, winning Condroz was more than just winning a rally.See the full article here – http://www.racerviews.com/2018/11/05/20231for-stephane-lefebvre-winning-condroz-was-like-a-dream/

Posted by RacerViews on Sunday, November 4, 2018
—
The RacerViews info
By Sam Tickell, November 2018

RacerViews was established in 2011 and with the aim of delivering a new web experience to motorsport fans. We bring you more than just the news. Our exclusive interview and galleries brings you the views from the track, from the racers. Our extensive race review collection allows you to keep up with the action from around the world. The team of passionate pros have decades of experience in the motorsport field. Our social media presence on Facebook, Twitter and YouTube bring you more, a holistic experience. We have more than 3100 followers on Twitter and more than 2 million views on Google Plus. Our mission is to bring exclusive content is in safe hands.
This year we have full season commitments to cover the FIA WEC, British GT, Belgian Rally Championship and Laguna Seca. You will also find us at Blancpain GT, Supercars, IMSA, WorldSBK and more.
Our commitment to motorsport can be seen with unrivalled coverage of the Queensland Rally Championship. Additionally, over the time we have partnered with motorsport teams like Ben Gersekowski, Andreas Wirth, Stig Richards Motorsport, One of a Kind Motorsport, Dark Horse Racing, Nat Rallysport and MRT Performance in order to give you the best exclusive motorsport coverage.
If you have a motorsport story to share contact us!