The second day of the Ypres Rally Regularity took the competitors on a long loop towards Tournai and Braine-le-Comte. The new Regularity organied by the Club Superstage is a competition where participants have to maintain an average speed of up to 50 km / h across the stages.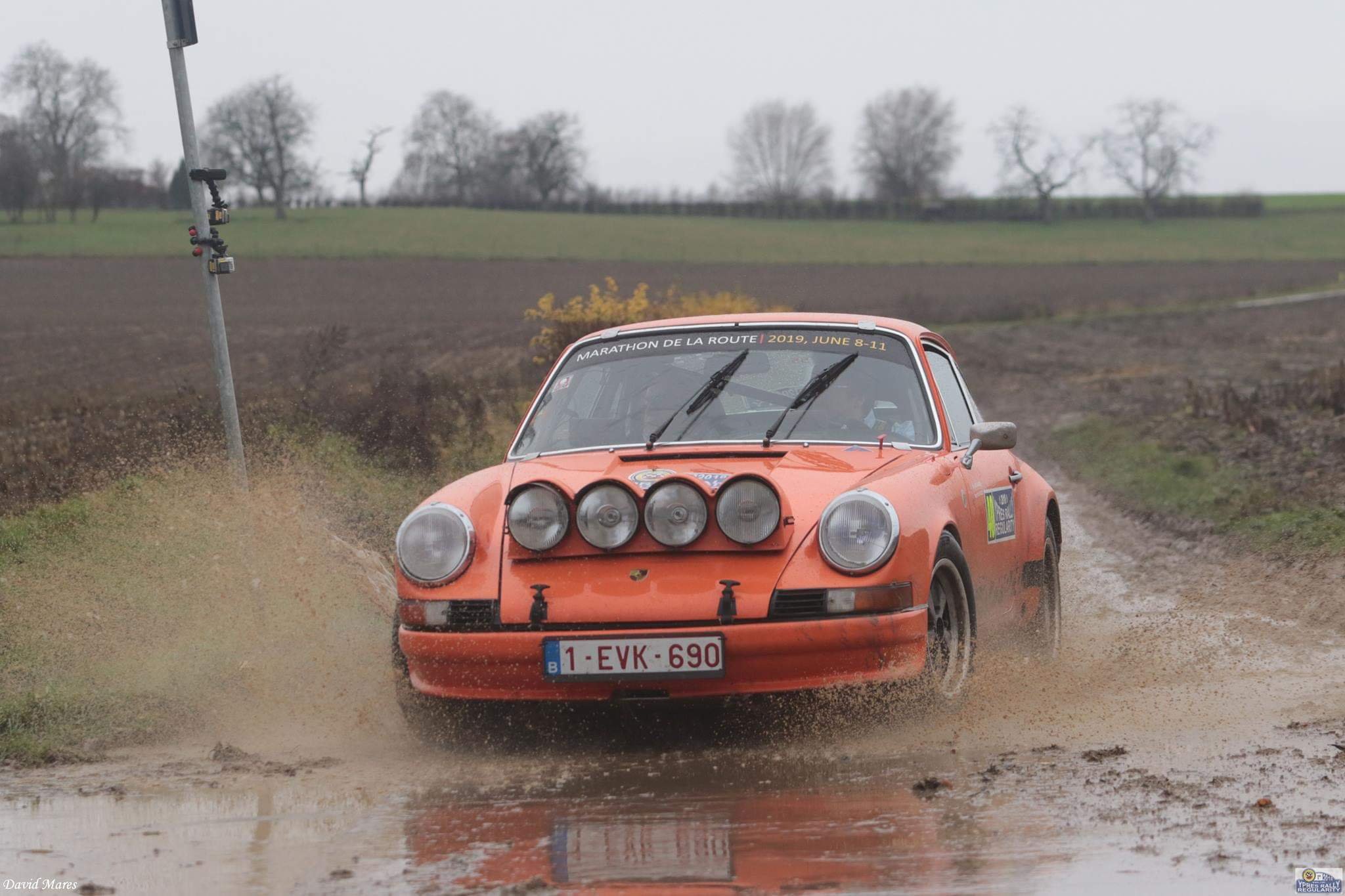 Saturday was completely different from Friday evening. From the afternoon rain made the roads treacherous, yet Yves Deflandre and Yves Noelanders' lead was never in danger.
After a challenging opening stage with a large sections of unpaved road, Saturday afternoon had a welcome break with the first service in Braine-le-Comte. Despite the road conditions, Yves Deflandre had a clean run.
"It's fine, because we have won every RT today. The dirt was a challenge, because it was muddy, but that does not make a difference to me. We have to be careful because there is a long way to go, "said the Porsche driver. The lead was in question after Steenkerque. "There was a tractor on the test and that has hindered us 1600 meters, we lost 80 seconds, but with three jokers we will not lose many points. "
Effectively, taking into account the jokers for each participant, Yves Deflandre and Yves Noelanders remain in the lead after Leg 1 (Day 2) with 12 seconds in hand over the Renault R5 Alpine Gr.2 of Eric Piraux and Cathérine Monard." I told you that you need an R5 to win in Ypres, so we're already fine in that area," laughed Piraux.
The Renault has a little less power than the Porsches around him. It makes the battle for third place and exciting one. Priaux battles with the Christophe Berteloot, who at just 0.8 seconds in behind Piraux means there is a tight battle between the Renault and the Porsche 911 SC.
Dominique Holvoet, is familiar in his Toyota Celica GT, a car that already has more than 90,000 rally kilometers. He has moved up to fourth place, second in Class 2 behind Piraux.
Jochen Claerhout is the only active 'rally driver' who can maintain a time in the Top 5 with his roaring Lancia Stratos. The tire dealer, navigated by Anton Dupan, has the rally in his hands: "It is more amusing than I had thought. You must be well aware to keep the right rhythm and be smooth. The Lancia Stratos is a pleasure to drive."
Alexandre Delhez is the 6th for Daniel Reuter with his Porsche 914/6, who remains leader in Class 3 together with navigator Rober Vandevorst, and Johnny Delhez with his Escort Mk1, who was also hindered by a tractor.
Florent Hontoir was fighting for a podium place all day long, but on RT17 the Opel driver pushed in too early and fell down the order. Claude Chaidron in his Escort ended the day in ninth place. In Class 4 Geert and Cédric De Jaeger are in charge with their Porsche 911 Targa.
Lay 1 of the Ypres Rally Regularity came to an end at 4pm at the Sint-Maartensplein in Ypres. The competitors will have a nice evening in Ypres before an early start as the final day starts at 6:30am. The first RT of 24.47 km will be held in the morning day dark.
Sunday will see a total of 7 RTs are on the program, including a "closed road stage", a dexterity test on a closed track, in Mezen. At around 1:20pm the first winner of the Ypres Rally Regularity will be known.