It was a great start to the IMSA season and a great run of form for the Joest Mazda as the field prepares for the Daytona 24. Here is a rundown courtesy of IMSA
Day 3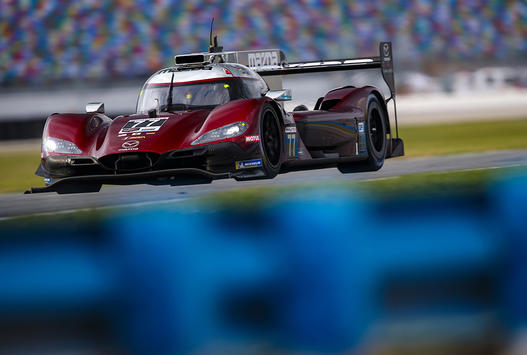 Jarvis Unofficially Breaks 26-Year-Old Daytona Track Record in No. 77 Mazda DPi
"Drivers, start your engines" may be the most famous words in motorsports, but "And… it's a new track record," is pretty close behind.
And today at Daytona International Speedway, there was another – albeit unofficial – new track record. In the 15-minute IMSA WeatherTech SportsCar Championship Daytona Prototype international (DPi) qualifying session for Rolex 24 At Daytona garage and pit selections, Oliver Jarvis drove the No. 77 Mazda Team Joest Mazda RT24-P to a lap of one minute, 33.398 seconds (137.212 mph).
Jarvis' lap was more than half a second quicker than the 26-year-old track record of 1:33.875 (136.521 mph) set by PJ Jones in the No. 98 Toyota Eagle MKIII. If he – or anybody else – does it again or goes even quicker in Rolex 24 qualifying on Thursday, Jan. 24, they'll go into the record books officially. Get your tickets now.
"The car was an absolute joy to drive," Jarvis said. "We ran it full qualy spec. I don't think many of our competitors can say the same, but in that low-fuel configuration, it felt incredible. You could really push the car to the limits and it's what us drivers live for, that feeling of getting everything out of the car."
Day 2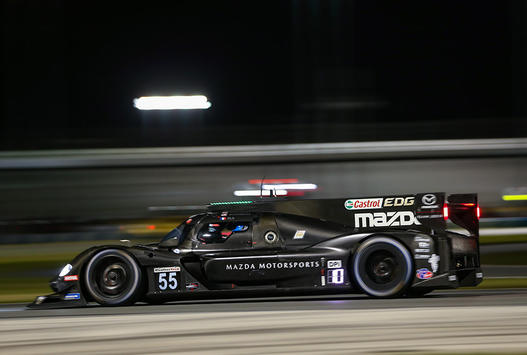 – Speeds continued to climb on the second day of the Roar Before the Rolex 24 At Daytona under Chamber of Commerce weather conditions in front of a huge crowd at Daytona International Speedway.
Jonathan Bomarito ended Saturday atop the IMSA WeatherTech SportsCar Championship time charts by the slimmest of margins, posting a best lap of 1 minute, 34.533 seconds in the No. 55 Mazda Team Joest RT24-P Daytona Prototype international (DPi). Bomarito's time, which came under the bright lights of the 3.56-mile circuit Saturday night, was just one-thousandth of a second quicker than Renger van der Zande's lap of 1:34.534 in the No. 10 Konica Minolta Cadillac DPi-V.R from the afternoon session.
Both laps were well under the current WeatherTech Championship track record of 1:36.083 set last year in Rolex 24 qualifying by van der Zande.
Nicolas Lapierre owns the fastest LMP2 lap of the Roar so far with a 1:36.553 in the No. 81 Dragonspeed ORECA. Richard Westbrook is the fastest in GT Le Mans (GTLM) with a lap of 1:43.148 in the No. 67 Ford Chip Ganassi Racing Ford GT and Trent Hindman tops GT Daytona (GTD) in the No. 86 Meyer Shank Racing Acura NSX GT3 at 1:45.533. All three laps took place in the Saturday afternoon session.
Sunday's activities at the Roar include two more WeatherTech Championship practice sessions, as well as pit lane and garage qualifying for the DPi, LMP2 and GTLM classes. There also will be two IMSA Michelin Pilot Challenge practice sessions.
Day 1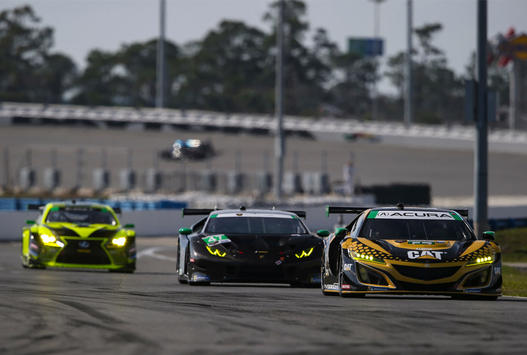 – The all-female No. 57 Meyer-Shank Racing Acura NSX GT3 team will have prime real estate to work with on Rolex 24 At Daytona weekend after Bia Figureido was the fastest qualifier in Saturday's WeatherTech Championship qualifying session for GT Daytona (GTD) pit and garage allocations. Figureido, who was known as Ana Beatriz to U.S. fans when she raced IndyCar from 2010-13, posted a fastest time of 1:45.537 (121.430 mph).
She and the No. 57 car were second on the time charts at the end of the 15-minute session, but the session-leading No. 71 entry had all of its times disallowed as the Gold-rated Dominik Baumann drove the car during the session. IMSA rules require Silver- or Bronze-rated drivers only to participate in all GTD and LM2 qualifying sessions.
"I thought I was P2, but then with the disqualification, this is a very good position," said Figureido, who will share the car in the Rolex 24 with Katherine Legge, Christina Nielsen and Simona De Silvestro. "It shows that we're really competitive, so I'm really happy for everybody with our car."
The first day of on-track activity at the Roar Before the Rolex 24 At Daytona was a busy one, with practice sessions for the IMSA WeatherTech SportsCar Championship and IMSA Michelin Pilot Challenge, in addition to practice and qualifying for the IMSA Prototype Challenge. The event continues through Sunday at Daytona International Speedway.
Two-time CART champion Alex Zanardi is driving in his first Rolex 24 At Daytona this year in the No. 24 BMW Team RLL BMW M8 GTE in the GT Le Mans (GTLM) class. In addition to it being his first WeatherTech Championship experience, it will be his first race in North America since losing both legs in a Champ Car crash at EuroSpeedway Lausitz (Germany) in 2001.
"In life, it's a question of opportunities, and I had this one, which is certainly one of the opportunities I would choose," he said. "The Rolex 24 At Daytona has always been, the 24-hour race for me in my eyes. Being European, people would probably be used to believe that I would want to go to Le Mans, but in reality, I grew up as a race car driver here in America. I've always heard about this race many stories from many colleagues who were involved at some points with this great event. I always dreamed to be here. I've been around a long, long time and it's almost off time right now, but luckily, before the last curtain came down, here I am involved with BMW with a works machine for RLL, and I'm very, very excited to be here."