Mazda on pole with lap record at Daytona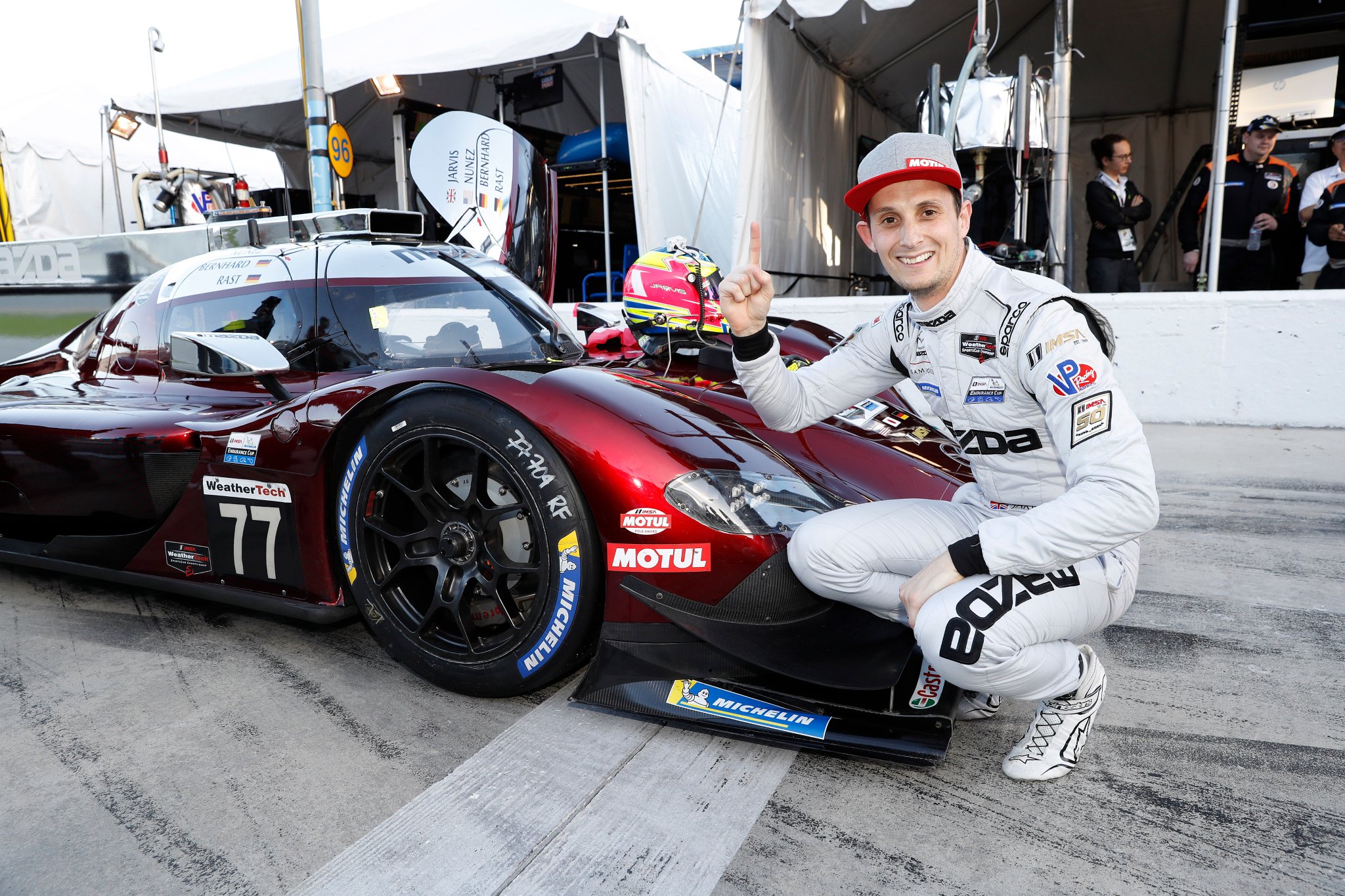 After two-and-a-half weeks as unofficial track record holders, Oliver Jarvis and Mazda Team Joest can finally, officially, call themselves track record holders on the 3.56-mile Daytona International Speedway road circuit after qualifying for this weekend's 57th Rolex 24 At Daytona.
With six minutes and 10 seconds remaining in the 15-minute qualifying session Thursday afternoon, Jarvis took the Motul Pole Award with a lap of 1 minute, 33.685 seconds (136.792 mph) in the No. 77 Mazda RT24-P DPi car. And with that, PJ Jones' track record of 1:33.875 (136.521 mph) set in 1993 in the No. 98 Toyota Eagle Mk III for Dan Gurney's All American Racers was broken.
It wasn't quite as fast as Jarvis went back at the Roar. On that picture-perfect Sunday afternoon, with near-perfect track conditions, Jarvis went 1:33.398 (137.212 mph) in the car he will share with Tristan Nunez, Timo Bernhard and Rene Rast in the twice-around-the-clock classic. But on a day that started with thunderstorms, with rains falling until midday, it was fast enough.
"I just feel proud that I was able to reward the boys and girls who've worked so hard," Jarvis said. "This has been a serious effort to come here, over the winter, all of last year. To put it all together, to put it on pole, we know it doesn't mean much in a 24-hour race, but I think it represents what we're here to do."
Jarvis' qualifying run continued what has been a terrific 2019 so far for Mazda Team Joest. In fact it's been a good couple of months for the program, as it finished a program-best second and third at Motul Petit Le Mans to close out the 2018 WeatherTech Championship. But Mazda is still looking for that elusive first victory in the series and all involved are hoping it finally comes this weekend.
"We're here to show that we're capable of winning races," Jarvis said. "Hopefully we can do it here, but I think people now realize we've made that step that we needed to make last year. For (Mazda Motorsports Director) John (Doonan) I'm just so happy, he's put his heart and soul into this project, so it's a special day for us."
Ricky Taylor qualified second in the No. 7 Acura Team Penske Acura ARX-05 DPi at 1:33.873 (136.518 mph), quicker on the clock than Jones' previous record, but slightly slower in miles per hour owing to a minor change in track configuration. Nevertheless, the No. 7 will start second for the second consecutive year with Taylor and Indianapolis 500 winners Helio Castroneves and Alexander Rossi.
When they take the green flag at 2:35 p.m. ET on Saturday, the second row of the grid will feature cars from the same manufacturers and teams, but in a different order.
Juan Pablo Montoya qualified third in the No. 6 Acura DPi at 1:35.095 (136.198 mph) that he will co-drive with Dane Cameron and Simon Pagenaud. Jonathan Bomarito qualified fourth in the No. 55 Mazda DPi with a lap of 1:34.212 (136.027 mph). Bomarito's co-drivers will be Harry Tincknell and Olivier Pla.
Felipe Nasr, the 2018 WeatherTech Championship Prototype co-champion, rounded out the top five with a lap of 1:34.479 (135.642 mph) in the No. 31 Whelen Engineering Cadillac DPi-V.R. Nasr will share the car with his 2018 co-champion, Eric Curran, and his new-for-2019 season-long co-driver, Pipo Derani, the 2016 Rolex 24 At Daytona winner.
The top seven qualifiers in the DPi class were covered by less than one second.
Allen Scores Motul Pole Award in LMP2 Class for DragonSpeed
Australian driver James Allen proved to be a quick study on Thursday afternoon as he took the Motul Pole Award for the LMP2 class in qualifying for his first Rolex 24 At Daytona. Allen posted a best time of 1:35.904 (133.627 mph) in the No. 81 DragonSpeed ORECA LMP2 machine.
"That was really good, quite the ride," said Allen, who will share the car with Henrik Hedman, Ben Hanley and Nicolas Lapierre in the race. "I trust the team to build the car up to last the 24 hours. It should be good, its good, year."
Gabriel Aubry qualified second in LMP2 at 1:36.427 (132.902 mph) in the No. 52 PR1/Mathiasen Motorsports ORECA. Qualifying third in LMP2 was Roberto Gonzalez in the No. 18 DragonSpeed ORECA at 1:37.377 (131.606 mph).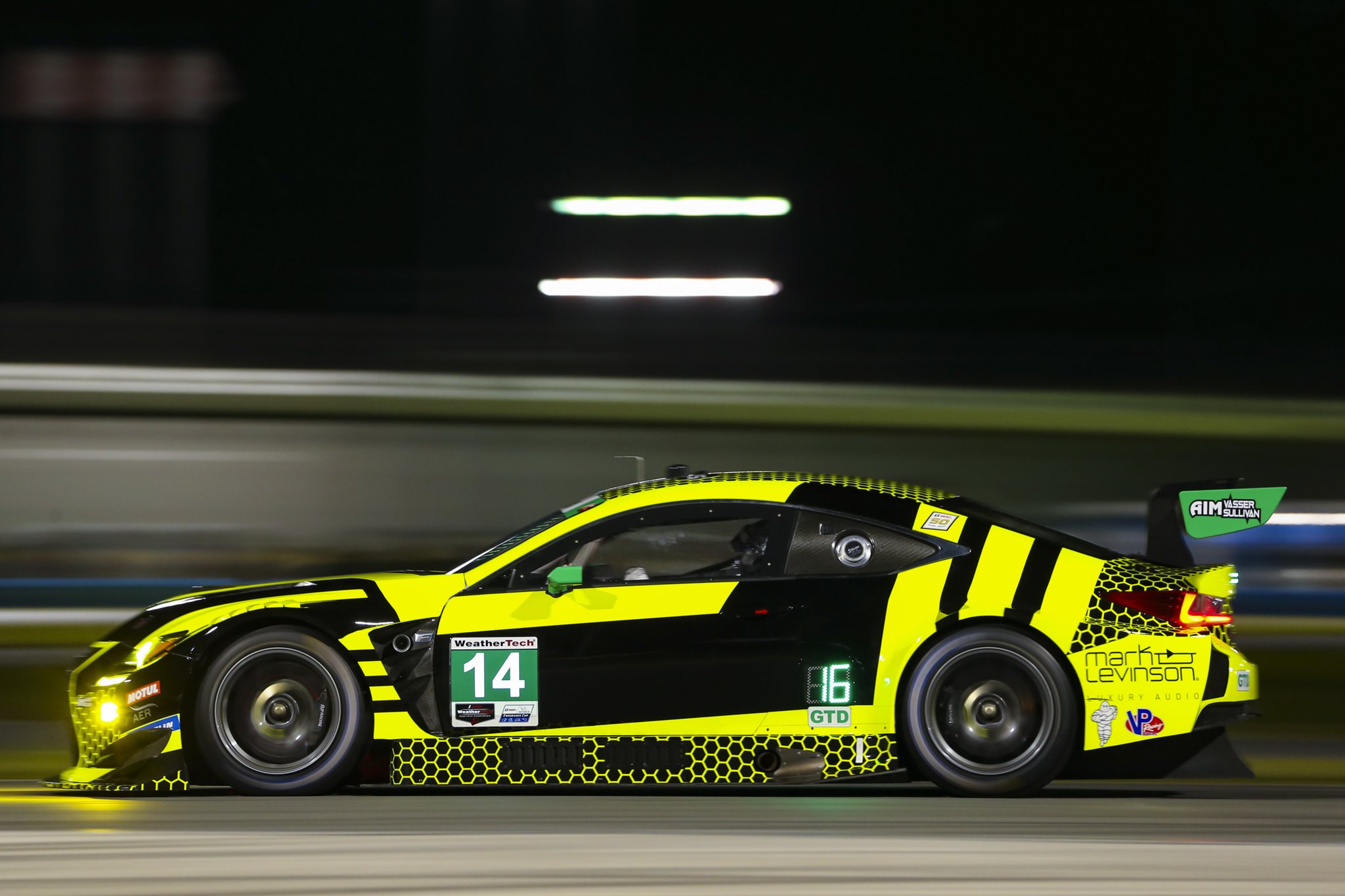 Porsche lead in GT
No other manufacturer has had more success at Daytona International Speedway – and the Rolex 24 At Daytona in particular – than Porsche.
And when the green flag flies Saturday at 2:35 p.m. ET (live NBCSN coverage begins at 2 p.m. ET), it'll be a Porsche leading the IMSA WeatherTech SportsCar Championship GT field to the green flag. Thanks to a record-setting run by Nick Tandy on Thursday, the manufacturer will go for a 70th Rolex 24 class win from the pole.
Tandy's lap of one minute, 42.257 seconds (125.325 mph) in the No. 911 Porsche GT Team Porsche 911 RSR easily topped the previous class record set last year by the No. 3 Corvette Racing Corvette C7.R of Jan Magnussen (1:42.779 / 124.688 mph).
"We knew the Vettes were going to be together, so it creates a double kind of draft," Tandy said. "Then I got the perfect tow, the perfect slipstream down the front straight, obviously with the pair of them in front. I was watching the lap time in the car and thought this was going to be a good one. It was probably worth a half second or so."
Tandy's teammates in the No. 911 Porsche this weekend are Patrick Pilet and Frederic Makowiecki.
While Porsche has shown its familiar speed early in the Rolex 24 weekend, it'll be anybody's race come Sunday afternoon in the always-competitive GTLM class. In fact, the top four spots in qualifying were made up of four different manufacturers.
After winning back-to-back Rolex 24 watches in 2015 and 2016, the Corvettes are looking to return to the top step on the podium. The bright yellow No. 3 Corvette Racing Corvette C7.R piloted by Jan Magnussen will start second in the season-opener after turning a lap of 1:42.583 (124.927 mph), and he will be joined by Antonio Garcia and Mike Rockenfeller.
The Ford GT, racing for the third straight GTLM win at Daytona for the make, took the third spot in the starting lineup. Defending race winner Ryan Briscoe recorded a time of 1:42.634 (124.865 mph) in the No. 67 Ford Chip Ganassi Racing entry.
And Ferrari rounds out the manufacturer diversity in the top four, as Davide Rigon posted a lap of 1:42.712 (124.770 mph) in the Risi Competizione Ferrari 488 GTE.
Gomes Leads Ferrari to Third Straight Rolex 24 GTD Pole for Saturday's Green Flag
In record-setting speed, Marcos Gomes piloted the Via Italia Ferrari 488 GT3 to the GTD class MOTUL Pole Award for this weekend's Rolex 24 At Daytona.
This marked the third straight year Ferrari has won the pole for the prestigious season-opener and marked the second straight year that the GTD pole speed record was broken. Gomes' time of 1:45.257 (121.753 mph) eclipsed the 1:46.049 (120.844 mph) set last year by Daniel Serra with the Spirit of Race Ferrari 488 GT3.
In fact, the top nine cars on the speed charts topped the 2018 record.
"It's my third time driving at Daytona, I'm getting better all of the times I've got in the track," Gomes said. "The GTD class is the most difficult because we have the most cars, and it's the most competitive, too, and to fight for the win on Saturday and Sunday will be very difficult for all the drivers and all the teams in the class."
Gomes will be joined in the No. 13 machine by Chico Longo, Victor Franzoni and Andrea Bertolini.
Ben Keating, who is chasing a third straight IMSA Michelin Endurance Cup title alongside teammate Jeroen Bleekemolen, posted the second-fastest time of 1:45.324 (121.676 mph). Luca Stolz and Felipe Fraga will round out the lineup in the No. 33 Mercedes-AMG Team Riley Motorsports Mercedes-AMG GT3.
The No. 86 Meyer Shank Racing w/ Curb-Agajanian Acura NSX GT3 rounded out the top three. Trent Hindman turned a lap of 1:45.396 (121.592 mph) and will share the ride with Mario Farnbacher, Justin Marks and AJ Allmendinger.