Last time we spoke to Adrian Fernémont he was adamant of a home win. A fighting second place at Spa followed by a tough third at TAC, he was determined to win at the Rallye de Wallonie – his home event based in Jambes.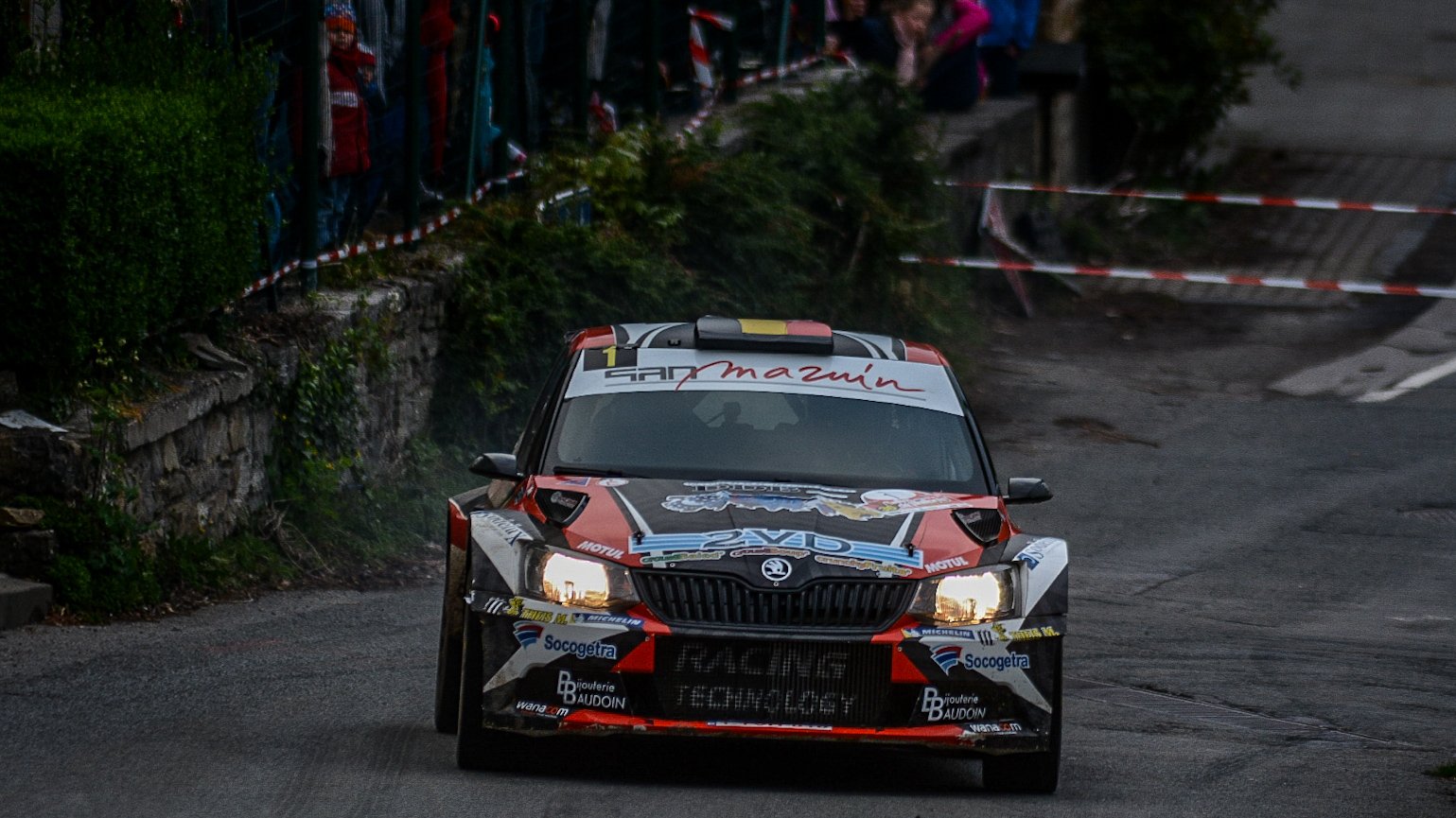 He is a dark horse for the Championship, up against the likes of the news Volkswagens, a legion of Skodas, in only his second full season in an R5, he was always going to be an outside bet.
But such is the determination and his ability to become at one with the Skoda, the dark horse is looking a lot stronger.
"Second in the Championship, next race will be great. It is possible to win the Championship this year. We will see and try in Bocholt in three weeks time. We will see," Fernémont said.
In Wallonie he used every trick he knew. On home ground, he knew what the roads could be like but the weather was changeable. As in, it could change three times in a single stage. A true case of if you don't like the weather, wait a few minutes, it will change.
This obviously made choosing tyres very difficult. But Fernémont had a trick up his sleeve.
"…my parents, family, friends and everyone helped me to make a good tyre choice. We had a Whatsapp group and they sent me pictures of the road and I can make a tyre choice from this."
The tactic worked up until the final loop.
Faced with a choice, wet or dry. The radar suggested there should be more rain. Looking up suggested there should be more rain. History suggested there should be more rain. So wets seemed like a good option.
Fernémont had 14,5 seconds in hand over Cedric Cherain, who took a gamble with dry tyres.
Unbelievably, the rain did not fall. The stages stayed dry. Cherain closed in.
First, 1,7 seconds, then 4.1. Gap significantly decreased with two stages left. The pressure was on. His family and supporters feeling the stress. The tyres were beyond their best.
Stage 21, he arrested the decline, losing 2.2 seconds, bringing the gap to 6.5 seconds. The clouds lingered. He needed the rain. It never came but he was able to manage the gap for the final stage, losing only 3.5 seconds on the final stage.
It was over, he won by just 3 seconds.
"I need to try! I was in first position with only a gap of 14 seconds. I try every time. It was really close, really close but ok, we made the best we could we could with the tyres with no water on the road. It was a great weekend."
"Yes it is fantastic to win at home. With only 3 seconds at the finish it was a tough weekend. We didn't have the best tyre choice for the last loop. But ok, it was not easy the whole weekend with the water on the road. We are the winner at home and we have a big party tonight
His weekend was bookended with tough times. The first stage he was 9th, losing almost 5 seconds to Cherain. He lost over 10 in the final four stages.
In between he won 8 stages and built his lead with a rapid drive. No mistakes in the tricky conditions. He managed the pressure well and it was an important win.
"It was really, really important [to get the result at home with a large amount of guests]. It pushed me really hard."
The RacerViews info
By Sam Tickell
We are passionate, dedicated motorsport professionals.
In 2019, we will be trackside at
The World Endurance Championship
Belgian Rally Championship
British GT
You will also find us at selected rounds of Blancpain, IMSA, WRC, and more. We aim to bring you interviews and photos you won't see anywhere else. We don't aim to break the news, rather we aim to bring the voices of the racers to you and atmosphere of the event to you at home. Our social media presence on Facebook, Twitter and YouTube bring you more, a holistic experience. We partner with racers and professionals in the industry and give back where we can. If we can help you or you have a story to share, please contact us.
In the past RacerViews has directly partnered with
Nat Rallysport and
and our team of reporters and photographers have also worked for events, teams, drivers and series from around the world