Belgian rally fans got something special this weekend in Ypres as WRC stars, Thierry Neuville and Nicolas Gilsoul have rallied their factory Hyundai i20 Coupe WRC on the famous Western Belgian stages.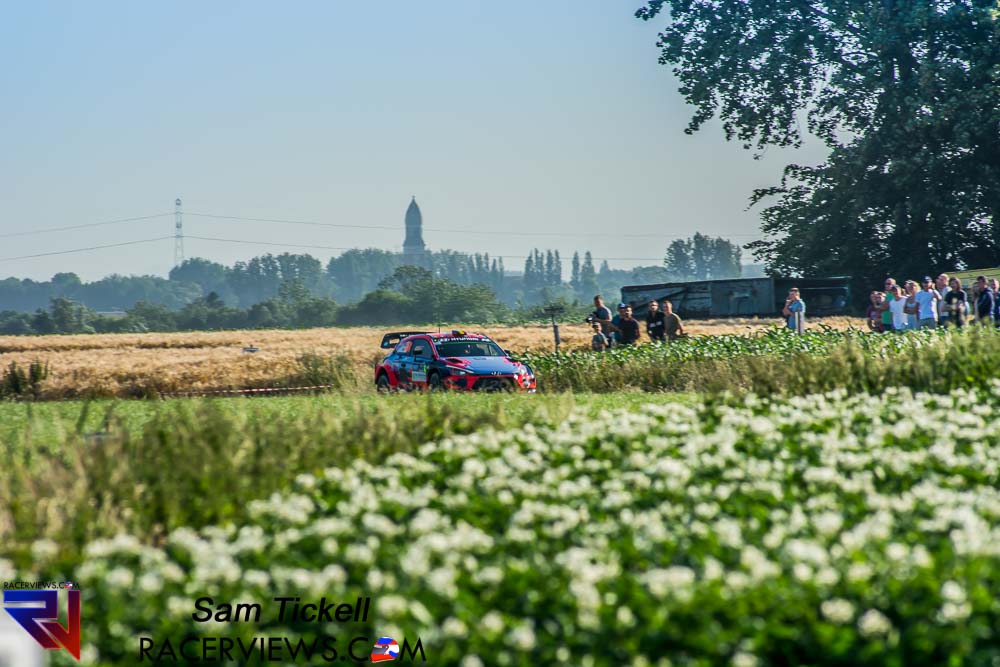 As many drivers explain, the stages here are unlike those you find elsewhere with narrow tarmac offering changeable grip and plenty of junctions. Though Neuville is familiar with the stages, winning last year in the i20 R5, no one has brought a current generation WRC car to these stages.
Neuville is joined by Bryan Bouffier who rallies a M-Sport Fiesta WRC in the Ypres Rally Masters this weekend.
For Neuville, this rally is about fun and giving something back to his fans.
"We are also wanting to do something good for motorsport in Belgium. Our local fans wouldn't have the opportunity to enjoy a WRC car here," Neuville said to RacerViews.
"For sure there is no pressure, it is just fun. So yeah, there is a little bit of excitement and it is busy with all the media around and all the signings and pictures but we do this for our fans – who support us through the year and the Belgians joining WRC events as well."
The pace of the WRC cars on the stages is also surprising, with Neuville averaging 119.3km/h over the five tests on Friday.
He was able to pull out around a second a kilometre on Bouffier's WRC machine and was around 1.5 to 2 seconds a kilometre faster than Craig Breen in the VW R5 on the stages – Breen, of course, leading the Ypres battle for the outright win.
Naturally, though Neuville says he is not pushing!
"The sensation of speed was very high already. We need to be considerate of the deep ditches, so it is going to be challenging but a fun event for us."
"I will drive as fast as I feel comfortable and if the settings are good and we feel alright we will try to push on some occasion."
But what can be said is his addition, and the addition of WRC machines to the national stages has been well received. The crowd on the Wednesday shakedown was up 20% on last year and the Ypres city centre has been full of rally fans, all eager to get their glimpse of their "National pride".
The RacerViews info
By Sam Tickell
We are passionate, dedicated motorsport professionals.
In 2019, we will be trackside at
The World Endurance Championship
Belgian Rally Championship
British GT
You will also find us at selected rounds of Blancpain, IMSA, WRC, and more. We aim to bring you interviews and photos you won't see anywhere else. We don't aim to break the news, rather we aim to bring the voices of the racers to you and atmosphere of the event to you at home. Our social media presence on Facebook, Twitter and YouTube bring you more, a holistic experience. We partner with racers and professionals in the industry and give back where we can. If we can help you or you have a story to share, please contact us.
In the past RacerViews has directly partnered with
Nat Rallysport and
and our team of reporters and photographers have also worked for events, teams, drivers and series from around the world