Corsica's Pierre-Louis Loubet is agonisingly close to taking out the WRC2 Championship at the Rally RACC Cataunya-Costa Daurada, ending Saturday's stages second in the class, behind Eric Camilli, and importantly ahead of his rivals.

In the category where the best six scores count towards the Championship, Loubet has taken two wins, a second, a fourth and a tenth to sit on 81 points, six ahead of Benito Guerra Jr and eight ahead of Kajetan Kajetanowicz and Nikolay Gryazin.
With Guerra retiring with mechanical problems and Gryazin having lost time, it is up to Loubet and Kajetanowicz to score the big points before Rally Australia, one where Loubet and Guerra Jr will be making the trip.
It is complicated but effectively, Loubet could wrap up the WRC2 Championship here in Spain.
It wasn't an easy day, as the Corsican explained.
"It was ok," said Loubet who visibly wanted to go work on the car and figure out the Sunday plans.
"Just this afternoon I had a puncture in the first stage. So I did the rest of the loop without a spare which made it quite difficult to take some risks."
"So yeah, just like it is, we are in a good position so we will try to stay to stay here."
It makes no sense to try to challenge Eric Camilli who currently leads WRC2, with a minute in hand over Loubet. Equally, Loubet has 18 seconds over Kajetanowicz.
With 75km of running still to do on the Sunday, things can only go wrong for Loubet, if here were to push too much.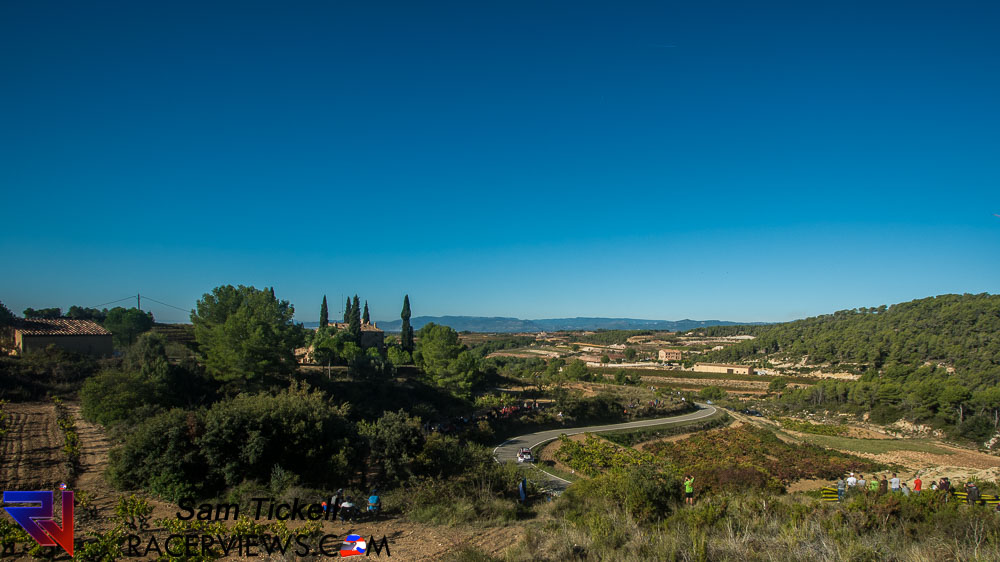 Currently he will take 20 points, ahead of his main Championship rivals, the only one going to Australia is out – meaning that if the results stay as they are, he will be 26 points in the lead. And Champion/
But as Loubet says…
"Yeah – it is still long so we will see."
"We will consolidate tomorrow. I don't want to do stupid things! I have done enough!"
After a few years in the WRC3 and not WRC2 class, this year has been his break out – showing pace and consistency that he has not done in the past.
So will he capitalise? Tomorrow will be an important day!
---
The RacerViews info
By Sam Tickell
We are passionate, dedicated motorsport professionals.
In 2019, we will be trackside at
The World Endurance Championship
Belgian Rally Championship
British GT
You will also find us at selected rounds of Blancpain, IMSA, WRC, and more. We aim to bring you interviews and photos you won't see anywhere else. We don't aim to break the news, rather we aim to bring the voices of the racers to you and atmosphere of the event to you at home. Our social media presence on Facebook, Twitter and YouTube bring you more, a holistic experience. We partner with racers and professionals in the industry and give back where we can. If we can help you or you have a story to share, please contact us.
In the past RacerViews has directly partnered with
Nat Rallysport and
and our team of reporters and photographers have also worked for events, teams, drivers and series from around the world