The second edition of the Ypres Historic Regularity was another hit. On the road, the race remained exciting until the final regularity stage, but Ruben Maes, leader since Saturday afternoon, was not to be surprised. The Porsche driver from Ingelmunster, navigated by French legend Michel Périn, secured the victory from Michel Decremer-Patrick Lienne, former winners of the Monte-Carlo Historique, and Yves Deflandre-Yves Noelanders, last year's winners.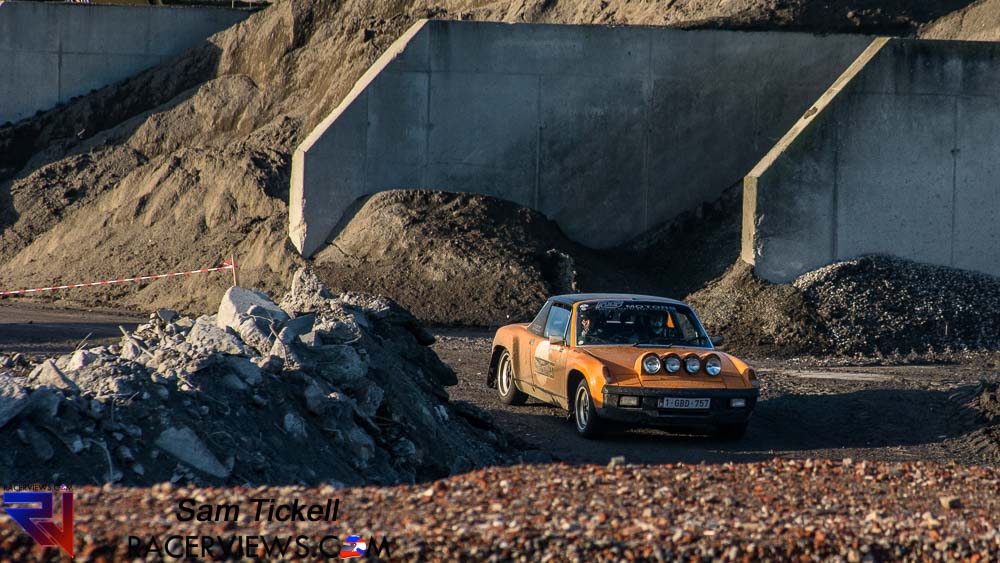 The organisers planned 9 RTs in the dark on Friday evening, including two Closed Road Stages, in Boezinge and a slalom in Komen. The drivers were immediately challenged as Yves Deflandre, Eric Piraux and Stéphanie Wante, were surprised by a trap on the last RT.
Michel Decremer, former winner of the Monte-Carlo Historique Rally, almost completed a perfect course. The Opel driver ended the day as leader, ahead of Ruben Maes with his Porsche 914/6.
On Saturday afternoon, however, Decremer was perplexed. After a tire change, the calibration of the tripmaster was adjusted, but he made a mistake. "A beginner's mistake that has given us a lot of penalty time. It's a shame, but I am glad that we have secured second place. I am particularly pleased that we have a regularity rally of this level in Belgium, because it was a well organised competition. The number of participants was very high. I will definitely be back next year," said Michel Decremer, who won class 4 with Patrick Lienne.
The victory went to Ruben Maes and Michel Périn. It is the first completion the duo competed in together and were immediately successful in their Porsche 914/6 prepared by RS Motors from Ingelmunster. Ruben remained very careful up to the last metre: "As the level was so high, I kept looking out until the last metres. A short delay by another road user or a small navigation error could cost us the victory. In any case, I enjoyed the beautiful course and thanks to Michel, who navigated us very well! "
For Michel Périn, former factory co-pilot at Citroën Racing and four-time winner of the Dakar, this victory was a first success in Ypres: "I met Ruben in the Tour Auto and we kept in touch. He drove excellently. In the beginning, there were some items that took  some getting used to, because in certain areas, the regulations are different in France than they are here. In any case, it was a well-organised race that required a lot of concentration," said Périn, who never competed in Ypres. "No, I was Citroën Sport's team boss here when Bruno Thiry was at the start in the Citroën Xsara kit car, but I never drove here myself. What a wonderful region to drive a rally!"
Third place went to last year's winners, Yves Deflandre and Yves Noelanders with their orange Porsche. "We made a mistake on Friday that cost us the victory, but that can happen. We will be starting with even more ambition next year," said the winner of class 5, Yves Deflandre.
Patrick and Joseph Lambert finished in fourth place with their BMW 2002. "I am very proud of that, because we drove here without service. Other teams run many races a year, while this was only one and we took second race. With my dad I had a top navigator next to me," laughed Patrick.
José Lareppe was stranded in fifth place after making a mistake while navigating on Sunday. As a result, his third place was lost, but his co-driver Jennifer Hugo was honored as the first lady.
Geert and Cédric De Jaeger sent their Porsche 911 to 6th place, ahead of Kurt Deklerck and Aswin Pyck in their Porsche 914. Johnny Delhez and Eddy Gully finished 8th with their Ford Escort, followed by the Renault 11 Turbo of Eric Piraux and Cathérine Monard. Dominique Holvoet and Yannick Albert finished the top 10. They were in third place for a while, until the engine stopped in the Celica and took some time to restart. Father and son Johan and Joppe Gitsels fell just outside the Top 10 with their beautiful Rothmans-Porsche.