At the end of the 20-minute LMP qualifying session it was Rebellion Racing who will start at the head of the field for the second race in a row after claiming the overall pole position for tomorrows Bapco 8 Hours of Bahrain.  It was a Porsche 1-2 in LMGTE Pro with the no91 911 RSR-19 at the head of the GT grid.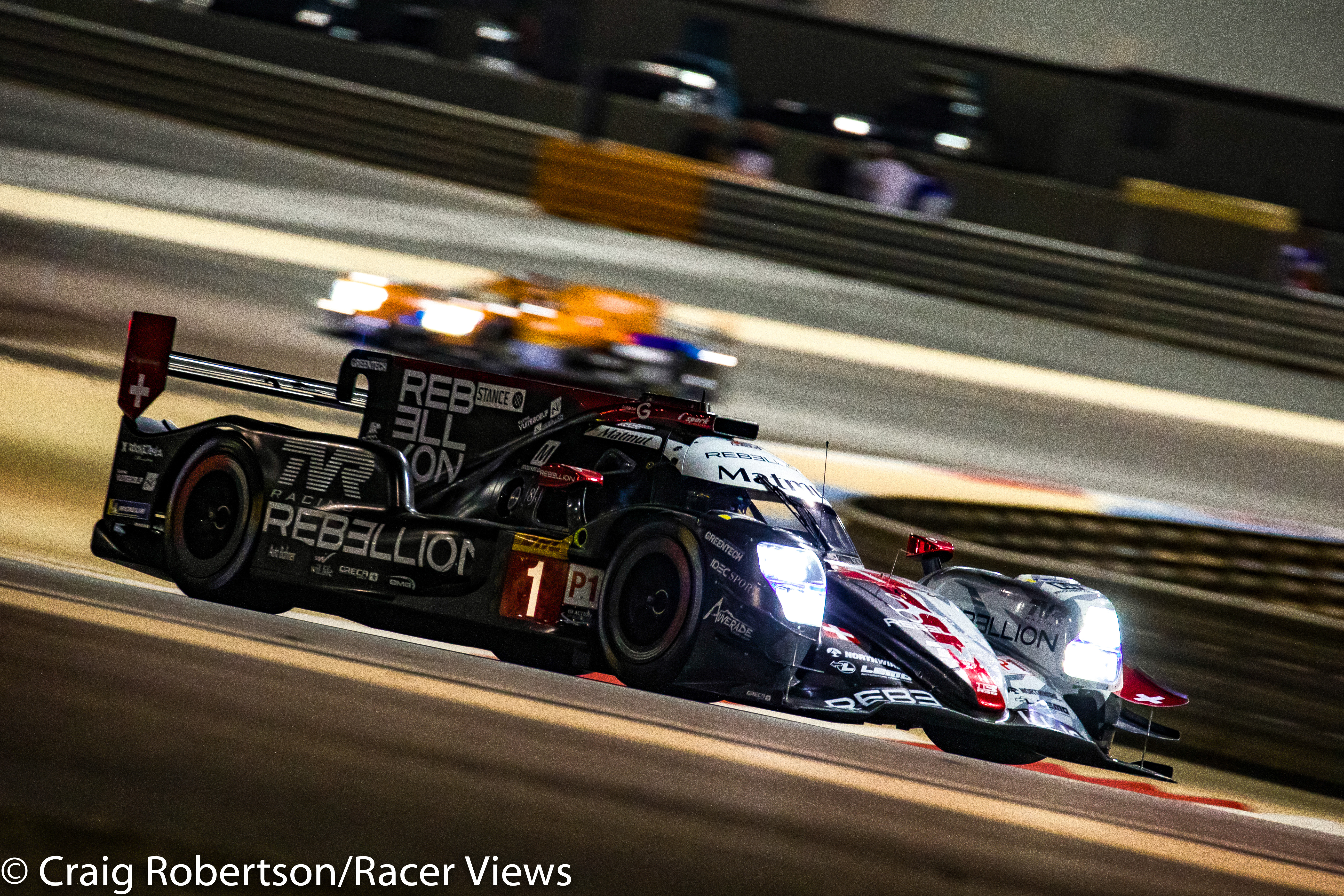 Bruno Senna and Norman Nato set the best average lap of 1m42.979s in the no1 Rebellion Racing R13-Gibson with Senna setting a scintillating overall fastest time of 1m42.396 in opening minutes of the session.  The no5 Team LNT Ginetta-AER places second as Charlie Robertson and Ben Hanley set an average just 0.144s off the pole.  Toyota-Gazoo Racing will start third and fourth as no8 TS 050 HYBRID just heads sister no7 car.
Bruno Senna – no1 Rebellion Racing R13-Gibson LMP1

"It was tricky to manage the out lap because the Ginetta was out front and it was essential to go out hard to keep the tyre and brake temperature up.

"It was a good lap and the car felt hooked up last night too [in FP2]. It was night quite as hooked up today as I think the track conditions were not the same as last night but it was good enough for pole and the team did a good job. Honestly, we are a bit surprised to have been on pole twice as this is not the track which makes our car look the best but we will take it for sure."
LMGTE Pro sees pole position go to no91 Porsche 911 RSR-19 as Richard Lietz and Gianmaria Bruni claim their second pole of the season.  The Austrian/Italian teammates average 1m55.485, with Lietz setting fastest overall lap time of 1m55.342s.
Porsche claim a 1-2 with the no92 car of reigning world champions Michael Christensen and Kevin Estre taking second position, just 0.060s behind their stablemates.  AF Corse place third and fourth as the no51 488 heads the no71 Ferrari GTE Evo.
Gianmaria Bruni– no91 Porsche GT Team Porsche 911 RSR

"It was a tough qualifying like always in LMGTE Pro. I has the first shot and it was good and we were ahead of our sister car [No.92], so I said the tyres look good and the car feels good so we try to get the pole and extra point can really count.

"We changed our strategy and Richard [Lietz] went in and he did a great lap which was really amazing. We have been working so hard in the practice sessions working for the race so we didn't really care about qualifying so much but it came to our side and we are happy."
United Autosports claimed their first ever LMP2 WEC pole position with British duo Paul di Resta and Phil Hanson setting an average lap time of 1m45.357s, with Di Resta claiming the overall quickest LMP2 lap of 1m44.869s.
Jackie Chan DC Racing duo of Will Stevens and Gabriel Aubry qualify just 0.3s off class pole sitters, with G-Drive Racing will start their first WEC race of the season from third position in the Aurus 01-Gibson.
Paul Di Resta – no22 United Autosports Oreca-Gibson LMP2

"All year we have shown we can be at the sharp end and we managed to convert it to pole position today and it is nice.

"We have had a difficult start [to the season] with some technical issues but we have put ourselves in a good position now and hopefully it will be more straightforward in the race. The car has been in a good zone."
In LMGTE Am the no57 Team Project 1 Porsche took its first pole of the season, with Larry Ten Voorde and Ben Keating combining to set an average lap of 1m57.602s.  Ten Voorde claimed fastest overall lap with a 1m57.089s effort, with the no54 AF Corse Ferrari finishing the 20 minute session in second as Giancarlo Fisichella and Thomas Flohr, just ahead of the no88 Dempsey Proton Porsche with Khaled Al Qubaisi and Thomas Preining setting the time.
Larry Ten Voorde – no57 Team Project 1 Porsche 911 RSR

"It is my second ever WEC race but my first qualifying. We were really pushing and we got done for track limits but the car felt quite good and I got the maximum out of the tyres.

"Ben did a mega job and was within a second of me. I am happy and excited for the race tomorrow but we still have to work on the strategy for tomorrow but I am super happy to be here and well done to the team."
The Bapco 8 Hours of Bahrain will get underway at 15h00 (local) / 13h00 CET on Saturday afternoon with the chequered flag due to shown at 23h00 after the sun has set.