With the FIA European Rally Championship due to get underway soon with the Azores Rallye, we know that Craig Breen and Emil Lindholm are in with Team MRF Tyres, but who else is in for the 2020 season?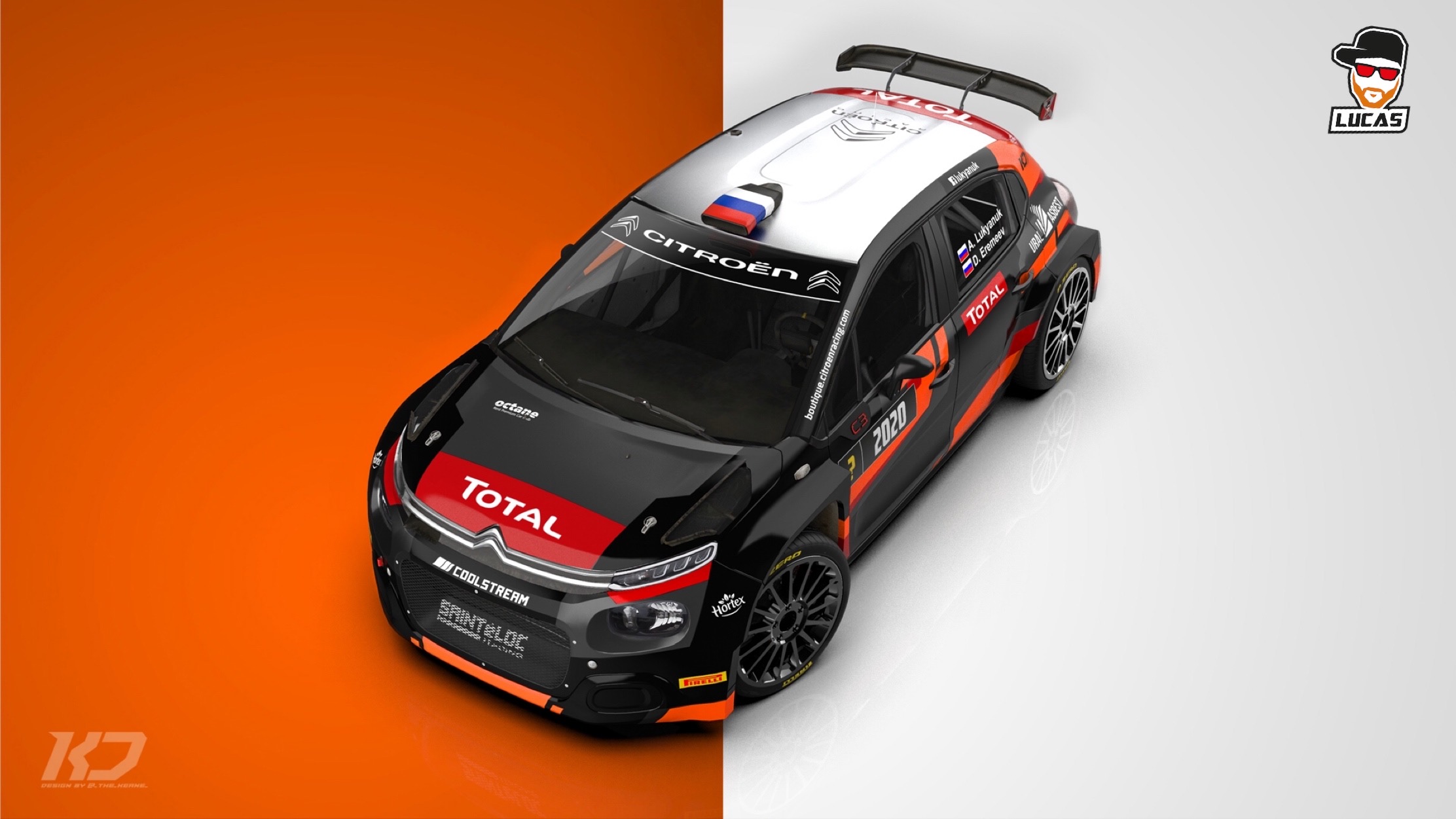 Alexey Lukyanuk has vowed to continue his 'pressure-free' approach to the FIA European Rally Championship after re-signing with the Saintéloc Junior Team for 2020 to drive a Citroën C3 R5.
The 2018 ERC champion narrowly missed out on back-to-back titles in a thrilling final-stage showdown with Chris Ingram on Rally Hungary last November. With Dmitriy Eremeev recruited in place of Alexey Arnautov – who is taking a break from co-driving after more than 10 years as Lukyanuk's wingman – Lukyanuk will bid for more ERC success in 2020, albeit with the overall title not at the forefront of his mind.
Described by a rival as "one of the fastest drivers on the planet", Lukyanuk's ERC career hasn't been without its share of excitement and incident. That's why the 39-year-old Russian has made becoming an even better driver a main goal this season, even if that's at the expense of the championship. "I know I am fast but I am a bit sad that it's not always transforming into really good results. I still have a lot of passion inside and energy to push, to fight and to deliver good results, good speed. I just need to continue working on my driving, on the car and that's it."
---
ERC comeback king Bruno Magalhães marked himself out as a driver to beat on the Azores Rallye later this month after he finished in second place on Rallye Serras de Fafe e Felgueiras, the opening round of the Portuguese championship, last weekend.
The multiple ERC event winner, who is contesting a dual national and European championship campaign in 2020, beat national champion Ricardo Teodósio to the runner-up spoils in his Team Hyundai Portugal i20 R5.
Five-time Portuguese champion Armindo Araújo won the gravel event on his debut in a ŠKODA Fabia R5 Evo run by FIA European Rally Championship entrant The Racing Factory.
---
Having won back-to-back ERC3 and ERC1 Junior titles, Marijan Griebel will chase more success in the FIA European Rally Championship in 2020, armed with a Saintéloc Junior Team Citroën C3 R5.
Griebel, 30, is joining the winner of the 2019 FIA European Rally Championship for Teams for what is initially a five-event campaign but could be extended to include more rounds depending on budget.
A serving police officer, Griebel is one of Germany's best rally drivers having taken the national title in 2018 and scored world championship points in the same year, when he finished eighth overall on ADAC Rallye Deutschland in a Citroën DS3 WRC.
"Saintéloc has massive ERC experience, working together with stars like Craig Breen and Alexey Lukyanuk in the past, and I'm convinced they will give me a fast car," said Griebel, who will be co-driven by Stefan Kopczyk for the first two events before Pirmin Winklhofer takes over. "In contrast to my programme last year, I'll have a test before each round and will be much better prepared than in 2019. So, it should be a great opportunity."
---
ERC2 champion Juan Carlos Alonso has ended all talk of retirement by announcing a three-event campaign in the FIA European Rally Championship's top division.
Alonso, from Argentina, celebrated winning the ERC2 title on the Cyprus Rally last September by stating he was in the "last stages" of his career and could hang up his helmet following his success. But he will return to the ERC, which he's described as his "home for life", joining The Racing Factory from Portugal to pilot a ŠKODA Fabia R5. Juan Pablo Monasterolo will co-drive.
"We are very excited with this challenge for 2020, it's a real dream for me and my co-driver to be in ERC1," said Alonso, who commutes from his native South America for his European championship campaign.
---
Amaury Molle will embark on an FIA ERC3 Junior Championship adventure in 2020, joining Delta Rally to drive a Peugeot 208 R2.
Molle, a class winner in his homeland, has tried the young driver class for size on two previous occasions but this season will be his first full campaign in the Pirelli-supported category for Rally4 and Rally5 cars. Frenchman Florian Barral will co-drive.
---
Polish champion Miko Marczyk will contest the 2020 FIA ERC1 Junior Championship with backing from PKN Orlen.
The 24-year-old will contest the six-event series for young stars in Rally2 cars starting with the Azores Rallye from 26-28 March.
Szymon Gospadarczyk will co-drive his ŠKODA Fabia R5.
---
Erik Cais will step up to Rally2 (formerly R5) level in the FIA European Rally Championship – three years after injury forced him to call time on his hugely successful downhill mountain bike racing career.
Cais, 20, is swapping the Ford Fiesta R2T he drove to second place in ERC3 and fourth position in Pirelli-supported ERC3 Junior in 2019 for a top-of-the-range Ford Fiesta R5 MkII, prepared by his existing team Orsák Rallysport.  It will be run under the Yacco ACCR Team banner, in deference to his main partners, Yacco and the Autoclub of the Czech Republic. Jindřiška Žáková will continue to co-drive.
---
Dmitry Feofanov has emerged as the first driver to challenge Tibor Érdi Jr in his bid for an ERC2 hat-trick as registrations continue to roll in for the 2020 FIA European Rally Championship.
Feofanov, from Russia, is committed to at least the opening four events of the upcoming season when he will drive a Mitsubishi Lancer Evolution X for the respected Prospeed operation.
---
Dominik Dinkel has chosen the FIA ERC1 Junior Championship for 2020 in order to "improve his skills" against "very high" competition at Rally2 level.
German talent Dinkel, 27, will drive a ŠKODA Fabia R5 Evo for ROMO Motorsport alongside compatriot and long-term co-driver Christina Fürst. He will enjoy backing from sponsor Brose and mentor Michael Stoschek, who have supported his rallying since 2012.
---
Pep Bassas will get the opportunity to follow in countryman Efrén Llarena's wheel tracks by stepping up from national to international level with the full backing of his national federation, RFEDA (Real Federación Española de Automovilismo).
Twenty-six-year-old Bassas is joining Rallye Team Spain for an FIA ERC3 Junior Championship bid alongside co-driver Axel Coronado. They will compete in a Mavisa Sport-run, Pirelli-equipped Peugeot 208 R2, and began their campaign with a practice event, Rallye Tierras Altas de Lorca.
---