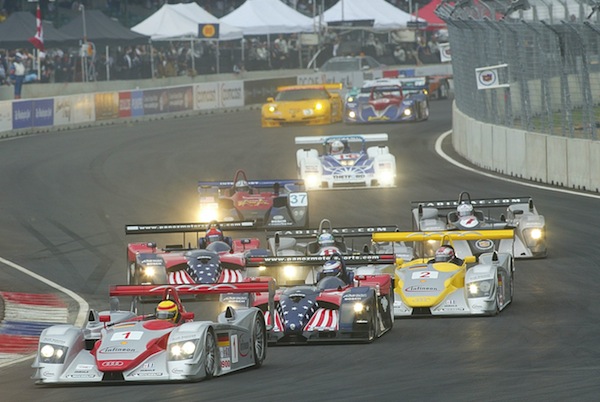 Another week and we take a look back at another great ALMS event.  This time we take a look back at another short lived street track – at Washington DC.
Unlike Adelaide, this one was probably doomed from the start with a lack of community consultation ensuring that the neighbours screamed everything from noise to environment to traffic to wasting tax payer money, the race left the ALMS with a lot of lessons.
But for a street track it was a great track and a great event.  It was almost a sell out and only cost the City $5.1million.  Granted that is a lot but the benefit to the region would have been much greater.
32 cars took the green flag for 2 hours 45 minutes of racing – the first in the region for 80 years.  It was held around the streets and parking lot adjacent to Robert F. Kennedy Memorial Stadium.  The leading cars could get into the 1:03s, meaning traffic would be a problem.  There were wide parts of the track and plenty of opportunity for passing.
It was a titanic battle up front between the Audis, Cadillac and Panoz efforts, with supporting roles form private efforts.  It was a American vs the rest battle in the capital.  In the GT battle it was again the might of America with the Corvettes and Saleens versus the best of Europe, this time with Ferrari.  GTS, however was a Porsche domination.
Cadillac sponsored the event and in July 2002, the country was reeling from the 9/11 attacks.  Sportscar racing in the nations capital somehow brought a catalyst for local pride.
All season the Audis had dominated but at Washington, they managed to trip over themselves in a display that we rarely see from Ingolstadt. Meanwhile the Panoz of Jan Magnussen and David Brabham drove a suburb race, displaying brilliant strategy and race craft to take the unlikeliest of wins.  They took it, in the end by less than a second from Capello and Kristensen.
Theoretically the Audis should have been stronger but a combination of excellent strategy and fortuitous safety cars – along with an inter-marque clash when Capello clashed with the Champion Audi of Stefan Johansson and took a penalty.  Theory was thrown out the window though on this day, allowing Panoz to take their second of two 2002 ALMS wins.
Corvette also beat out the Rafanelli Ferrari to take out GT.
In all honesty, this race shouldn't have been a great or one to remember.  It annoyed the residents, left a gaping political hole and it was another street track.  It would take the best part of a decade to get another race back in the region and while Balitmore was far from perfect, it had more political and social will than this event.
But it came at an important time for America.
It gave an important victory for an American team in the most American place there is – the capital.
httpv://youtu.be/DXgoWIh2a6Q
A great recap can be found here.
—-
By Sam Tickell, October 2013
RacerViews was established in 2011 and with the aim of delivering a new web experience to motorsport fans. We bring exclusive interviews and photos from motorsports finest drivers of yesterday, today and tomorrow. Our team has over 30 years of experience in the motorsport field. With a heavy presence on Facebook, Twitter and iTunes where we have over 2800 followers, our mission to bring exclusive content is in safe hands. We have partnered with motorsport teams like Stig Richards Motorsport, One of a Kind Motorsport, Dark Horse Racing and MRT Performance in order to give you the best exclusive motorsport coverage.
We are always looking for new people to join our team. If you are a motorsports photographer or journalist looking for additional exposure or a great place to learn your trade, contact us