The rain had the final say as the TUSCC visited Detroit. A dramatic finish could not deny the Whelen Corvette a win but the GTD would be far more dramaticPrototype
Dane Cameron passed Jordan Taylor during the final 30 minutes and held on to win Saturday's Chevrolet Sports Car Classic presented by Metro Detroit Chevy Dealers, giving the No. 31 Whelen Engineering/Team Fox Corvette DP started by Eric Curran its first TUDOR United SportsCar Championship victory. They became the fifth different TUDOR Championship Prototype winner in five races in 2015.
"What a day, this is amazing, to come away with a win at the Chevy classic – in a Chevy no less," Cameron said. "Thanks to everyone who was able to get us in this position. For me, the car was the best it's been all year. It's amazing to me that we're only halfway through the season, five races in, and we have a win. It's the beginning of the future wins for Dane and I and this program. We're really all meshing really well. If we're going to have our first win, we do it in Detroit in front of all the Chevrolet guys."
Ozz Negri took second on the final lap in the No. 60 Michael Shank Racing Ligier JS P2/Honda started by John Pew, denying Action Express Racing a 1-2 finish. Joao Barbosa spun in the No. 5 Mustang Sampling Corvette DP started from the pole by Christian Fittipaldi, but recovered to finish third.
Jordan Taylor, looking for his fourth consecutive victory in the event and third for Wayne Taylor Racing's No. 10 Konica Minolta Corvette DP, was issued a drive-through penalty in the final 10 minutes for contact with Townsend Bell in No. 63 Scuderia Corsa Ferrari 458 Italia. Taylor, co-driving with his brother Ricky, came back to finish seventh.
The 100-minute race started under sunny skies but finished under increasing rain which began falling entering the final hour. Fittipaldi led comfortably until the first full-course caution at the 33-minute mark for an incident involving the No. 33 ViperExchange.com Dodge Viper SRT GT3-R of Ben Keating. Barbosa led following a full round of pit stops, followed by Richard Westbrook in the No. 90 VisitFlorida.com Corvette DP, Jordan Taylor, Cameron and Negri. Taylor took the lead on the restart, but Cameron worked his way through the field before taking the lead on Lap 41 and led the final 19 circuits.

– See more at: http://www.imsa.com/articles/cameron-curran-combine-corvette-dp-win-belle-isle#sthash.u4NRhIAu.dpuf

LMPC
I'm not looking for good luck, I just don't want any more bad luck like we've had in the last three races," Starworks Motorsport owner Peter Baron said before Saturday's debut of the Prototype Challenge (PC) class in the Chevrolet Sports Car Classic Presented by Metro Detroit Chevy Dealers at the Raceway at Belle Isle Park.
He got his wish. Mirco Schultis and Renger van der Zande drove a flawless race to score their first victory of the season in the No. 8 Martini ORECA FLM09, while misfortune struck the top three contenders in the championship.
Schultis and van der Zande won three races in 2014, with van der Zande finishing second in the championship. Saturday's victory enabled the pair to move up to sixth in the standings.
"Bruno (Junqueira) slipped in Turn 1 when we were coming up on a GTD car, and I went around him on the outside and I passed him in Turn 2," van der Zande said. "Then I ran down (James) Vance, and from there on it was a matter of managing the race. We knew from Mazda Raceway that we were lighting fast, but we didn't win that one. We were finally able to win here today, but it wasn't that easy."
Starworks spoiled a strong showing by Performance Tech Motorsports, with James French winning his first TOTAL Pole Award in the No. 38 Ric-Man Detroit ORECA FLM09, and new co-driver James Vance leading the opening 55 laps before van der Zande took the lead. Five laps later, Stephen Simpson took second in the No. 85 JDC/Miller Motorsports UndergroundCellar.com/Young Marines ORECA. Vance held on for third.
– See more at: http://www.imsa.com/articles/starworks-sheds-bad-luck-posts-first-pc-victory-2015#sthash.ndnvz8RR.dpuf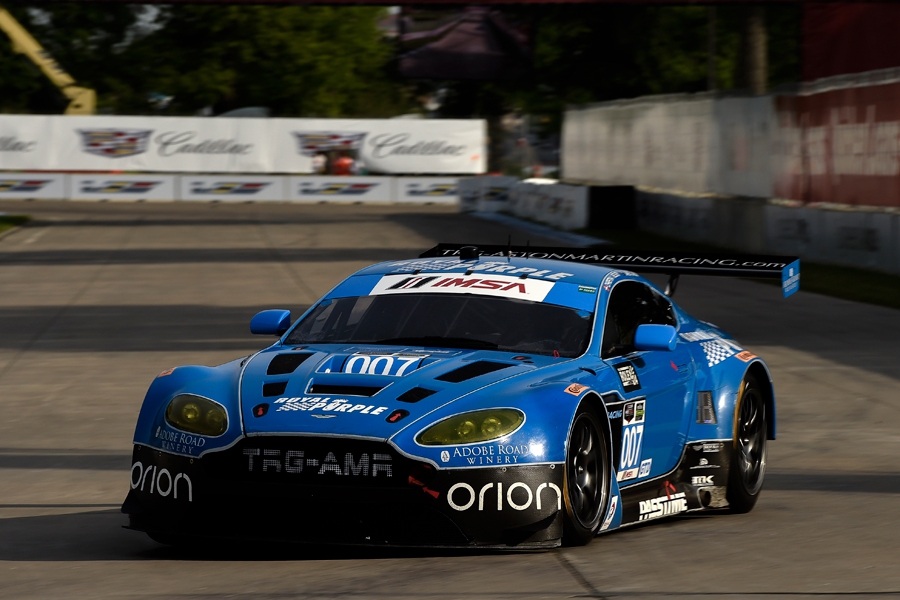 GTD
All cylinders were firing for Alex Job Racing in the Chevrolet Sports Car Classic presented by Metro Detroit Chevy Dealers, both on and off the track. Shortly after the green flag, Porsche and Alex Job Racing announced that the first two new Porsche 911 GT3 R racecars have been ordered for TUDOR United SportsCar Championship competition on behalf of WeatherTech Racing and Team Seattle. Both teams will compete in the GTD class and are the first to announce their intentions to compete in the TUDOR Championship full-time in 2016.
Running in the sixth position, Ian James pitted under green early in the race. The first full-course caution came out one lap following his stop. While the GTD leaders pitted for the lone pit stop of the race, co-driver Mario Farnbacher found himself in the lead. He never looked back, leading the remainder of the race. The quickest lap of 1:33.086 for the team came on lap 45 of 57 circuits.
Coming in second place were Christina Nielsen and James Davison in the No. 007 Royal Purple/Orion Energy/LaSalle Solutions/PassTime USA Aston Martin Vantage. Davison closed the race out for the pair, finishing 2.679 seconds behind Farnbacher.
Dion von Moltke started the No. 48 Castrol EDGE Audi LMS on the pole for Paul Miller Racing. Co-driver Christopher Haase finished third, he set the quickest GTD lap of the race on lap 53 at 1:32.628.
– See more at: http://www.imsa.com/articles/alex-job-racing-captures-victory-motor-city#sthash.FTVoL1oy.dpuf
—
All materials courtesy of IMSA PR