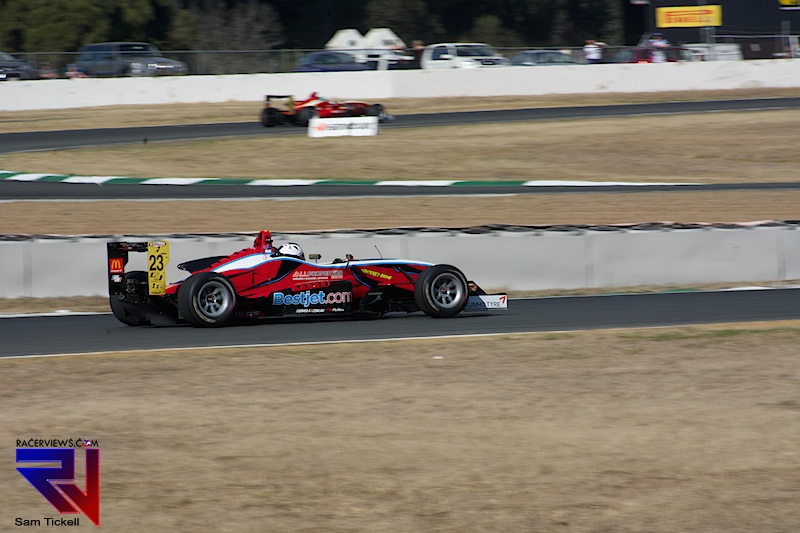 Luke Spalding burst onto the Australian Formula 3 Championship this year in only his second year of car racing (after having raced karts for many years) With all that was happening in the world of Australian motorsport, it has been easy to miss his progress but when you watch him on track, he was hard to miss.
He has been unbeaten in the National Class in this year's Championship, often racing amongst those in the outright class. His performance at Queensland Raceway was impressive and it was enough for him to wrap up the National Class title.
"We are pretty happy to wrap it up so early! We are thrilled, the pressure is off and now we can enjoy the rest of the series."
"We had struggled for pace here this weekend – we struggled on Friday. We looked at the data and managed to sort it out -then the car was on rails and it became pretty easy."
"It is difficult to get it right here – you want it set up for the slow corners but you have to have it set up for the quick corners or your going to get bombed down the straights. It is tricky getting that balance to get the win for the first and second corner and as little as possible for the straight."
"Overall it makes for awesome racing. In the draft you can make up time on the back straight and it makes for a lot of fun."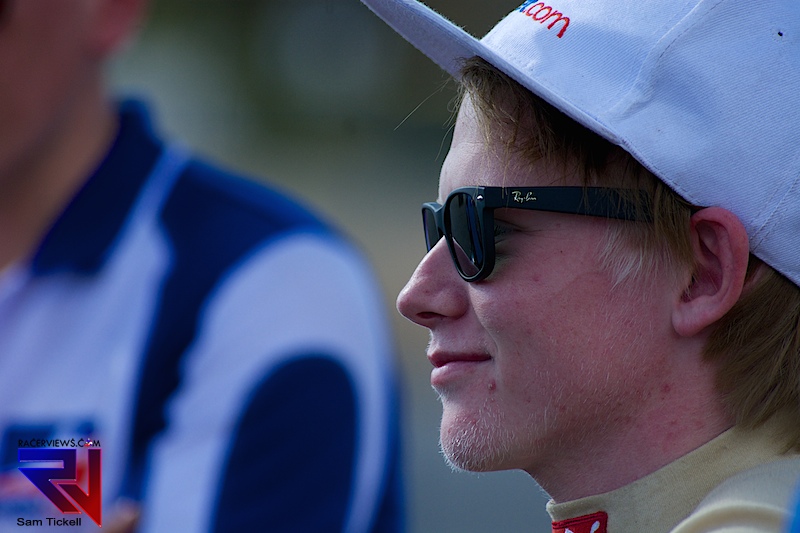 He has overcome more struggles than most should have to in their teenage years, having fought a rare aggressive form of cancer. The cancer didn't stop him.  In fact he has continued to raise money, visit cancer wards. He brought that attitude to the track too, engaging with young fans and had a heartfelt thanks to his team.
As he looks to the future like all drivers, funding is at the top of the list. His 2015 campaign has been made possible by Gilmour Racing and in particular support from Bestjet.com.
"We were racing Fomula Vee last year and at a charity acution we mentioned that I was racing go-karts and Fomula Vee and he said 'come round and meet the team'. Once we met the team it was a really long process to put it togeether."
"We did some test days, put in a lot of effort in to get the sponsorship and find the budget – it was a really long process."
As for the future, he has lofty ambitions although, like most young racers, the future is a little cloudy. His ambition is something to admire and we all wait to see what is next.
"I have no idea what is next – I would love V8 Supercars, so I think a Dunlop Series seat is what I will aim for."
For now though, Luke can enjoy his success, savour the Championship and as he said, enjoy the rest of the Formula 3 season.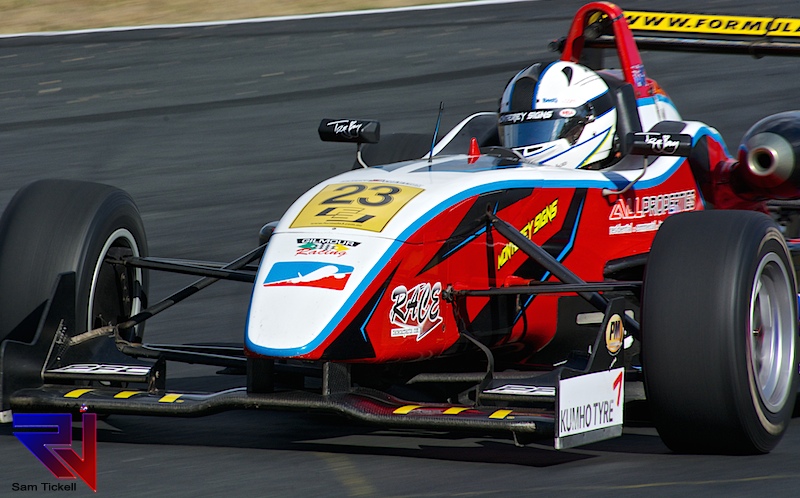 By Sam Tickell, August 2015
RacerViews was established in 2011 and with the aim of delivering a new web experience to motorsport fans. We bring you more than just the news.  Our exclusive interview and galleries brings you the views from the track, from the racers. Our extensive race review collection allows you to keep up with the action from around the world. Our team of passionate pros have decades of experience in the motorsport field. Our social media presence on Facebook, Twitter and iTunes  bring you more, a holistic experience.  We have more than 3100 followers on Twitter and more than 1.5million views on Google Plus.  Our mission is to bring exclusive content is in safe hands. Over the time we have partnered with motorsport teams like Andreas Wirth, Stig Richards Motorsport, One of a Kind Motorsport, Dark Horse Racing and MRT Performance in order to give you the best exclusive motorsport coverage.
We are always looking for new people to join our team. If you are a motorsports photographer or journalist looking for additional exposure or a great place to learn your trade, contact us