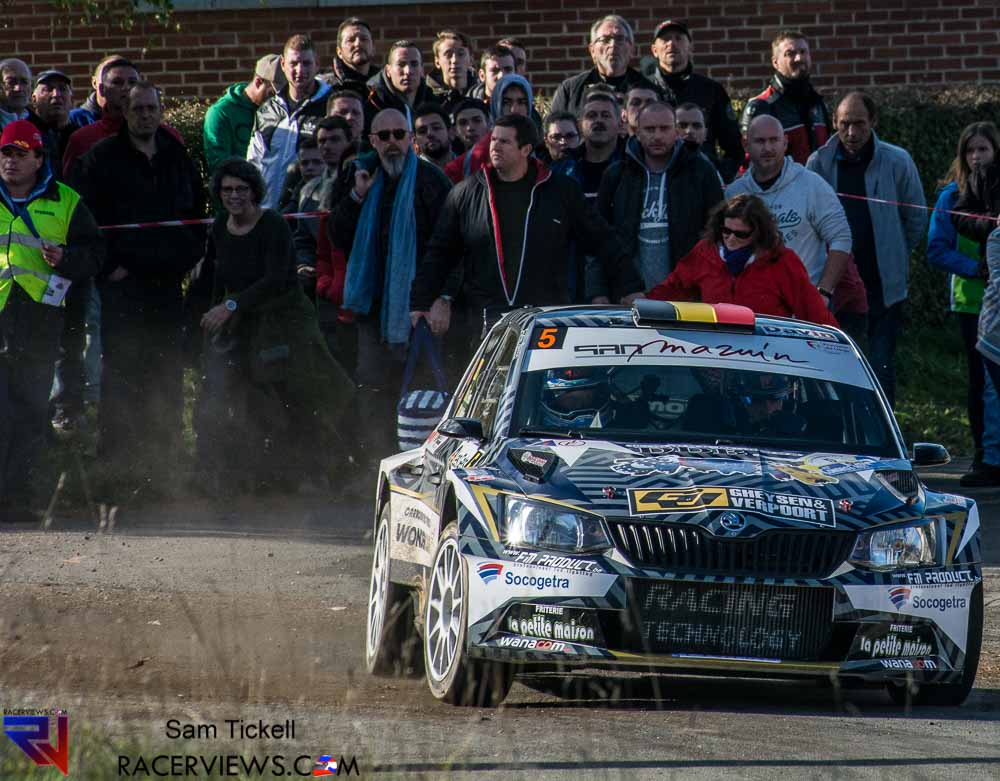 The first round, the Rally van Haspengouw is fast approaching for the 2019 Jobfixers Belgian Rally Championship. So what has been happening in the Championship?
First up, driver updates:
Sébastien Bedoret has announced that he will return with Skoda for a tilt at the title. He will compete in all rallies except for Spa and Seazons with Thomas Walbrecq. They will be supported by Skoda Belgium. In addition they will do three events in WRC2: the Tour de Corse, the Deutschland Rally and the Rally of Spain.


"A year ago, I had not yet played a single rally driving a car in the R5 category. Today, I find myself with a five-star program for 2019!"

Adrian Fernemont has announced he will return with San Mazuin Racing for 2019. After a great run at Condroz, he will be back in the Skoda Fabia R5 and will be a dark horse for the Title
As reported at the end of last season Vincent Verschueren should be back for the 2019 Championship but we are still waiting for official confirmation for him and his Skoda
Additionally we had a chat with Kevin Demaerschalk at the end of last year for an article that we never got around to write. The J Motorsport Citroen C3 R5 driver is aiming for a part season in the BRC but we are waiting on confirmation to which rounds he will compete in.
Tuur Van Den Abeele is looking to do five rounds in a Ford Fiesta R5 from SV Racing. While funding is still being sorted for the campaign, it is expected that Haspengouw, TAC, Condroz and Wallonie will be part of the program.
M-Cup Champion Eddy Smeets will be back in 2019 in his BMW. He will take on 5 BRC rounds (Haspengouw, TAC, Sezoens, Omloop van Vlaanderen and East Beligum) and also the GTC Rally.
We will see part seasons from Tim Van Parijs who will compete in 3 rounds in his Porsche – Ypres, TAC Rally and the East Belgian Rally. Paul Lietaer will compete in 13 rallies in 2019 after taking the BRC Historic title in 2018. He will compete in TAC Rally, Ypres and Omloop van Vlaanderen as part of the BRC calendar. Additionally Melissa Debackere will compete in a combined schedule in her Skoda. Her calendar will feature nine rallies with Condroz being the only BRC outing.
Robin Maes will take 2019 out to concentrate on his business and a come back in 2020. The former Historic champion switched to the R5 Skoda for 2018.
Achiel Boxoen is looking to put a program together that will include 3 BRC rounds and 5 ERC rounds in 2019 but the exact rallies are still to be announced.
And what of Champion Kris Princen? Or the GT Champion Patrick Snijers? We know that the BMA squad has access to the Skodas and a VW. Word is that Princen is still seeking funding for the Championship assault. We await confirmation on Snijers' program for 2019.
Currently there are 6 R5 cars on the entry list for Haspengouw including Fernemont, Bedoret, Christophe Verstaen (Fiesta R5), Ghislain de Mevius (Fabia R5), van den Abeele and Niels Reynvoet (Fabia R5). Undoubtedly the list is not finalised and at the moment there are 37 entries in the National categories, 19 in Criterium, 27 in Regularity and 8 in the Slowly Sideways demonstration. More information on the official website however the rally will follow, generally, the route from 2109
---
The RacerViews info
By Sam Tickell
We are passionate, dedicated motorsport professionals.
In 2019, we will be trackside at
The World Endurance Championship
Belgian Rally Championship
British GT
You will also find us at selected rounds of Blancpain, IMSA, WRC, and more. We aim to bring you interviews and photos you won't see anywhere else. We don't aim to break the news, rather we aim to bring the voices of the racers to you and atmosphere of the event to you at home. Our social media presence on Facebook, Twitter and YouTube bring you more, a holistic experience. We partner with racers and professionals in the industry and give back where we can. If we can help you or you have a story to share, please contact us.
In the past RacerViews has directly partnered with
Nat Rallysport and
and our team of reporters and photographers have also worked for events, teams, drivers and series from around the world.