It was another great round of the JobFIXers Belgian Rally Championship with the Sezoens Rally in Bocholt. Great rivalries continued and a massive crowd was treated to a good show. The service park in the middle of a village and a beer company being the title sponsor doesn't hurt either!
Here are some things we noticed during this year's event.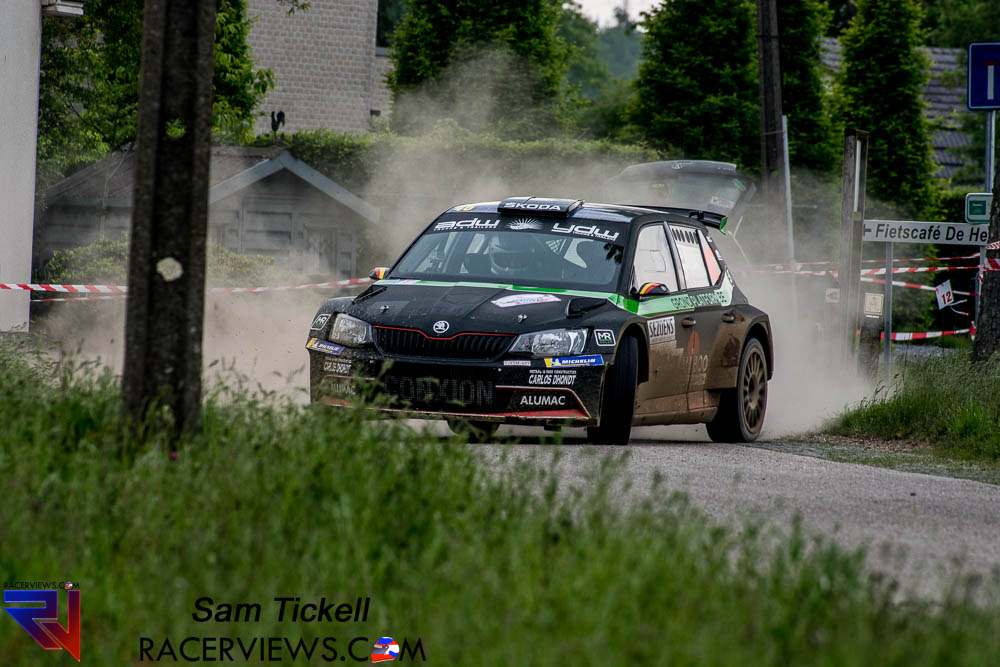 Bocholt offers something that no other rally does in Belgium – gravel. In fact 25% of the competitive distance is gravel (total distance of about 152km). With the cars set up for tarmac, the handling is tricky on the gravel. The R5 cars with the four wheel drive handle it better, with some of the 2WD competitions stating that they are on a knife edge, and others are quite conservative across the gravel. It all makes for an interesting spectacle.
This year's Championship could be down to expertise on Flemish roads. Usually more of a point and squirt nature – with narrow straights and 90 degree corners featuring much more in Flanders than the rallies in Wallonia. Kris Princen has won all three of the Flemish rallies – Haspenouw, TAC and Sezoens. While he skipped Wallonie and never really looked on for the win at Spa before he retired. Additionally, his VW is generally accepted to have better traction, important in these roads. With the rest of the season having two more rounds in Flanders and two in Wallonia, being able to defeat Princen in Flanders will be crucial
Vincent Verschueren scored an important podium – his first of the season. After narrowly missing the title last year, he won the 6 Uren van Kortrijk but since then, it has been all down hill. He switched to Pirelli but never got to grips (sorry) with them and to better understand the handling issues, he went back to Michelin. He has had his fair share of bad luck this year but was running in third for most of the rally before benefiting from a late puncture for Sebastian Bedoret but also put in his best time on that stage to secure second. He was pushing all weekend, made a couple mistakes that cost some time but he was the quickest he has been all season.
There was remarkable reliability in the Historic category with 8 of the 10 starters taking the finish. It was the Ford Sierra RS Cosworth of Dirk Deveux and Kris D'alleine who had a comfortable 47 second gap from the BMW of Guino Kenis and Cindy Verbaeten. In the entire field there were 17 retirements, mostly from mechanical gremlins
The drivers were well behaved with only five penalties being handed out, with four drivers taking penalties. For Tuur vanden Abeele, he had two jump start penalties – coincidentally on Steenberg 1 and Steenberg 2, meaning that he too 70 seconds of penalty. However it didn't affect his place in the standings, where he finished 12th in his Fiesta R5.
Gregoire Munster and Louis Louka had the fun of dominating the RC4 category – winning by a minute from Timo and Rebecca van der Marel and beating Gilles Pyck and Emilie Mourisse by four minutes in the Junior category. If you are looking at seat time though, he dominates that as Sezoens was his 11th rally of the year, 10 of those being in the Opel Adam (he did Monte Carlo in an Skoda R5). Next week he is in Latvia for the next round of the ERC.
Next up is the legendary Ypres Rally at the end of June. A different test, Ypres is usually very fast with a packed field. The British will join meaning both the BRCs will be in action at the same time, along with Historics and the new Young Timer category. A key point of difference from last year is that Thierry Neuville is back but not eligible for points. Last year he took BRC points, this year, he is in his WRC car meaning he can't steal points away. While Freddy Loix, an 11 time winner is back, it will be interesting to see if he can get back on the pace straight away. Last year there were 36 R5 cars at the start line and Vershueren narrowly beat Princen to second, so there is no doubt that it will be a good fight and a good show!
===
The RacerViews info
By Sam Tickell
We are passionate, dedicated motorsport professionals.
In 2019, we will be trackside at
The World Endurance Championship
Belgian Rally Championship
British GT
You will also find us at selected rounds of Blancpain, IMSA, WRC, and more. We aim to bring you interviews and photos you won't see anywhere else. We don't aim to break the news, rather we aim to bring the voices of the racers to you and atmosphere of the event to you at home. Our social media presence on Facebook, Twitter and YouTube bring you more, a holistic experience. We partner with racers and professionals in the industry and give back where we can. If we can help you or you have a story to share, please contact us.
In the past RacerViews has directly partnered with
Nat Rallysport and
and our team of reporters and photographers have also worked for events, teams, drivers and series from around the world