After the first loop of the second leg, Adrian Fernémont continues to control the 60th ConXioN Omloop van Vlaanderen. After the rainy opening night, the sun shone over the region of Roeselare. On Saturday afternoon Adrian Fernémont expanded his lead to 27.6 seconds over Sébastien Bedoret and 29.3 seconds to Kevin Demaerschalk.
"We started well today," laughed leader Fernémont. "Of course I cut some corners a little extra here and there to make the cords more dirty for my pursuers. That is part of the game."
Kevin Demaerschalk had to give up a bit of time. "On a dry course, the Fiesta R5 Evo is not precise enough yet. That is just a matter of refining the setup, which makes sense, because it is our first rally with this car. I am already very satisfied," Demaerschalk said , which is put under pressure by Sébastien Bedoret, who is pushing with the fastest times in Rumbeke and on the Zoning. "I hope we can advance to second place, because I think Adrian will be hard to reel in."
Kris Princen is still not satisfied with his VW Polo GTI R5. "Yesterday the car was very fickle and this morning, on a dry road, I still didn't find the grip on the slippery parts. It's better, but not like in the previous rallies."
Vincent Verschueren, who opted for hard 21-compound tyres, stands 4.4 seconds off for the Limburger." The choice of tires was not ideal, certainly not because our suspension was too soft, which meant that I had to ease off the gas in the fast sections. "
Ghislain de Mevius started third in the second loop, but the Skoda driver dropped to seventh place. He also opted for the hard 21- compound for the tyres. PJM Cracco, sixth, does have a big smile in his Skoda Fabia R5 Evo: "It's going great. I never believed it, but rhythm is apparently very important in rallying. A lot of driving is the only way to make rapid progress. I made time today in sections where I was lost last year. That feels good! "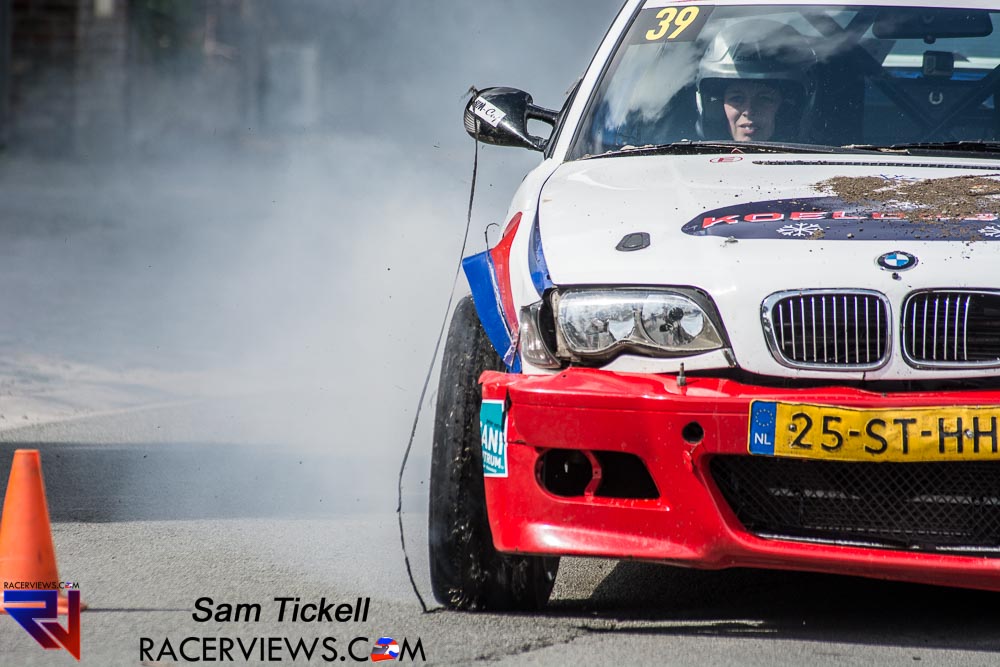 Pieter Tsjoen is in eighth place, ahead of Niels Reynvoet, who lost a bit of time on the fastest tests in Passchendaele and Houthulst, and Bob de Jong, the leader in the battle for the Dutch championship.
As for the Porsches, Romain Delhez (15th overall) leads the way from Jochen Claerhout. Andy Lefevere was surprised in the Zilverberg test, where he was stuck and lost 36 seconds in a field.
In the M Cup there is no match for Gunther Monnens, leader from Thierry Cokelaere and Wouter Lievens. In Historic, leader Sefaan Stouf had to stop his fight with braking problems. Bjorn Syx now appears on his way to a second consecutive national victory, after his success in Ypres. The M3 driver is in front of Paul Lietaer, who is trying to keep his competitor under pressure.
The fastest Junior remains Gilles Pyck, who is close to 14 seconds behind from Timo van der Marel, the leader in R2.