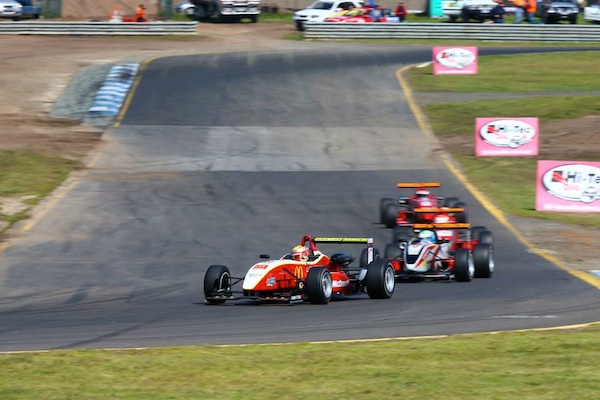 The Australian Formula 3 finale seemed to be going so well for Cecil Plains native, Ben Gersekowski.  Very quick in practice and qualifying, en0ugh to take his best qualifying position – a front row and it seemed he would have the pace to break through for his first victory.
His clutch though would have a different opinion, leaving him stranded on the grid, being lapped before he even had the chance to get off of lap zero.  He would battle back in the second and third races to take a pair of fourth places but it wasn't the weekend he had planned.
The year, though was highly successful, taking career best results – podium results on his debut in the Championship class in the Gilmour Dallara 07.  He would get the backing of a McDonalds franchisee, bringing the famous golden arches to the track.  He would take fourth in the Championship.
2014 will also be an exciting year for Ben, staying with Gilmour and upgrading cars.  He is expecting fight, hoping to take his first win and challenge for the Championship.
In this interview we talk with Ben about all of this and more.
httpv://youtu.be/i8MRP0obJlI
Take a lap of Sandown with Ben – wings and slicks make this one impressive track
Download this episode (right click and save)
Click here to subscribe to RacerViews iTunes channel
By Sam Tickell, December 2013
RacerViews was established in 2011 and with the aim of delivering a new web experience to motorsport fans. We bring exclusive interviews and photos from motorsports finest drivers of yesterday, today and tomorrow. Our team has over 30 years of experience in the motorsport field. With a heavy presence on Facebook, Twitter and iTunes where we have over 2800 followers, our mission to bring exclusive content is in safe hands. We have partnered with motorsport teams like Stig Richards Motorsport, One of a Kind Motorsport, Dark Horse Racing and MRT Performance in order to give you the best exclusive motorsport coverage.
We are always looking for new people to join our team. If you are a motorsports photographer or journalist looking for additional exposure or a great place to learn your trade, contact us