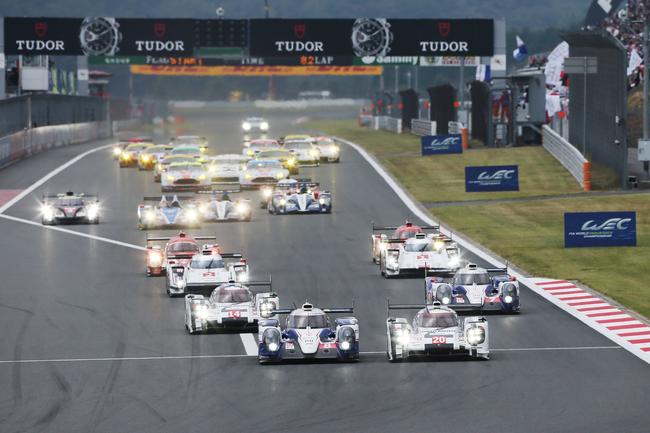 In our race weekend recap this week, we take a look at WEC from Fuji, F1 from Russia, MotoGP from Motegi and the Bathurst 1000.
WEC
Another view of the Lotus Fire at the @FIAWEC 6 Hours of #Fuji. Christophe Bouchut was very lucky: pic.twitter.com/WqPmVTAN2p

— Peter Leung (@BaronVonClutch) October 12, 2014
Toyota was masterful, winning my a huge margin.  The opeining of the race was very entertaining.  The outright race that we didn't get at the front of P1 was made up for at the front of LMP2 and the GT classes – tough, entertaining and fair racing.
Anthony Davidson: "It was an absolutely perfect race and a perfect weekend for everyone at TOYOTA Racing. That was a great job by all the team; we had the strongest car, the right strategy and great pit stops. First and second in our home race; it doesn't get better than that. For the team to win here three times in a row now is pretty special. It extends our lead in the drivers' World Championship and regains the lead in the manufacturers', so you couldn't ask for any more as a team. So big thanks to all and especially to the guys from TOYOTA Motor Corporation who have given us such great support this week."
PHOTOS: Fuji Race Gallery: http://t.co/XaYPXjPnGy @FIAWEC #6HFuji pic.twitter.com/jLV7cNrL2H

— Sportscar365 (@sportscar365) October 12, 2014
 Gimmi Bruni, No.51 AF Corse Ferrari 458 Italia:   "We struggled a bit in qualifying but we found something in the data, re-set to zero and went back to what we knew best about the car.  It worked!   I'm very happy for the team to get a 1-2 and it's good for the Manufacturers, Teams and Drivers' Championships.

"I knew when I was at the front of the class that we had the edge over the Aston Martin but I had a little contact with an LMP2 and I lost the lead to Rees.  After that I put my head down and said to myself, let's go back to where we should be.  I was 20 seconds behind Rigon but caught him and got back the lead and I think we won the race from that stint. Toni kept the lead and was very fast in his last stint so it all ended very well."
  "It's great to be leading the Championship," commented Heinemeier Hansson. "The Vantage GTE makes it easy for gentlemen drivers like Kristian and I to be mixing it up with the professional drivers. If a car is easy to drive, like the Aston Martin is, the difference between the Am and Pro is smaller and that's what wins Pro-Am races."
MotoGP
.@marcmarquez93 "Two years, two titles: I couldn't imagine this…" http://t.co/AnP4zBH600 Next stop #ausmotogp! pic.twitter.com/05aQUT2L5F

— Australian MotoGP (@ausmotogp) October 13, 2014
Normal service was resumed at Motegi with Yamaha and Honda returning to the front. Lorenzo won the Japanese battle but Marquez won the 2014 war.
An ecstatic Marquez explained, "You know, the race doesn't really matter today! Maybe I wasn't riding like always, as I felt a little different. It was hard to overtake and I didn't want a mistake. I had two mistakes in the last races but we got the title! It's incredible to take it at home. Thanks to my family and Honda."

"Just two years in MotoGP with two titles is incredible. Maybe for the people it looks easy because I'm always smiling, but there is a lot of pressure. Misano and Aragon we made some mistakes so it was important to focus here for Honda. I'm really happy with my team and family and fans, they're all pushing me. It's like a dream right now," he added.
#Moto2 @ThomasLUTHI won at Motegi with @maverickmack25 and @TitoRabat completing the podium http://t.co/lsnaTTVYOM pic.twitter.com/BusSwKeJpd — MotoGP™ (@MotoGP) October 12, 2014
An unlikely win for Tom Luthi but a masterful display from the Swiss rider.
" After a long dry spell finally able to celebrate a victory again , is a wonderful feeling , and to start overseas series of three races back to back with such success , gives power and motivation. Since I 'm so happy right to take the momentum to Australia and Malaysia . The race was perfect, the bike was running from start to finish like clockwork , and I want to commend the team very much. We had a difficult start to the season , it went up and down , but we worked hard and the guys have never stopped believing in me . That was the important thing. Now we have achieved the victory and all hope for more successes . We want to enjoy the last Grand Prix of the season really . In the race, I was surprised that I was able to pull away to start and open a lead of over two seconds. But I never felt safe . I knew in the Moto2 class it can go fast , that one is there. And then came towards the end , the pressure from behind . Viñales has pushed , and I 've seen on the pit board that he moved closer . But I could still reloading something in the finals and keep the lead. It was a hammer -in feel. Now I am looking forward to Australia and Phillip Iceland , a track that I like very much , especially since it is a new asphalt surface . Last year I was there on the podium , and the motivation to repeat such a success is full there! "
Muy feliz por este triunfo!! 🙂 / Very happy for this victory in Japan……. Now vamos Marc #MM93TitleChance !!!  pic.twitter.com/MGjBgLHqHa

— Alex Màrquez (@alexmarquez23) October 12, 2014
Alex Marquez took the first of the weekend glory for the family
Formula 1
Toto Wolff: "It's incredible! I have to pinch myself that we are now part of @MercedesBenz history" #W05LDCHAMPIONS pic.twitter.com/nvS7J0SnUR

— MERCEDES AMG F1 (@MercedesAMGF1) October 12, 2014
A flawless display from Lewis Hamilton saw him take another win and a further claim on his title.  A dull race but a good looking track.
Lewis Hamilton, 1st
"It was a good day and an amazing weekend. Firstly I'm so proud to have contributed to the work of this great team, to get the first Constructors' Championship for Mercedes-Benz is a huge achievement. Massive congratulations to the guys back in the UK and Germany, it's history for us. Today I had to manage the tyres a lot through the race; managing the fuel wasn't too bad. The car felt great and I didn't have to push too hard. At the end, when Nico was behind, I needed to match his times, which I did. I've thoroughly enjoyed the weekend here in Russia, it's a great place. It's been one of my favourite venues so far this year, so it's very cool to have won the first race here. The fans have been amazing; I didn't know so many people followed it here but they were all there in the grandstands and looked excited! The organisers have also done a great job – the layout, the surface and the whole event; I take my hat off to them."
Bathurst 1000
The #V8SC #Bathurst1000 delivers again! Entertaining? You better believe it! Full race wrap: http://t.co/Vjn5gPTrl6 pic.twitter.com/Kv1I3Pkk6Q

— motoring.com.au (@motoringcomau) October 12, 2014
A very stop start race, 10 safety car periods over a 1000km race is absurd.  Terrible driving standards but a very entertaining end.  Some ask it was the best Bathurst 1000 ever – if me, it was one to forget and the Bathurst 12 Hours earlier this year was much, much better.
Chaz Mostert- #6 Pepsi Max FPR Ford: 1st
Mostert: "What a crazy, crazy day. It is a dream come true to win the Peter Brock Trophy as Bathurst is the biggest race in this country and is just so special. For our team to go back-to-back is an incredible achievement and now we all want to come back for a hat-trick of wins next year. The constant safety cars helped get us back into position and from 26th I never thought I would get into the top 10, let alone win. This is my third win and for that to come at the Bathurst 1000 is very special and it is very emotional and I can't wait to take the trophy home to our team and share this moment with everyone."