Here are some of the things we picked up from the Rally van Haspengouw over the weekend…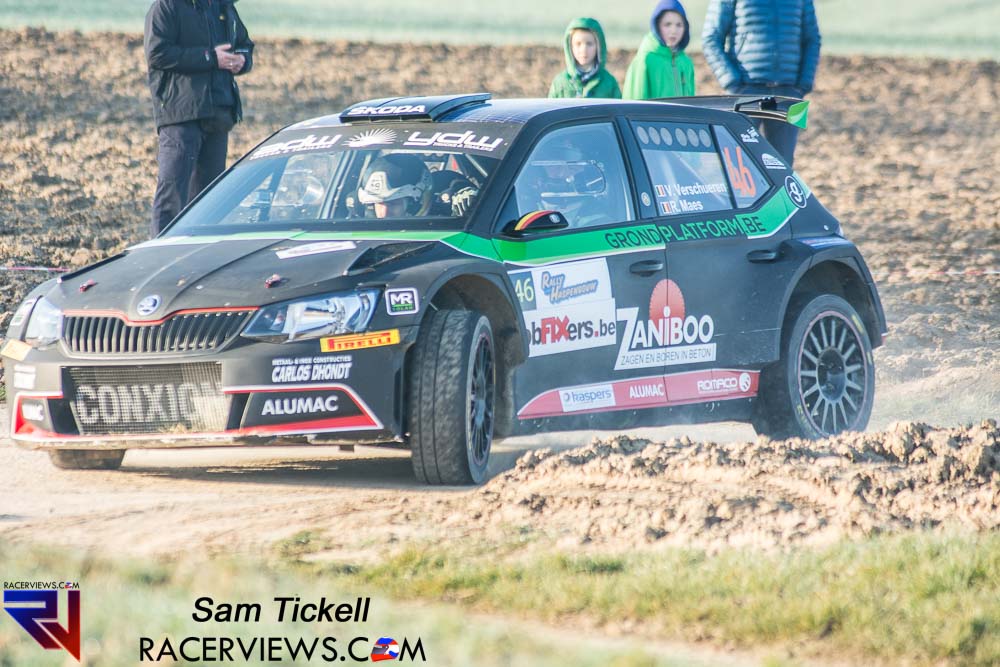 The Volkswagen is superquick. Ok. Princen and Cherain had some help from issues from Verschueren, Fernémont and De Mevuius but they controlled the rally from start to finish. To match the VWs the Skodas have to "drive on the limit" where Princen claimed to not be pushing at all. Princen led from start to finish and VW won every stage – the only gap was a that Verschueren matched Cherain on SS4 for the top time…
Verschueren switched from Michelin to Pirelli for this rally. It was a move that put him on a different tyre to his prime competitors and for Haspengouw, at least, it didn't pay off. Two left rear punctures cost him more than 1:30 and caused damage to his Skoda. He was down as low as 7th but fought back to 5th on the last stage
Princen made the most of the rally where his Championship competitors struggled. Fernémont retired with driveshaft issues, Verschueren had the tyre failures and Snijers crashed on SS2. Of the title favourites, Princen was the only one with a clean run. Will round 1 be seen as pivotal when we get to Condroz in November?
Grégoire Munster is a talent to watch. Currently in the R2 Opel Adam, he dominated the category taking every stage in RC4. What is more incredible though, come the end of the rally, the car looked like it had just rolled off the transporter, not just competing in a rally. One feel he has a lot more speed to be unlocked
The winning pace was an average pace of 119.3km/h. The weather leading up to the rally and on the rally itself was sunny and warmer than expected. Last year it was much colder but still sunny. There were only a few minor changes to the course this year and the overall speed was slightly slower than last year (which was 119.6km/h of Princen's Skoda). Read into that what you will.
With Paul Liater not contesting the Historic Championship this year, the title fight is wide open. BMW M3 E30 with Kenis & Vanoverschelde took the win, taking every stage. But this rally would suit the style of the BMW…
Patrick Diels took the win in the M-Cup by 30 seconds but Mats van den Brand rolled early on. It is a big points loss for Brand, surely a title favourite this year…
There was just one penalty handed out this year – a 10 second penalty for late check-in on SS5 for the #48 BMW of Verhaert – Smets. Does this mean that people read their rule books over the off season? Last year there were 5 penalties and a disqualification.
The next rally, the Spa Rally will be vastly different. Over 2 days instead of 1. Massive difference in roads with more natural forming roads, with greater flow, though lower average speeds. weather will be a factor too…will the form book established here continue?
The RacerViews info
By Sam Tickell
We are passionate, dedicated motorsport professionals.
In 2019, we will be trackside at
The World Endurance Championship
Belgian Rally Championship
British GT
You will also find us at selected rounds of Blancpain, IMSA, WRC, and more. We aim to bring you interviews and photos you won't see anywhere else. We don't aim to break the news, rather we aim to bring the voices of the racers to you and atmosphere of the event to you at home. Our social media presence on Facebook, Twitter and YouTube bring you more, a holistic experience. We partner with racers and professionals in the industry and give back where we can. If we can help you or you have a story to share, please contact us.
In the past RacerViews has directly partnered with
Nat Rallysport and
and our team of reporters and photographers have also worked for events, teams, drivers and series from around the world.