It was another great Renties Ypres Rally and we have been lucky enough to bring you a lot of coverage from the weekend but along with some of the clearer storylines – like Craig Breen winning, there was a lot going on under the surface…Here are some of the things we caught.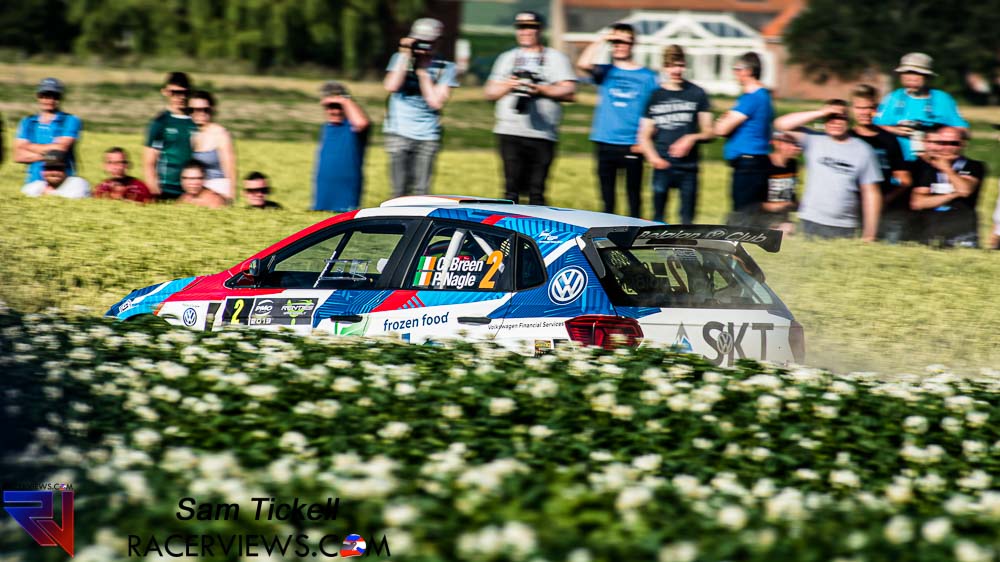 The Volkswagens are great machines. The team from Wolfsberg in Germany have implemented a fix for the fires we have seen in recent rallies and were on hand to fix a couple of the cars that hadn't received the updates. Most of the VWs in Ypres had been able to receive the updates before hand. Curiously, the time taken to install the update was most of the day. Whats more, is that many of the drivers that have driven it and other R5 suggest the key to the VW success is you know the when you push the car it gives you feedback. So if you go that extra 5 or 10 percent, it is very predictable and you know what is happening. The thing with the others, the Citroen or Hyundai for example is that, it isn't as predictable. So you can go very fast, but you may not have the confidence. Time will tell to see what the new Fiesta and Fabia are like.
Speaking of new cars, the new M-Sport Fiesta R2 is quite the machine. James Williams drove a fantastic rally in the machine to win the RC4 class and the British Juniors. He was able to fend of Timo van der Marel in the Opel Adam. But the story is in the pace of the car and how much of a step up from the last version it really is. Some have also described it as an R3 minus, but in all honesty, it is what happens when a car is released a few years later. It also shows that the current Peugeot 208s also struggled to keep up and their new R2 will need to be something special. It will bode well for the British Juniors next year as they go to a single make championship.
Craig Breen became the first non-Belgian/Dutch driver to win Ypres since 2012 and only the 16th non Belgian to win the event in its 55 year history – such is the dominance of the Belgians, they could fend off all comers in the European and British Championships. What is also important this year is that local knowledge didn't win. Generally, the best drivers in Ypres come from around the region, the special characteristics of the tarmac and cuts favour those from near by. But Breen was able to overcome that. A man with a spring in his step again, he was on form all weekend – visibly smoother than his counterparts, he was able to control the rally. Equally, in the Historic races, debutantes won the SAS Pils Rally and FIA Historic Rally – giving hope to internationals who may want to come and compete in Ypres.
There has to be a special mention to Kevin Abbring as well. The Dutchman who has won in Ypres in 2017 in a Peugeot, hadn't competed in a rally this year – his last outing was Rallye International du Vallais last year. After his stunning performance in Hell in the RX – his debut – a week before he was immediately on fire in Ypres. He took the first three stage wins and took 10 stage wins overall (to Breen's 9) and may have been able to pressure Breen more if had more luck. But he lacked a little consistency. When he won a stage, he would take a few tenths, or couple seconds at most, out of Breen. But when he lost, he would lose 7 or 8 seconds, meaning he couldn't really keep the challenge for victory.
There was a lot of attrition over the course of the rally. In the main game, 28 of the starters didn't make it home, leaving 58 finishers. This is partially down to the unique nature of Ypres and the weather. Talking of the weather first, it was hot. With temperatures getting into the high 30s many drivers haven't really rallied in this and concentration was an issue. Some made the point to mention that they aren't elite athletes, rather fit businessmen that rally on the weekends. It also meant that brakes (particularly for the RC4 cars) and other components had to be taken care of. The attrition was also due to the very long day of rallying on Saturday with 185km competitive being run. Considering WRC days rarely get this long (I can find Sargenda 2015 being at 212km, but few days more, if you know better, do tell!), it proved a grueling day at the office. One driver did tell me it was torture. Others looked to have cool-suits on and all looked fatigued at every regroup.
Saying that, there were few penalties handed out. Only 12 penalties shared amongst nine drivers – and there weren't any silly technical penalties handed out. Though it seemed that Bert Coene in a Ford Fiesta R5 was a little on the eager side, taking jump start penalties on SS2, 3 and 7, taking 4:10 in penalties.

#46Verschueren Vincent.&.Prévot StéphaneŠkoda Fabia R5Rally YpresSam Tickell, RacerViews

Over the off season, Vincent Verschueren must have smashed a mirror, while walking under a ladder with a black cat crossing his path. Suffering punctures early in the season, he spun in the qualifying stage meaning he had a rubbish starting spot. He was inside the top 4 after the first few stages, he dropped a minute on SS5 dropping down to 14th. He was able to fight back to fourth before a transmission issue ended his rally. Further compounding his horror season.
As for the rest, it was an impressively controlled drive from Kris Princen, controlling his pace to be best of the Belgians and open up a lead at the top of the Championship standings, as his rivals skipped Ypres. Kevin Demaerschalk was also looking on for a good result. He won three stages but an overshoot on one stage cost him 8 minutes. Without that problem, he would have been fourth. Freddy Loix was handy in his return, not putting any pressure on himself, he ran a consistent and error free rally to fourth overall. And in the British contingent, they didn't threaten the overall standings but had their share of issues. Matt Edwards had a misfire, dropping time, Tom Cave damaged a wheel, Rhys Yates crashed twice, but was fast, and Marty McCormack was fast but crashed. Their end results are probably not indicative of their pace but also there is the question of if they were at home, what would the results be?
Finally Thierry Neuville was masterful in the Ypres Rally Masters. It is a great initiative to get more varied – both new and old – cars in the field. I hope we see more F2 cars in the future. But Neuville said he wasn't going to push. He said that there was a big sensation of speed anyway from the narrow roads. In the end, last year's winner average pace was 118km/h, over 144km of competitive stages. Hate to see it if he was pushing!
The RacerViews info
By Sam Tickell
We are passionate, dedicated motorsport professionals.
In 2019, we will be trackside at
The World Endurance Championship
Belgian Rally Championship
British GT
You will also find us at selected rounds of Blancpain, IMSA, WRC, and more. We aim to bring you interviews and photos you won't see anywhere else. We don't aim to break the news, rather we aim to bring the voices of the racers to you and atmosphere of the event to you at home. Our social media presence on Facebook, Twitter and YouTube bring you more, a holistic experience. We partner with racers and professionals in the industry and give back where we can. If we can help you or you have a story to share, please contact us.
In the past RacerViews has directly partnered with
Nat Rallysport and
and our team of reporters and photographers have also worked for events, teams, drivers and series from around the world