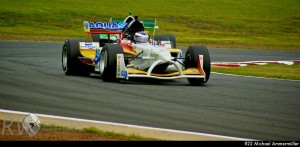 The A1GP's unique concept of 'off-season' racing for your country has offered up many more opportunities for the world's drivers – both aspiring drivers and established names.
Despite the lack of personal glory, drivers from the world over clamber to get a chance in A1GP.
In fact, it is probably because that there is the lack of personal glory to be obtained that makes the series such a drawcard for drivers.
"There is no politics," Neel Jani of A1GP Switzerland said.
After spending a year in the Champ Car World Series, known for its in-fights and before that he spent time in F1, again a politically driven series, the lack of politics has made for a positive feeling for the drivers and officials involved in the A1GP.
Jani's sentiments were reflected from Robbie Kerr of A1GP Team Great Britain.
"It's good, it's a friendly atmosphere. Everyone is happy for you when you do well and disappointed for you when you don't do quite so well but it has been great."
It is possibly this feeling that has encouraged Ferrari to enter the series in major way in 2008/9.
All the drivers are looking forward to driving the derivative of the F2007 F1 car that will become the spec car for the A1GP. There will, however be sadness when the current Lola/Zytek package ends its run in A1GP.
"It is really a car that requires concentration at the highest level so you have to be really focused on what you are doing and it's a good car to drive," said Kerr.
The reliability and consistency of the Lola/Zytek package has been astounding and the Cooper tyres have also played an important part in creating close racing.
With such a close package, it is really up to the engineers and the drivers to extract the most from the car. One bad weekend can seriously affect your Championship chances, as A1GP Team Switzerland experienced in New Zealand.
"[We were] basically very good until Taupo where I was leading the Championship pretty easy then we had a disaster more or less in Taupo, I mean, just one point for the fastest lap but at least it was a lap record! That was something but everyone caught up and we lost the championship lead," said Jani.
Jani saw a 19 point lead disappear to a 6 point deficit after New Zealand and Australia.
But A1GP Team Switzerland's problems pale to insignificance compared to the Australian team.
Usually a hotbed of motorsport talent with talented drivers racing all over the world, A1GP Team Australia has had a hard time since entering the series.
Led by 1980 F1 Champion, Alan Jones, much was expected of the team, especially after Will Power performed so well in the opening races. But things have gone down hill.
When asked about his team's performance, Jones' answered with "Pathetic! Just pathetic!"
It is really a car that requires concentration at the highest level so you have to be really focused on what you are doing and it's a good car to drive
Naturally Jones is trying to turnaround his team's performance and the recruitment of John Martin from British F3 is a great start. Beyond that, Jones can call on personal experience.
"Sometimes you cam make a call through past experiences with some other team managers may not be able to do in terms of the weather or pit stop strategy or something like that, you might have better insight to what's going on," Jones said, recalling his F1 experience.
Many drivers do not have that fall back position but can call on experience from different and varied series from around the world.
Loic Duval of A1GP Team France races both Formula Nippon and the Super GT Championship in Japan alongside A1GP duties. In fact Duval had been testing in Japan before arriving in Australia and only arrived two hours before the first qualifying session.
When asked to compare the GT series and A1GP, Duval said "It is impossible to compare. You have an endurance car and a sprint car so it is really difficult to compare. The GT car is really fast. They are about 5-6 seconds quicker than a DTM and the DTM is similar to a Formula 3 so a GT car in Japan is really fast. An A1GP car is completely different. It is a sprint."
But that wasn't the part that should draw the comment.
"In A1GP there is only one driver and you are racing for your country."
That is what Duval saw as important.
And that is what Jani of A1GP Team Switzerland saw as important in his decision to pursue A1GP over Champ Car. That and A1GP is popular in emerging countries.
'[M]y dad is Indian, my mum is Swiss, A1GP helps me a lot for my publicity in India and India is getting a bigger market. So that is why it was pretty clear for me to go A1GP," said Jani.
So as A1GP continues to grow and gain momentum, it can be predicted that more and more drivers will try to run in this series.
And race for the pride of their country.
Interviews and article by Sam Tickell on 04 February 2008