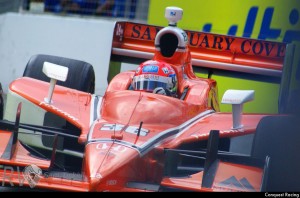 2008 looked like it was going to be a landmark year for Conquest with the expansion of the Champ Car team, a major new sponsor but then it all went wrong with the merger and the sponsor, Opus Prime going under, how did the team cope and how did you rebound from that?
Definitely a lot of things happened.  As you said, we were going to go to a two car Champ car team effort this year from a one car team effort, so that was quite a lot of work to get the new car organised and to basically hire a lot of people with good Champ Car experience.  It was the goal to be in the top 5 in the Championship because we had a good sponsor with Opus Prime.  But within a few weeks a lot of things happened with Champ Car going bankrupt and Opus Prime going bankrupt as well.  That was by the first race of the season, so it was definitely not a good situation.  I think we reacted in a good way and made some decisions that were not easy to make.  We had to change drivers and it was definitely difficult and it affected us more then what we thought.  Early on we had Benoldi and Perrera.  Perrera gave us a lot of good information and we managed to do fairly well.  Actually, the first race of the season, as a transition team, we were doing quite well compared to other transition teams.  When we stopped with Frank after Long Beach, it went kind of down.  We reacted later on in the season and decided to replace Benoldi with Tagliani.  We cannot bounce back immediately but Alex has given us a lot of good information and we can again move in the right direction.  So we are excited to be in Surfers Paradise here and I think we can finish the season with a good result.  Camara is still on the learning curve but Tagliani has helped him quite a bit and he has some potential to progress with Alex supporting and coaching.
Has your experience at the start of the year with Opus Prime helped you in the current financial climate into 2009?
For sure, we have been affected by the bad economy, especially in the past month with Wall Street going really down.  This being said, we have been going after some very large companies that we feel have been above the financial crisis.  This is the first thing we did.  The second thing, with smaller companies, we developed some business to business opportunities.  Especially in this particular time, I believe that if you take the proper angle, companies still have to advertise and still have to make a difference to other companies – so we still have a selling point there.  With business-to-business you still have some solutions that can help a company to grow – they are always receptive to that.  But it has slowed down the process.  Every company has priorities and I still believe that we have some potential to succeed.  It is a challenging time but I am fairly confident that we will be fine next year.
Leading into 2009, would it be ideal for Conquest to remain with the 2 car team?
That is the plan.  We definitely want to keep with the two car team.  We would like to keep Alex in one of the cars and the second car is still in negotiation.  We would definitely like to have some continuity as they get on well together and are doing a very good job.  It is important to have a two car team as we will have more resources, more engineering, more everything.  Still while we are short on experience, it is important to have those two cars.  So that is the plan.  We know we don't have that much time ahead of us and we need to take advantage of the off season to be competitive for 2009.
Your team is one of the few that competed in the IRL and Champ Car.  How would you compare the unified series to the IRL of 2002 and more recently, Champ Car?
Let's start with the IRL.  Between 2002 and today, it is really different.  The level of competition this year is really high.  It is now a spec series so definitely.  When were there in 2002 we had an Infiniti engine and we had some advantage at some race tracks, especially that year as the engine was pretty powerful – so that helped us quite a bit.  I believe that we were second or third on the podium and we were a very small team.  The level of competition has increased a lot and this is the beauty of a unified series.  So we like the challenge a lot because we always want to be with the most competitive series that you can get, so this is the key right now.  Champ Car and this are defiantly different.  There are some good things about Champ Car and there are some good things about the IRL – good ideas from both.  So that is the idea, that IRL take the good ideas from Champ Car – there are a lot of good ideas there.  IRL also has a lot of good ideas and a lot of good resources.  Another point is that there is no confusion now with the fans, the public with the one unified series.  It is also a good selling point for sponsors.  You don't have to explain Champ Car or IRL – there is one series.  That is definitely a good thing and the future is quite exciting because in 2011 we will have a new car and new engine manufacturers involved.  So as far as we are concerned we want to be there and in a good position.  We want to be competitive by the time the manufacturers come to put us in a strong position for the future.
When were there in 2002 we had an Infiniti engine and we had some advantage at some race tracks, especially that year as the engine was pretty powerful – so that helped us quite a bit.
Staying with the future, do you support the Indycar's decision to stay with a spec chassis or would you like this opened up to competition?
Well basically, you know, it is a bit of a circle.  If there are a lot of manufacturers involved they say it costs too much and we should go to a spec series because that costs less.  We now we think that, yes it costs less but there are less resources, less activation.  So now we think that maybe it is not a good idea to continue with that idea.  With new manufacturers, I support it, because if you look a few years ago, the Series was very strong.  The manufacturers were involved and wanted to be competitive and wanted to spend some money.  They were doing a lot of activations which grew the sport.  So the spec series, the sport is not progressing.  So with other manufacturers involved we will have more resources and it will be good for the sport.
Moving to the ALMS, Conquest supported Team LNT Ginetta Zytek at Petit Le Mans – how was that experience for the team?
It was very nice and we would like to diversify for next year and we have one sponsor who is interested in doing something in the ALMS.  We don't have many shots to be honest so if we can get this sponsor finalised we will do it.  We would do that on the side of the IRL program.  I like it a lot, I like the atmosphere.  It's a great series, it is growing nicely.  It is really good competition and we would really enjoy it.  It would complement what we are doing here and we want diversification.  It has many tyre manufacturers, engine manufacturers, different chassis.  It's pretty neat, we liked the experience a lot.  So will we see in a few weeks if we can move forward on that side.
If you were to move forward into the ALMS, would it be with the Ginetta Zytek package?
There were a few opportunities sand it was good to work with these guys and to get to know each other.  If the sponsorship materialises, we will sit down and look deeper into the possibilities.  We liked the chance to work with Zytek to spend a weekend inside the ALMS – to learn about it.  It was quite useful and interesting, we learnt quite a bit.
Has your previous experience in Indy Lights helped you run your team and assist your younger drivers, like Camara?
The team has been structured in a way that the drivers will work with the engineers and the coaches for the whole year, focussing on that.  But what I keep from my experience as a driver is my understanding of the drivers and how they feel.  So many times I will be on the driver's side but not always [giggle] to get their best job.  But sometimes I will be harsh on them as well.  I guess it helped me understand a bit more from the inside – how the driver feels and see where we are and what the problem is.  I stopped driving 12 years ago so I guess that experience is starting to get pretty old now.  So it is good to stay active and keep that feeling about driving the car.  The cars have also changed quite a bit as well from what we used to drive.  But basically I do have a better understanding of the driver, which is a strength.
Perrera gave us a lot of good information and we managed to do fairly well.  Actually, the first race of the season, as a transition team, we were doing quite well compared to other transition teams.
Do you ever feel the urge to jump back into the cockpit?
Not really.  I am happy with what I am doing.  I am totally focused on the business.  When I stopped driving in 1996 I focused on running the team, developing the team and I never really missed driving.  This being said, if there was an opportunity to do a long distance race with some people I have a good feel with, I would be happy to do it.  The thing I always try to do is to control my destiny.  At the end of 1996, as a driver I didn't know what I was going to do for the next year so I decided to make the decision instead of letting other people make the decision for me.  I am perfectly happy with what I do now and it is interesting – when you are a professional race car driver you are competitive then.  But when you stop driving or you don't drive as much – it is interesting because when I start the team I still had a few offers to drive.  I took some outside the race team – I don't want to mix everything.  I was a paid driver when I was driving – I did a race, I was paid, I was competitive.  Then the next year, I was invited to drive again but I was not paid to drive any more and I was not with a competitive team.  So I think to myself – what's the point here, I have become more like a gentlemen driver and that is not as much fun and I prefer to stop.  I did not have the mentality to be a gentlemen driver at that time.  But now I guess I am a gentleman driver and I could drive with some friends but really there has not been any time.  The team takes so much time so I put my focus on the team so we can be there in a strong way next year so this is where my focus is.
Thank you very much and best of luck for the rest of the weekend.
Thank you.
Interview and article by Sam Tickell on 25 October 2008