The Australian Production Sports Championship is a hotly contested Championship with a variety of cars, budgets and driver skill.  It is not often that you get a good driver in a good car with good budget.  Just ask Ashley Miller, a talented young driver trying to move through the Australian motorsport ladder.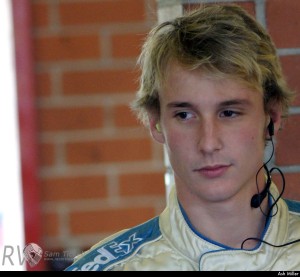 The Queensland born racer has the skill, has an immaculately prepared MX-5, has the results and has a shoestring budget.
The last two rounds of the Championship, at Sydney's Eastern Creek circuit and the Winton circuit in Victoria, Miller has taken the class wins.
Both round victories were undoubtedly important for Miller as he chases the title, but his performances at Eastern Creek were invaluable.  At Eastern Creek he was racing against big names including Le Mans GT2 runner-up, Allan Simonsen and Australian Touring Car legend, John Bowe.
"It was a great feeling to win, it's probably up there with our most important victories. It put us in front of a lot of experienced people, including John Bowe (touring car legend) who drove the Ford GT. Now the focus is on Winton", Miller said.
What made that win all the more special was it was Miller's first visit to Eastern Creek.  Learning the track on the Playstation before the event, Miller was immediately on the pace.
The weekend was a wet/dry affair.  Racing on a shoestring ensured that Miller's only set of wet tyres weren't to be used unless it was really bucketing down, thus the tricky Eastern Creek conditions saw Miller tackle the greasy track on dry weather rubber. The tyres got their use at Winton however, as the inclement Melbourne weather brought lashings of wet weather laps.
Despite this tyre handicap, Miller set the curve in his class.
Speaking of his early weekend form, Miller said "We were up two seconds on anyone else in our class, so it was definitely good.  I haven't had that much wet running either.  At Morgan Park for the Mazda MX5 Nationals, we had one wet race, and that is the only wet running we have ever done in the car.  We came down here and had to hit the ground running and find out feet."
The Eastern Creek round of the Series consisted of a sprint race of five laps and a one hour race.  Miller's form in qualifying saw him take class pole and a top 10 overall.  In front was a swarm of Lotuses, a Lamborhini and a Ford GT.  Behind him were 24 cars, some of whom had no business being behind this MX-5.
Miller's qualifying pace certainly translated into the sprint race, where in difficult conditions, he finished second in class, just a two tenths away from victory.
This qualifying pace, combined with his qualifying time, saw Miller line up an impressive sixth for the feature race.  The feature race was run in dry conditions, so some of the higher classed cars were able to pass Miller but he won his class and finished 11th overall.
"I was surrounded by Turbo MX5s, Porsches and Lotuses on the time sheets. It was a special feeling to be that far up the grid."
It would not be all plain sailing for Miller, however.
"Under the safety car I noticed what felt like an electrical-derived misfire, and I knew I was in for a long afternoon."
Half way through the event, the compulsory pitstops came and Miller was able to take advantage.
"The stop went well, and after that I knew it was just going to be a case of just driving as quickly as I could to the end. The tyres started to go off about 15 minutes from the end of the race, so I just did my best to push on through the engine and grip dramas", Miller commented.
Such issues makes Miller's win all the more impressive.
Miller has raced the MX-5 for a few years, having raced in state racing in Queensland with great success.
"Last year we did, and won, the local stuff in Queensland with the Production Sports and MX5 Championships.  The next logical step after that was to step into the one hour series and win that.  We will do our best and see what happens there."
Miller also races for the Queensland University of Technology in the Formula SAE, where students gain an opportunity to run a race car and team against other Australian universities and educational institutions.  Competition in the category is tough with some Universities racing with established V8 Supercar racers.  Miller, of course, holds his own in this Series.
Miller also has success in karting, posting competitive results in State titles before moving into his MX-5.
As is typical with great racers, Miller is not just talented behind the wheel.  His competitive ambition and a flair on the dance floor has seen him take out the Queensland Irish Dancing State Titles on six separate occasions, won the Australian Dance Championship on four separate occasions and has toured around the world as part of the Irish Dance Troupe, Gaelforce.
Miller is also studying a Bachelor of Journalism at the Queensland University of Technology and undertaking an internship at the Courier Mail.
Where does this put Miller in the future?  An obviously talented driver – but as we all know, in motorsport, money is everything.
"(For the rest of the season) we are aiming to do the one hour (Production Sportscars) but we are taking it one race at a time at the moment.  It was a battle to get here and we have to find the money again to get to Winton in a few weeks time for the next round.  It will undoubtedly be a challenge but that is what we are aiming for."
The success Miller had in Winton should assist him with the rest of 2010.  Miller won his class by almost a lap, but still needs to boost the finances to keep on track.
"We have to get the car on track as often as we can and get the results and hope someone sees us and believes in us enough to help us out and keep everything going."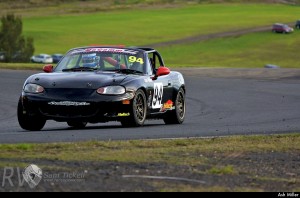 Miller is also aiming big and aiming beyond Production Sportscars in his longer-term future.
"Hopefully we will go onto bigger things. As to what yet, we don't know.  We have an inkling that the Carrera Cup may start again in a few years, so if it does, we will put our name into that, [but] pretty much anything really to work the way up"
Miller who was sharing a garage with a Lamborghini GT3 car at Eastern Creek was clearly impressed by its pace and wondered if its owner would mind lending the car to Miller.  Just a part of a wry humour that Miller possesses.
But Miller is aware of how difficult it is to move up and that results alone won't get him the next ride.  Sponsorship and sponsor relationships are equally, if not more important.
"You have to make it worth their while.  The on track results will be worth their while.  At the end of the day, the emphasis is to do the best we can for the sponsor, so we can both get something valuable out of it and we can step forward with our respective aims.
"We really want to make it an enjoyable experience for those who support us.  Not just have the usual thing but really have something that supports the both of us and makes something better into the future!"
Miller is doing everything correctly on track to realise his dreams.  He is also doing an extremely good job off track to attract sponsors and to impress the right people.  Moreover, he is a nice guy – up for a chat, marketable and intelligent.  When combined with hugely talented – you have a rare mix.
He needs someone to take a chance, to help to provide a budget, to help him move up.
To give him a chance at success.
Article and interview by Sam Tickell, May 2010