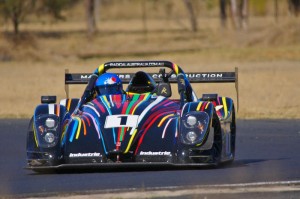 The Radical Australia Cup is racing its final round of its first season at Morgan Park this weekend.  The Series runs Radical SR3 model cars and has had five rounds in New South Wales, Victoria and Queensland.  We were able to catch up with the dominant driver from Saturday's races and Radical Australia heavy weight, Peter Opie.
Great race today – you dominated from the front putting in some great lap times – can you tell your view from the cockpit?
Yeah – we have been pretty fortunate.  We did a lot of set up work on the car on Thursday and the car has been pretty good.  Morgan Park being a bumpier, more technical circuit, we had to tie down the rear end a little bit better.  We made the changes we needed, the car got quicker.  We made a couple of great starts in today's two races.  We managed to keep a gap and I was happy.
This round is the final round of the inaugural season of the Australian Radical Cup, how have you seen the progression of the series in 2011 as a national series?
The big change is going national.  We are based in NSW and going interstate into Queensland and Victoria has been terrific.  Trying new tracks has been great and getting the additional exposure.  For our drivers too, it is like playing golf.  You want to go to different circuits – like golfers play different golf courses.  Driving different race tracks is awesome and this is now a really great setup.
The Radical race cars – you have been driving them for a few years – can you tell us what they are like to drive and how you can get set up in this series?
Yes for sure – I'll talk about the car first.  They are really easy to drive.  Their handling is very forgiving – and when you look at the cars genesis in Australia as a corporate and entertainment day car it has to be like that. Now we have a bunch of guys who have taken them from track days and into competition.  We are a fledging race series with fledging race drivers.  The cars are beautiful to drive, very progressive – they don't bite.  They have lots of brakes, lots of cornering ability.  We are doing very quick times – we are doing the same time as Riccaridello's Alfa Romeo Sports Sedan on the more technical tracks.  They are really terrific.
In terms of progression, next year we are planning on doing a seven round series – up from five rounds this year.  We are hoping that we will have grids 50% higher than they were this year.  We are bringing in a new car – the Radical SR3 Cup Car.  We launched that car this week and we have already sold eight of them – which is fantastic.  We have also sold five second hand cars to guys coming into the race series as well.  We are hopeful to put 20-25 cars on the grid at each round.
For our drivers too, it is like playing golf.  You want to go to different circuits – like golfers play different golf courses.
Finally – back to this weekend, going to a longer race tomorrow – different tactics or just flat out like today?
Haha! Yes to get out there and go as fast as I can.  If I can get out there and get a gap and hold the gap it would be great.  I think there will be a couple of guys who will be a threat tomorrow.  Our guest driver here today will be very quick.  There will be the possibility of a driver change too, although I will be doing the whole race myself – it will change it a bit.  Tactics – get out, don't make mistakes and try to be fast!
Thank-you very much and best of luck
Thanks.