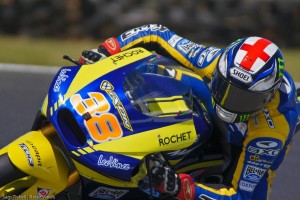 There is a resurgence in British Grand Prix Motorcycle racing and Bradley Smith is at the fore front of that movement.  Together with countryman Cal Crutchlow and Scott Redding, he represents the hopes for the current generation of British riders.
The British contingent have, in the recent past succeeded in the production based World Superbike category, leaving the MotoGP to their continental or Australian cousins to take out.  Smith, talking exclusively to Racer Views hoped that more British riders would make it to Grand Prix racing.
"There is a route for British riders which I hope I've helped to pave although it's not easy. We have re-opened British interest in MotoGP and hopefully it will continue because there are some very talented British riders," Smith said.
The road is undoubtedly long and difficult to make it to the top of international motorcycle racing.  Smith raced for five years in the 125cc category with Alberto Puig's team, Polaris World and finally the Aspar team.  His best year, 2009, he took two wins and nine podiums to finish 2nd in the final standings.
For 2011, though, Smith stepped up to Moto2 with Tech3, taking three podiums along the way.  These are a sign of things to come for Smith and he was happy to talk about them when remembering his 2011 season.
The three podiums where the highlights of my first Moto2 season. The second place in the rain at Silverstone was unbelievable especially after all the problems I had in qualifying – riding the wrong way up pit lane on two occasions.
We have re-opened British interest in MotoGP and hopefully it will continue because there are some very talented British riders
"Assen was great because I led the race while in Mugello the podium was huge moment for the team.
"We'd brought bits and pieces of the bike by hand luggage on the aeroplane and to finish third was a great day for the team. The second race at Jerez was also special because I led a Moto 2 race for the first time.
"There have been some sparkles of brilliance throughout the season." Smith said to RacerViews.
Not rushing his way through the 125cc rank was surely a smart move as Smith got to grips with the Moto2 bike.  In its second year, the Moto2 field is arguably the most competitive in any form of motorcycle racing and to achieve podium results is a massive achievement when stepping up from 125cc.
His previous experience in 125cc and importantly dirt biking helped him get to grips with the Tech3 machine.
"My Motocross experience really helped because the Moto 2 bike handles more like a Motocross bike. The big difference between a 125 and Moto2 is the weight of the bike and the engine braking. You have got to understand the bike before you can start pushing."
His year was not without its difficulties as well – particularly at Phillip Island where he was fast but it came to nought after a fall.  Saying that – he didn't give up.  He picked the bike back up and continued to race, finishing just outside the points.
"The race started really well and after a couple of laps I was thinking about a podium finish. I love Phillip Island and really felt good. I'd passed Scott Redding, Claudio Corti and Mike Di Meglio when I pushed too hard and crashed. I remounted and got the bike to the chequered flag but out of the points – Really disappointed."
The final two races didn't go Smith's either, missing the (ill fated) Malaysian race due to an injury received in practice.  He was caught out by the weather in Valencia but still finished seventh in the Championship – and eager to continue in 2012.
[mudslide:picasa,0,racerviewsphotos,5663459870376185953,512,center]
"Everything is in place and I've tested the 2012 Tech 3 Mistral bike in Jerez and was really pleased. I'm sure we are going to be competitive next year. It's a vital year for me and the team before I move up to MotoGP in 2013. I'm off to the after Christmas for some serious training."
Smith is serious about succeeding and has the long term plan in place.  With his determination and talent coupled with the Tech3 team, he should be in for quite a ride.
Interview and article by Sam Tickell, December 2011