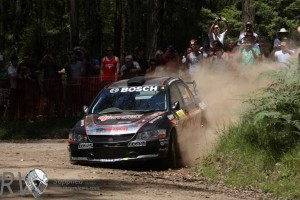 The Australian Rally Championship is in the middle of a resurgence with new classes, new rallies and for 2011, a new Champion.  We were able to catch up with Justin Dowel to discuss his Championship season.
Dowel, running Mitsubishi EVO IX in the Unrestricted class took his first ARC round win in South Australia and was only off the podium once during the year.  Dowel would beat out Ryan Smart for the Championship, in what turned into a two-horse race for the Championship.
Hi Justin, thanks for joining me, A great 2011 season taking out the Australian Rally Championship.  What are some of your highlights?
Highlights and lowlights –  In the Quit Forrest Rally the first rally of the year  we blew up our gearbox on the media day.  We had to then start the rally with a syncro box instead of our dog and on top of that the first tune with the unrestricted rally car was not good as all the power was at the top end and the car was very difficult to drive and just didn't suit the  syncro box we had to use.  In the end, though we finished third in round one – it could have been a lot worse for us.  I was really happy with that as the Quit Forrest Rally is our favorite event.
The highlight for the season was winning in South Australia.  We won the first stage by just over 30 seconds and then maintained the lead in the rally from then on.  It was a really good event for us the car was perfect.
Then we went to Coffs Harbour and we did have some dramas there.  The rest of the season we worked on consistence, maintaining as many championship points as we possible could in each round.  Luckily we didn't  DNF a single heat.  In the end our services crew and the team in general did a fantastic job all year.
You certainly built on your 2010 campaign, where you had a top 10 in the Championship.  What did you do differently in 2011 or was it the pieces falling together?
This year we moved to a sequential Hollinger gearbox and that was a major improvement.  The year before we had blown up three dogboxes because the selectors in the Mitsubishi box aren't that strong and for someone like me who is pretty aggressive they couldn't stand up to it.  The reliability issues and DNFs issues we had in 2010 just didn't happen this year.   The Hollinger box was a big, big plus.  The bottom line is you can't win if you don't finish.  We were really happy with that change and overall, although we had a lot of niggly little dramas with the car – and at times we had to over drive it to make up some time.  That lead to some driver errors, but overall it was a really good year.
The ARC seems to be gaining momentum with the Unrestricted class this year and the SUV class next year.  What are your thoughts on where the ARC is headed?
I think it is all competitor focused now, so I think that is the biggest plus for it.  Rallying is one of the biggest forms of motorsport in the country and now the State crews are seeing benefits in stepping up to national level and competing against some of the fastest guys in the country.  They are really enjoying that challenge.  Overall too, the atmosphere of rallying in Australia is really fantastic.  We have a great network where competitors support other competitors with parts and what not if they need it.  There is scope for new manufactures coming in for the future too with the new SUV class and the two-wheel drive class.  The future is bright, for sure.
httpv://youtu.be/UX9rlfVUajo
Watch Justin and co-driver Matt Bell on stage at SS11 Mantoo, Rally SA
With the Unrestricted cars, what are they like to drive when compared to a Group N?
I look at this way – instead of driving a production road car, you are driving a race car.  Having 400HP at the wheels is just awesome.  They are  a lot more difficult to drive but they are a lot more fun to drive.  The thing about a Group N car – it is like tarmac racing – it gets pretty boring pretty quickly, you just have to maintain a clean line, not step out sideways – that kind of stuff.  The ARC cars – you can throw them around, have a lot of fun and hang on for the ride.  It has transformed it, it has made rallying a lot more fun from the driver's perspective.  We can go out and thrash cars again.  Group N is as boring as batshit.  They are boring to watch, they are boring to listen to and this year, the spectators in the ARC were amazed at how exciting the ARC cars are to watch and listen to.  The noise that comes out of an ARC car, is awesome.  That is something that has been missing from rallying for some time – really since the Escort days – a good sound coming through the forest.
Back to you and your career, you have won State titles before, what does it mean to you personally to have the National title on the mantle?
Look, it is an amazing thing to win an Australian title, although really, it hasn't sunk in yet.  Matt and I have been working hard for a long time to reach this level within the sport.  With the Title battle this year, each of us were more than capable and deserved to win it.  It is the pinnacle in the sport – there is only one Australian Rally Champion.  In other forms of the sport they have different classes and different types of cars.  With rallying, it is just rallying so it is great to be the best of the best competing in the 2011 season.  My biggest thing that I want to accomplish is to beat Simon Evans.  He is still the best rally driver in Australia.  There is no doubt about that and he is the one I want to beat.
 There is scope for new manufactures coming in for the future too with the new SUV class and the two-wheel drive class.  The future is bright
Your plans for 2012?
I probably won't be in the same car as I have retired the Mitsubishi EVO IX.  Unfortunately the Evo9 is getting old and therefore parts are becoming harder to get. Mitsubishi to hold most parts in Australia but it can take several weeks to get parts if they are out of stock.  We are looking at changing cars although we haven't really decided if we are going two-wheel drive or four-wheel drive.  We have a couple of possibilities and we should know soon. (Dowel has since announced that his team will take a sabbatical in 2012, concentrating on preparing for 2013.  He may still do selected events in 2012)
Finally, you are successful off the track, being nominated for Ernst & Young Entrepreneur of the Year with Nature's Organics.  How do you balance rallying and business?
I think it is great to be successful at whatever you do.  In the end, I know that I am not the best rally driver in the country and I also know that I am not the best businessman in the country.  I try as hard as I can in both disciplines, as I won't be able to go rallying without a successful business behind me.  My motivation to build a great company comes from my motivation to compete in the national championship.  They both come from the same source of motivation in the end.  Maintaining the work-life balance and so on is very, very important.  There is no point having a life focused on business if you don't have satisfaction outside of that.  That is what rallying gives me and of course so does my family.
Thank-you and congratulations again on your ARC Championship.
Thank-you.
Interview and article by Sam Tickell, December 2011
Photo (c) Australian Rally Championship