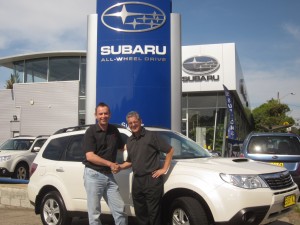 The SUV car market is the fastest growing sector in Australia and is relatively untapped in so far as motorsport promotion goes.  The Australian Rally Championship has created a class for the SUV as part of their 2012 Championship.  Longtime driver, Brett Middleton will be in the first lot of competitors to experience the SUV in competiton.  He will be campaigning a Subaru Forester in the five round Championship which kicks off at Rally Calder in March.
The SUV class will feature naturally aspirated petrol or turbo diesel SUV vehicles with production based restrictions other than suspension, brakes, wheels, tyres and exhaust.  The class has gained interest from Subaru, Toyota, BMW and other manufacturers and will have dedicated TV inside the Australian Rally package.
Middleton, on the otherhand is a rally stalwart.  Having rallied in club level for year, he turned his attention Group A Daihatsus in the early-to-mid 1990s.  Middleton then rallied Subarus and Formula 2 Hondas (among others), taking multiple Australian Formula 2 titles and taking top 5 finishes overall.  The 2012 season should prove a challenge to Middleton and his MRT Performance crew as they tackle this new class of rallying.
Hi Brett thanks for joining me.  You've announced that you are campaigning a Subaru in the new SUV class in the 2012 Australian Rally Championship.  Can you tell us how that deal came about?
What happened was at the start of 2011, the Australian Rally Commission, headed by Scott Pedder visited all the major manufacturers in Australia and it became apparent pretty quickly that manufacturers wanted a category that reflected the fastest growing category in the Australian car market.  That was the sport utility market – SUV.  They decided for 2012 with CAMS sanctioning that they would create a category for those cars in the Australian Rally Championship.  We found out mid 2011 and after some investigations in different models, from our point of view, with the competitive nature of the ARC and the market that MRT Performance (the team) is in – modifying SUVs like Subarus, Mitsubishi and Mazdas, it became pretty obvious to us that this is a good opportunity to get back into the sport.  Here we are, rapidly approaching the first round of the Championship.
The ARC also launched the Unrestricted class in 2011 as well, why did you choose the SUV over the Unrestricted cars?
Ironically, we still have our Group A Subaru STI Impreza that is an ex-Possum Bourne built car.  It's also the car the Cody Crocker and Greg Foletta won the 2000 Championship in that we purchased off Subaru Australia and ran it for quite a few years.  That car is an absolute weapon without a restrictor.  Whilst it is a fun car to drive it is also a very expensive car to drive.  It consumes a lot of fuel and shreds tyres.  The good thing about the SUV class is that the running costs are a lot less and it's in the target that we do a lot of work for.  We have a lot of clients and a lot of people looking into improve their Foresters – where it be turbo diesel or turbo petrol, as they are very detuned when they arrive in Australia.  There is a lot of potential in those cars to give them more power, make them stop better and handle better.
Now when you look at rally, what it is achieving in Australia considering the wider financial climate, the level that we are competing at, the Australian Rally Championship is in what I would call, a reasonably healthy situation.
How do you think you will get to grips with a SUV given your experience with Group A/N and Formula 2 cars in the past?
We have continued to campaign a F2 Honda Civic in the Alpine Rally – a 450km event.  That car is the car we won the F2 Championship in back in 1996 and 1997.  For a mixture of a good and fun car, the Group A Imprezas was a very powerful and quick car.  The Honda Civic is very nimble and light, and you can brake incredibly late.  It may not be as quick through the corners but in some situations, it is very quick.  We got fourth outright in the State Championship – only being beaten by high horsepower turbo 4WD cars.  We surprised quite a few people with the ability of that car.  The turbo diesel Forrester that we are competing in, you just have to have the same attitude towards it.  It is not they type of thing that will be an outright competitor but it will be very competitive as in its category as it is built on the Impreza platform with the suspension that is off the current model STi.
As you mentioned, you have a long history in Australian rally, what would some of your highlights be?
I really enjoy the driving the F2 car when we won the Championship.  Also competing against guys like Simon Evans, Lee Peterson, Ross Mackenzie, and those guys when we competed with support from Honda Australia.  We had Honda and those guys had Toyota, Nissan, Dean Herriage was running with help from Hyundai – it was a really fun couple of years competing at the pointy end of the sport in highly strong FWD cars.
Prior to that,  we were the first team to turbo charge a Datsun 1600 which is so common these days in road cars and rally cars.  We competed in the NSW Rally Sprint Championship against a close friend of mine in a Mazda, which was a Datsun 1600 with a 13B in it.  I had another friend in a 2.4L Datsun 1600.  Competing in the Rally Sprint Series was very, very competitive.  Those cars, compared to these cars are obviously chalk and cheese but in their time, they were a lot of fun.
The number one thing that I remind everybody in the sport, taking experience from my day to day job preparing race, road cars and servicing cars, is that if you want to have fun and enjoy yourself, make sure you remind yourself what the aim is.  Get in the car do your best.  Drive at your limit and explore opportunities and this is a great opportunity coming our way with the Forrester.  It is a completely different car to drive.  At full boost at 2000rpm and rev limits at 4000rpm, the transmission is going to get a workout.  It is a lot of torque with not a lot of power.  It has a lot of torque as a turbo and with more research and development it can really help on the road and in competition.  – Diesels are popular with 48% of cars sold in the UK are diesels where the market is only 5 or 10% but growing.  Australian clients are looking form more fuel economy and towing capability and drive ability out of these turbo diesel engines.  Rallying one is the best way to do it.
httpv://youtu.be/utGtAObYqW8
Brett Middleton on stage in his Honda Civic
What are your thoughts on the future of the ARC with the new classes, business models and so on after a few lean years?
Honda has confirmed a team that is a major step up.  There are rumours that another manufacturer is preparing a front wheel drive car (Mazda have just announced a car) to challenge Honda.  I know there are other manufacturers seriously considering entering the SUV market.   There are other competitors preparing cars for the SUV championship.  In the past we have though of rallying as better than what it was.  Now when you look at rally, what it is achieving in Australia considering the wider financial climate, the level that we are competing at, the Australian Rally Championship is in what I would call, a reasonably healthy situation.  We always know it could get better.  With the leadership of Scott Pedder, with his knowledge, ability and motivation, it is a real credit to him and his team to get the Championship to where it is.  They are running Unrestricted again but they won't be able to score points in the Championship.  That will give the Honda and other guys a chance to win outright and in their category.  We too are looking to win the Championship for the SUV series in our car.  The great thing is that we already have a naming partner for the SUV Championship – East Coast Bullbars.  There is over $700 000 of television set in stone for the 2012 Championship, the naming rights partner, things can only get better.  It is going to a great year and I am really looking forward to it.  As I am speaking to you, I am looking at the car that has work to do – although it will be ready by the end of the month.  It is going to be a lot of fun.
Do you have plans to sell cars to competitors during the year?
We have had a few people approach us and speak to us about this.  As a CAMS scrutineer, I have a fantastic opportunity to be involved with cars on a regular basis from a scrutineering point of view and too as a workshop owner, so I have plenty of experience in preparing rally cars.  If there is anybody out there that hasn't spoken to us yet but is considering it, my attitude is always to help people as much as I can.  We do hundreds of videos on YouTube – our channel has over 1.8million views.  The main reason we do it is to help people learn more about their cars for Mazda, Mitsubishi, Subaru, road cars, racecars – we share a lot of our knowledge as we work on the theory that it helps people learn more about what they want to achieve.  If it makes it easier for people to achieve then lets share the knowledge around.
If anyone wants to follow what we are doing, we are taking photos of the car daily,  in its preparation and in action as things progress through the Championship on our YouTube, Flickr and MRT website.  All these link off our website.  You can go online look, download and research more on what you can do in the cars.  We like to share the passion of preparing cars in Australia and for use in the Australian Rally Championship.  If people want to learn more about their cars we are here to help as well.  From a servicing point of view, tuning, technology, suspension or engine setup.  We are only a phone call or an email away.  We look forward to helping anyone who wants to gets in contact with us.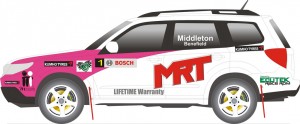 Fantastic, thanks – and I am looking forward to see how you go in Rally Calder – opening round of the 2012 Australian Rally Championship.
Yes, it should be a fantastic event.  My hat is off to the group of people, headed by Scott Pedder who is pushing everything forward.  It should be a great event with a lot of people getting involved from Rally, tarmac rally, battles and more.  It is not just an ARC event but also a great motorsports festival which will be great for everyone involved.
Interview and article by Sam Tickell, January 2012