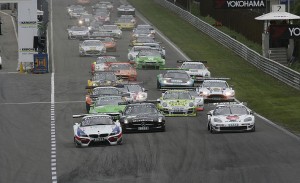 Click here to download the Andreas Wirth interview  (right click and 'save as')
Click here to subscribe to RacerViews iTunes channel
We were able to catch up with ADAC GT Masters driver, Andreas Wirth after Zandvoort.  There is a full race recap (courtesy of the ADAC GT Masters) at the bottom of the article.
In this interview we discuss Andreas' races along with driving standards and race control issues that highlighted themselves in Zandvoort.  Andreas and Heinz Harold Frentzen had a DNF in race 1 and a 7th finish in race 2, after starting 19th.
For more information on Andreas, click here
—
Interview by Sam Tickell, May 2012
RacerViews was established in 2011 and with the aim of delivering a new web experience to motorsport fans.  We bring exclusive interviews and photos from motorsports finest drivers of yesterday, today and tomorrow.  Our team has over 30 years of experience in the motorsport field.  With a heavy presence on Facebook, Twitter and iTunes where we have over 2800 followers,  our mission to bring exclusive content is in safe hands.  We have partnered with motorsport teams like Stig Richards Motorsport, One of a Kind Motorsport, Dark Horse Racing and MRT Performance in order to give you the best exclusive motorsport coverage.
We are always looking for new people to join our team.  If you are a motorsports photographer or journalist looking for additional exposure or a great place to learn your trade, contact us
—
Race 1
First ADAC GT Masters victory at Zandvoort for Diego Alessi/Daniel Keilwitz in Corvette. Three Dutch drivers finish their home race on the podium.
Exciting wheel-to-wheel racing, 40 super sports cars battling it out against the backdrop of wind-swept dunes, and a result that could have gone either way right up to the end: this was the best possible advert for the ADAC GT Masters making its debut at Zandvoort. The first excursion for the 'Super Sports Car League' outside the borders of Germany ended in a thrilling contest between Corvette driver Daniel Keilwitz (22, Villingen / Callaway Competition) and local favourite Jeroen den Boer (24, NL / DB Motorsport). But on the last few laps, race leader Keilwitz kept his nerve to share with team-mate Diego Alessi (40, ITA) the honour of picking up the first ADAC GT Masters trophy for Corvette since 2009. "It was very exciting – towards the end, I could hardly bare to look at the monitor," said co-winner Alessi. Den Boer and Simon Knap (23, NL) finished as runners-up ahead of local favourite Jeroen Bleekemolen (30, Monaco / FROGREEN CO2 neutral ) who shared the remaining podium spot with Porsche 911 co-driver Robert Renauer (27, Jedenhofen). Ford driver Krohn impresses at start of race
The quickest man off the mark was Finnish driver Jesse Krohn (21 / Lambda Performance) in the Ford GT. After a phenomenal start from tenth, the Ford had advanced to second by the end of the first lap. On lap three, the 'Flying Finn' overtook pole-sitter Simon Knap and retained the lead until the pit stop. But the changeover to team-mate Nico Verdonck (26, B) took so long that the Belgian emerged from the pit lane back in sixth. Keilwitz took over the lead after excellent work from co-driver Alessi to advance the Corvette up the field in the first half of the race. The Italian thus managed to mitigate his error in free practice when, despite being the fastest man in qualifying, he was handed a ten-place grid penalty for an earlier offence in free practice.
Keilwitz did not have an easy run-in and came under severe pressure from den Boer. But the Corvette driver managed to hold off the challenge from the Dutchman to claim his first ADAC GT Masters win. "It was very tight; the BMW kept closing on all the corners, but then I kept pulling away on the straights again," said winner Keilwitz. He also praised his team-mate: "It was fantastic how Diego Alessi prepared the way for me."
Local hero Bleekemolen, making a guest appearance in the Porsche 911, also had cause for satisfaction. After good work by team-mate Robert Renauer and a perfect pit stop, the Renauer/Bleekemolen partnership took the remaining podium spot. The Ford duo of Krohn/Verdonck finished fourth ahead of Dino Lunardi (33 F) / Maxime Martin (26, B / ALPINA). The BMW ALPINA partnership drove a tactically astute race to build on their current championship lead.
Race 2
Dutchmen Jeroen den Boer and Simon Knap claimed their first ADAC GT Masters victory – and a maiden win for the BMW Z4.
The white and blue livery of BMW dominated the second race of the ADAC weekend at Zandvoort. Dutchmen Jeroen den Boer (24) and Simon Knap (23 / DB Motorsport) claimed their first ADAC GT Masters victory – and a maiden win for the BMW Z4 – on the challenging circuit set amongst the North Sea dunes.
"Two pole positions, one win and one P2 finish – it would be hard to imagine a more satisfying home race," said an ecstatic den Boer after receiving the trophy from football ace Lars Ricken. Runners-up in the second Z4 were Dominik Schwager (35, Jedenhofen) and Claudia Hürtgen (40, Aachen / Schubert Motorsport), making it a one-two finish for the Bavarian manufacturer. The third podium spot went to the Mercedes-Benz SLS AMG partnership of Sebastian Asch (25, Ammerbuch) and Maximilian Götz (26 Uffenheim / kfzteile24MS Racing Team).