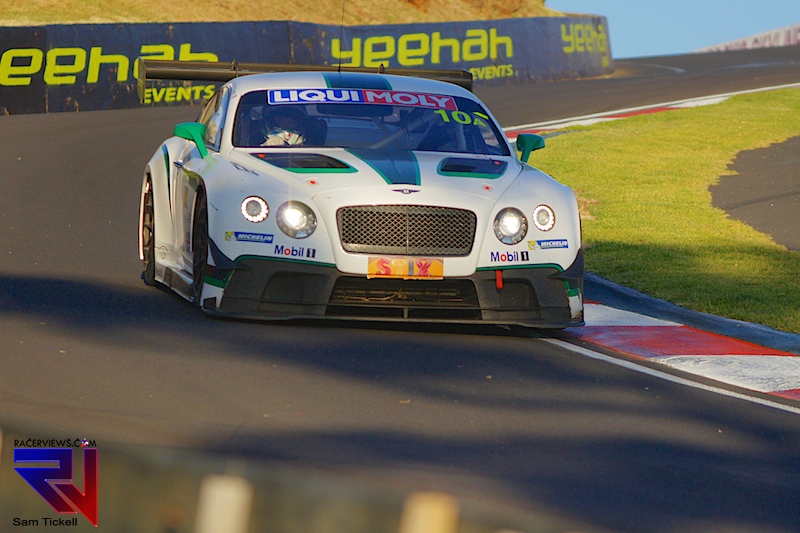 We were able to have a chat with Bentley Boy and 2003 Le Mans winner, Guy Smith while he was racing at the recent Liqui-Moly Bathurst 12 Hours.
The full audio interview is available below
Guy, racing at the Mountain for the first time was in contention for victory right up until the final laps.  Teammate Matt Bell was in the car, leading at the final green flag with two laps left.  He taken by the Nisan for the lead and then assaulted by Stefan Mucke's Aston Martin on the final corner to lose out on a podium.
We talked with Guy with three hours left of the race.
Guy enjoyed his first visit to the Mountain, bringing the factory Bentley squad to the race.  He has been working hard with the M-Sport team to develop the Continental GT3, working to take some 1300 pounds of weight out of it, repackage almost everything under the skin and make the car from a huge road car to a tightly packaged machine it is now.  This process and how it handles across Mt Panorama is one of the things we go into during this interview.  He confirms that the car was great on track – quicker than the majority of the cars, quick over the top of the Mountain.  The flowing parts were better for the Bentley – perhaps unsurprising as the team went for Nurburgring type setup.
This is also Guy's second life with the Bentley team having developed the Bentley Speed 8 and was part of the team to take it to victory in 2003.  This development stretch, what he felt in the car – both racing for victory and the feeling of victory are discussed in this interview.
Of course Guy has had a career outside the Bentley squad – most notably for Audi – where he scored a second place in 2004 at Le Mans; and a long history with Dyson Racing – now also a ream that has joined the Bentley family.  His experience both with Audi – where he has some interesting insights into finishing second at Le Mans and with Dyson, battling against the factory Audi team are both delved into in this interview.
Overall though, Guy's career and that of the Bentley GT3 program has been very successful.  The GT program was set up with M-Sport, something of a surprise to get a rally team to make a race car but as Guy explains, the team comes with the ultra-professional approach you would expect, innovative ideas on how to make a GT racing car and similar brand and corporate objectives to their success.
Download this episode (right click and save)
Click here to subscribe to RacerViews iTunes channel
http://gty.im/2088183
3
http://gty.im/173858016
6
By Sam Tickell,  February 2015
RacerViews was established in 2011 and with the aim of delivering a new web experience to motorsport fans. We bring exclusive interviews and photos from motorsports finest drivers of yesterday, today and tomorrow. Our team has over 30 years of experience in the motorsport field. With a heavy presence on Facebook,Twitter and iTunes where we have over 3000 followers, our mission to bring exclusive content is in safe hands. Additionally we have over 1 million views on our G+ page. We have partnered with motorsport teams like Stig Richards Motorsport, One of a Kind Motorsport, Dark Horse Racing and MRT Performance in order to give you the best exclusive motorsport coverage.
We are always looking for new people to join our team. If you are a motorsports photographer or journalist looking for additional exposure or a great place to learn your trade, contact us