Round four of the 2015 World Rally Championship was held and it was a new winner with Kris Meeke and Citroen taking out Rally Argentina. It was Meeke's first WRC win and Citroen's first win since Germany 2013 and their first 1-2 since Finland 2012…
WRC
Kris Meeke scored his maiden WRC victory at XION Rally Argentina today to become the first British driver to win a world rally since 2002.
The Northern Irishman headed Citroën team-mate Mads Østberg by 18.1sec as the French manufacturer claimed its first 1-2 finish for almost three years. Elfyn Evans completed a great day for Britain by taking his first WRC podium.
The late Colin McRae was the last British winner at Kenya's Safari Rally and mentored 35-year-old Meeke through the early part of his career.
"The one guy who did most for me isn't here to see this. This is for Colin. He helped my career out at the very beginning. He supported me financially through to the world championship. Without his support I wouldn't be here,"

Kris Meeke
He led the four-day gravel rally for all but a handful of kilometres in his DS 3, ending a torrid start to the season in which he crashed in the first three rounds.
He ended the first leg with more than a minute's lead and measured his pace over incredibly rocky conditions which sidelined many frontrunners to finally reach the top step of the podium on his 58th start.
Elfyn Evans – first podium
Østberg fought a fever and an early engine problem to secure his second consecutive runners-up spot. He climbed to second in the championship standings behind Sébastien Ogier (bottom), who finished a lowly 17th after fuel injection issues.
Evans survived final stage suspension problems in his Ford Fiesta RS to finish 3min 27.4sec behind Meeke, conceding a minute as he nursed the car through the test. It was a fitting farewell for the current Fiesta RS, which will be replaced by a new evolution at the next round.
Czech driver Martin Prokop matched a career-best fourth in another Fiesta RS while Dani Sordo recovered from the electrical problem which stopped him last night to overhaul Khalid Al Qassimi for sixth in the final stage.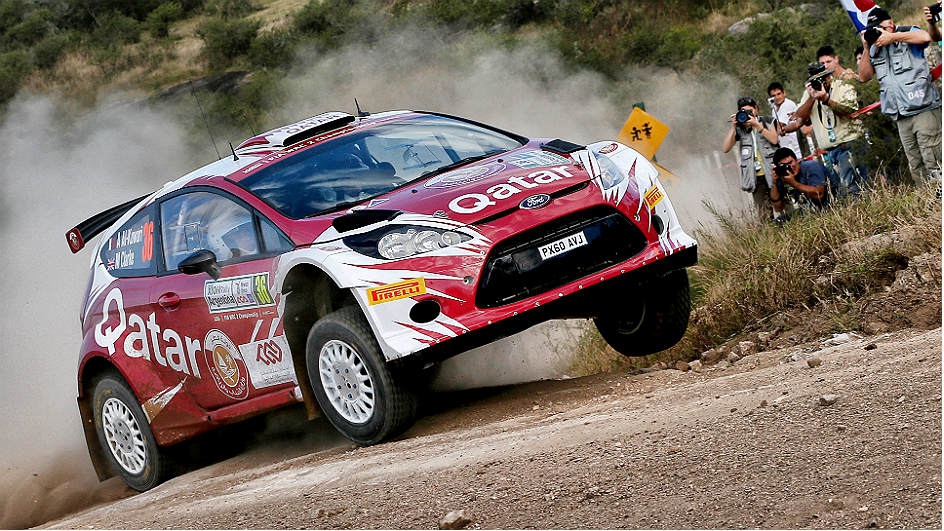 WRC2
Abdulaziz Al-Kuwari eased through Sunday's final leg of XION Rally Argentina to win the WRC 2 support category and climb to second in the championship standings.
Although the Qatari did not win a stage during the four-day gravel rally, he avoided the problems that affected his rival to bring his Ford Fiesta RRC to the Villa Carlos Paz finish with a 2min 48.5sec advantage over Paraguay's Diego Dominguez.
"It was one of the roughest and most difficult rallies I've driven in my life. We learned to be clever and took it steady. In fact on Saturday and Sunday I drove like a taxi driver!"

Abdulaziz Al-Kuwari
Al-Kuwari's win was never in doubt once Yurii Protasov's rear suspension fell off his Fiesta RRC in Friday's final stage.
The Ukrainian ran 500 metres to retrieve the unit before replacing it, but he was handed a 15-minute penalty for driving a short distance on the public road with only three wheels. He won all but one of the stages and eventually finished fourth.
Ahead of him in the final podium place was Jari Ketomaa. The Finn finished more than 12 minutes behind Al-Kuwari despite power steering problems and a puncture on his Fiesta R5, but stretched his championship lead to 18 points.
Simone Tempestini dropped seven minutes in the final stage to drop from fourth to sixth in his Subaru Impreza but still won the Production Car Cup within WRC 2. His problems allowed Didier Arias into fifth.
—
All materials courtesy of WRC