In the end it was a petit, Petit Le Mans after very wet conditions struck and provided a very strange result…
from IMSA PR
Prototype
Christian Fittipaldi and Joao Barbosa – with an assist by IndyCar star Sebastien Bourdais – overcame treacherous weather conditions on Saturday at Road Atlanta, using a Prototype (P) class victory in the rain-shortened 18th edition of the Petit Le Mans powered by Mazda to clinch their second consecutive TUDOR United SportsCar Championship.
Bourdais drove Action Express Racing's No. 5 Mustang Sampling Corvette DP to the lead at the three-hour, 38-minute mark of the scheduled 10-hour race. He led the following 54 laps until a red flag stopped the action at the five-hour, 21-minute mark.  Barbosa took over shortly after racing resumed with three hours, 33 minutes remaining and regained the class lead in the closing minutes, but with conditions continuing to deteriorate, the race was checkered at the seven-hour, 51-minute mark.
Assisted by the challenging conditions, several GT Le Mans (GTLM) competitors kept pace with their Prototype counterparts. Nick Tandy and Patrick Pilet won overall in the No. 911 Porsche North America Porsche 911 RSR, followed by John Edwards, Lucas Luhr and Jens Klingmann in the No. 24 BMW Team RLL BMW Z4 GTLM. Barbosa took third overall in the combined results.
Christian Fittipaldi – No. 5 Action Express Racing Corvette DP

"It was an awesome day for the whole team. The whole thing starts back at the workshop. In two years, this car has only missed one lap and that was under reasons not under our control. Myself, Joao and Seb just try to execute as much as we can with what they prepare for us. I can't say how happy we are with two championships in a row. When you're at the top, competition naturally wants to knock you down. We would have done the same thing with other guys on the top. We are going to continue to work hard, but we are very confident to put it together again. So I'm looking forward to next season."
Fittipaldi and Barbosa entered the event tied for second with Action Express teammates Eric Curran and Dane Cameron, six points behind VisitFlorida.com Racing's Richard Westbrook and Michael Valiante, 279-273. After Westbrook dominated the opening two hours of the race, a pair of spins on successive restarts by co-drivers Michael Valiante and Mike Rockenfeller cost the No. 90 VisitFlorida.com Corvette DP two laps, resulting in a fifth-place finish.
Curran led 30 laps down the stretch, pitting and turning the No. 31 Whelen Engineering/Team Fox Corvette DP over to Dane Cameron shortly after the 11th caution of the race waved due to a spin by Prototype Challenge (PC) driver Bruno Junqueira. That gave the lead to Barbosa, who led six laps under the caution before race officials made the decision to wave the checkered flag.
As a result, Fittipaldi and Barbosa unofficially came out on top in the final standings with 309 points, followed by Westbrook and Valiante with 306, and Curran and Cameron with 304.
Scott Pruett, Joey Hand and Scott Dixon finished second in the No. 01 Ford EcoBoost/Riley DP, placing fourth in the championship. They were followed by Curran, Cameron and Max Papis in the No. 31 Whelen Engineering Corvette DP, while defending Petit Le Mans winners Ricky and Jordan Taylor with Max Angelelli finished fourth in the No. 10 Konica Minolta Corvette DP.
It was the second victory of the season for the Action Express trio, who won the Mobil 1 Twelve Hours of Sebring Fueled by Fresh From Florida. Fittipaldi and Barbosa won three races and the Tequila Patrón North American Endurance Cup in 2014, clinching the two titles with a second-place finish at Petit Le Mans powered by Mazda. Saturday, Action Express again doubled up, clinching TUDOR Championship and Patrón Endurance Cup crowns with a victory in the Road Atlanta classic.
– See more at: http://www.imsa.com/articles/fittipaldi-barbosa-capture-second-prototype-title#sthash.SOSHor6p.dpuf
GT
From winning the 24 Hours of Le Mans overall in a prototype to winning the Petit Le Mans powered by Mazda overall in a GT Le Mans (GTLM) car, something about "Le Mans" style endurance races suits Porsche North America driver Nick Tandy.
With Tandy's win at a rain-soaked Road Atlanta, the No. 911 Porsche North America team earned its fourth GTLM victory of the season, winning the 2015 TUDOR United SportsCar Championship team title. It also propelled his co-driver Patrick Pilet to the GTLM driver title, beating out No. 25 BMW Team RLL drivers Bill Auberlen and Dirk Werner by 10 points in the standings, 315-305. Tandy did not win the driver championship alongside his teammate because of three races missed due to overseas commitments.
Nick Tandy – No. 911 Porsche North America Porsche 911 RSR

"When the race was coming to a close, I was aware that the No. 31 car was in the lead, but I knew if we had another rain shower I knew we would checker the race, so that was why I was pushing so hard to get ahead of the GTLM cars, and once I had done that and we had a really good pace and were comfortable we were catching the No. 31. It was a case of just pulling ahead of the rest, but we ended up winning overall, so it was fantastic."
John Edwards, Lucas Luhr and Jens Klingmann finished second in the 10-hour race in the No. 24 BMW/IHG Rewards Club BMW Z4 GTLM. Like the No. 911 Porsche, Klingmann finished ahead of the Prototype category, second overall.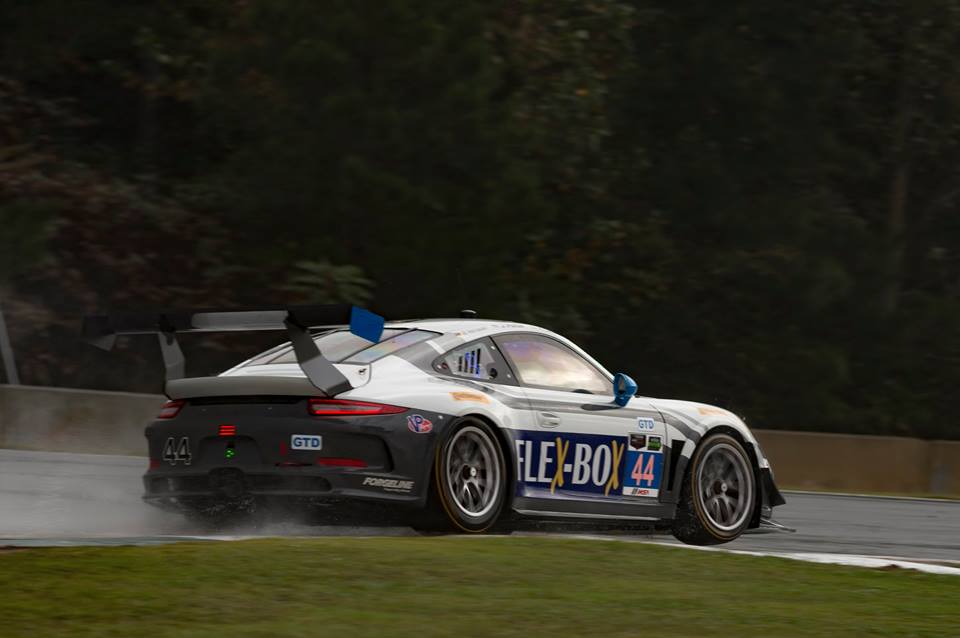 The No. 4 Chevrolet Corvette C7.R of Tommy Milner, Oliver Gavin and IndyCar regular, Ryan Briscoe, earned its first TUDOR Championship podium since January's Rolex 24 At Daytona where Corvette Racing regulars finished third. Milner and Gavin's most recent podium came in June's 24 Hours of Le Mans when they won the GTE Pro class overall with Wayne Taylor Racing's Jordan Taylor in that very same Corvette. Their Corvette Racing teammates in the No. 3 entry, Antonio Garcia and Jan Magnussen, finished sixth in today's race and third in the GTLM points standings.
– See more at: http://www.imsa.com/articles/porsche-shocks-field-petit-le-mans-overall-victory#sthash.0szFxAvK.dpuf