The FIA World Rallycross Championship was more of a mudbath in Italy but Petter Solberg cemented his Title lead while Bakkerud finally took a 2015 win
From PR materials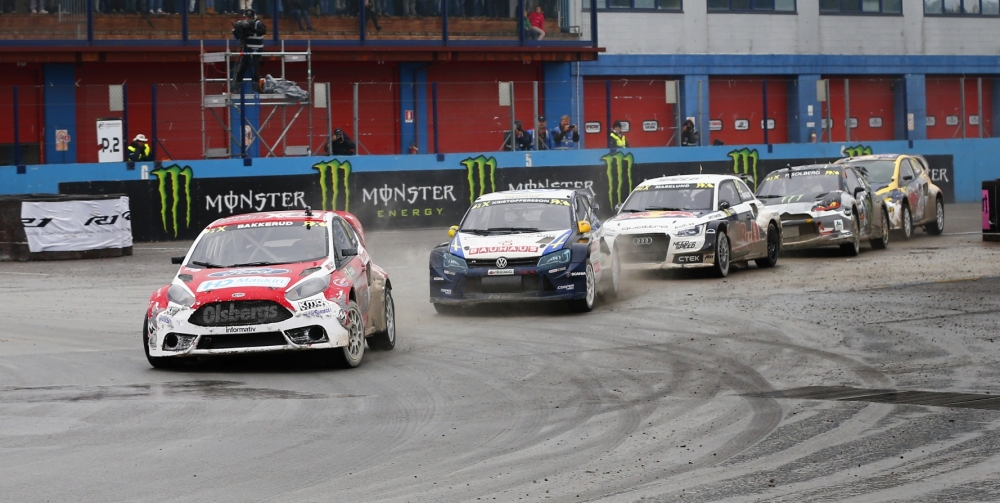 Norway's Andreas Bakkerud became the sixth different winner in the 2015 FIA World Rallycross Championship presented by Monster Energy after triumphing at this weekend's World RX of Italy. Volkswagen Team Sweden's Johan Kristoffersson finished as runner-up, with points-leader Petter Solberg third. Meanwhile, Team Peugeot-Hansen was crowned the 2015 Teams' Champion with one round remaining – the Swedish squad has amassed a 63-point lead over Ford Olsbergs MSE.
In the FIA European Rallycross Championship, where Italy marked the final round, it was Tommy Rustad who won in Franciacorta and was crowned the 2015 Euro RX Champion in his Marklund Motorsport run Polo RX Supercar. "I've been watching rallycross on TV since I was about ten years old and I always dreamed this would happen – it's a dream come true," grinned the Norwegian
Frenchman JB Dubourg finished second out of the European Supercars competing in Italy, with Ole Christian Veiby third. In the overall Euro RX standings it was Albatec Racing's Jerome Grosset-Janin who finished runner-up. Third was Veiby – the Norwegian tied on points Joni-Pekka Rajala but was awarded third place on count-back.
The 2015 Super1600 Championship was won by Janis Baumanis, the Latvian finished 24 points clear of Denmark's Ulrik Linnemann. Linnemann won today's S1600 round in Italy – his third victory of the season after France and Germany. Dmitrii Bragin impressed on his rallycross debut, the Russian putting in a strong performance to finish Italy RX in third place.  Third in the 2015 Super1600 standings was awarded to Krisztian Szabo, the Hungarian finishing six points behind Linnemann.
In the supporting RX Lites Cup, where Italy was also the final round, Kevin Hansen finished second, accruing enough points to be crowned the 2015 Champion. The 17-year-old Swede is awarded a Supercar drive at the final round in Argentina as his prize.  It was Kevin Eriksson, however, who took the win in Italy. Eriksson ends the year second in the Lites standings – 17 points behind Hansen.  Joachim Hvaal finished third today and ends the season fourth overall.  Meanwhile, Thomas Bryntesson is third in the overall Lites standings – the Norwegian having amassed a staggering four event wins throughout 2015 in the highly-competitive one-make series.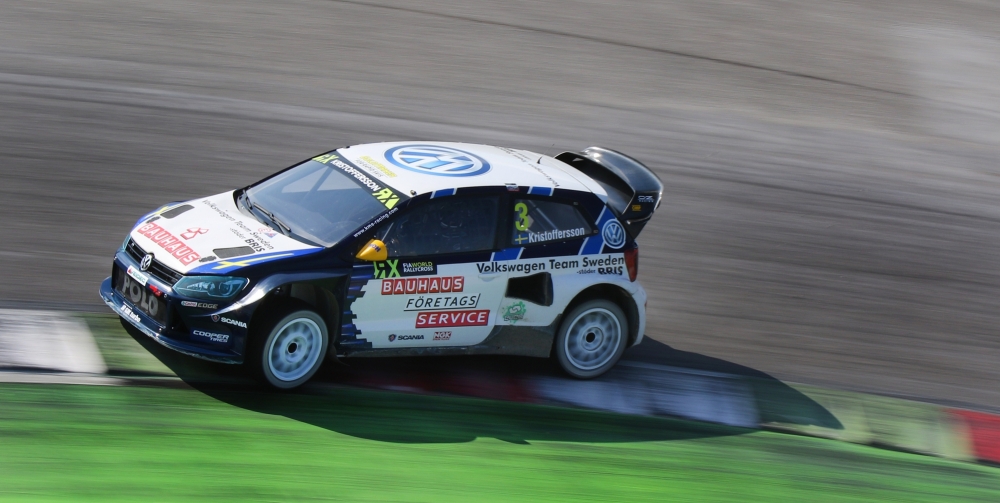 Italy RX Supercar winner Andreas Bakkerud commented: "It is such a big relief to win today – and it means so much to take a victory in front of all of my fans who have come along to support me this weekend."
Bakkerud, who drives for Ford Olsbergs MSE, was also awarded the Monster Energy Super Charge Award for his rapid start off the line in today's final. He added: "Last week I finished first in the RX150 buggies at Croft at the British RX Championship and now I take a win in Italy, I could definitely get used to being on the podium. The rain has made today's conditions really hard but I kept pushing, and tried to keep it as clean as possible.  We had some unfortunate results over the summer but the team never gave up – they have worked so hard.  I want to thank all my fans that are here this weekend and a big thanks to Ford Olsbergs MSE – without them this wouldn't have been possible."
Round one winner Kristoffersson spoke of his desire to take a win at the final round in Argentina next month.  "I'm really pleased with second, but for sure, I would have liked to have won today.  I've been on the podium for the last three events – the car has been working fantastic so hopefully we can continue our recent run of form for the final round next month," explained the Swede.
Meanwhile, Solberg is one step closer to securing his second World RX Championship title following his performance in Italy. The Norwegian was able to capitalise on Timmy Hansen's retirement in the semi-finals to secure crucial championship points.  He now leads Hansen by 26 points going into the final round [a total of 30 driver points are available in Argentina].
EKS driver Anton Marklund finished fourth in Italy, the Swede securing his best result of 2015 in his Audi S1 EKS RX quattro.  Rounding out the top five was an impressive drive from Manfred Stohl who made an extraordinary comeback following a roll on the first day. It also marked the first time both Stohl and World RX Team Austria have been in an RX final. Russia's Timur Timerzyanov was sixth overall, the Ford Olsbergs MSE driver knocked out of podium contention after he lost time from a rear-left puncture.
One of the most enthusiastic spectators at Franciacorta today was FIA President Jean Todt, who arrived to see the conclusion of the penultimate round of the World Championship. Jean Todt took the opportunity to meet with a number of teams and drivers, FIA staff and representatives from IMG in order to discuss the growth of the Championship, and what is in store for the future. He also presented Italy RX winner Bakkerud with his trophy on the podium.
Jean Todt, FIA President, commented: "It is a pleasure for me to attend the FIA World Rallycross Championship in Franciacorta. It is a series that I have supported for some time and which I was very keen to see become an FIA World Championship. There is certainly no shortage of excitement – the fans get to see a lot of races in quick succession, while the grids are very strong and diverse. I look forward to seeing this Championship continue its growth under the guidance of the promoter IMG which is doing a great job and offering a fantastic package to competitors and spectators."
World RX Managing Director for IMG, Paul Bellamy, concluded: "The action has been non-stop at Franciacorta this weekend.  Congratulations to Andreas [Bakkerud] on taking his first win of the season – he did a sterling job and thoroughly deserves the silverware.  We've also witnessed four new Champions this weekend – Team Peugeot-Hansen in the Teams' Championship, Rustad in Euro RX, Baumanis in Super1600 and Hansen in RX Lites – congratulations to each of them on a job well done. We've also had the pleasure of FIA President Jean Todt's company in Italy today.  It was an excellent opportunity to show him just how much World RX has grown since it first gained FIA World Championship status. Jean Todt was impressed by the amount of talent we have in rallycross and once again this was demonstrated by the racecraft seen out on the track over the weekend."