Brendan Reeves and Rhiannon Gelsomino have stunned in their return to the WRC. The pair supported by RacerViews are in the top 3 after day 1 of Rally Spain
By Sam Tickell, photos by Greg Roslon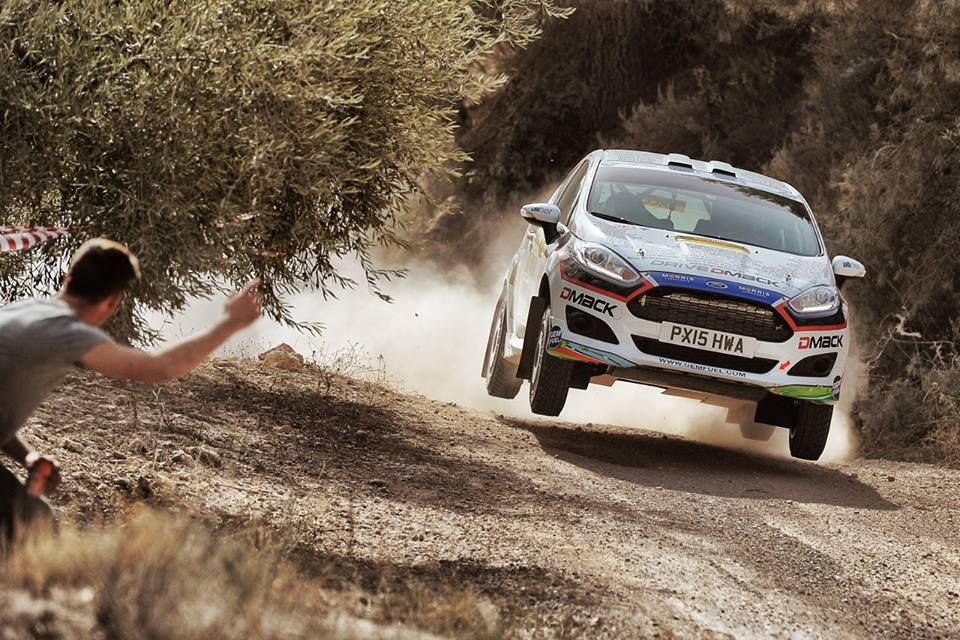 So far as a WRC comebacks go, Brendan Reeves and Rhiannon Gelsomino had done pretty well in the DMack Fiesta Trophy in the RACC Rallye Espania.
Reeves who is only competed in one other rally this year – a rally in the US – was immediately on the pace.  Brendan and Rhiannon put in the class stage winning time in the Spectator super special that open the rally on Thursday night.  Their time of 4:15.8 meant they took the lead on the first stage back in the WRC and impressed in front of a huge crowd in Barcelona.
Friday's 125 km of special stages would be broken up into eight different stages – six shorter runs, and two times through the 35.68 km Terra Alta stage.  With Reeves having a strict allocation of DMACKs and no midday service through the day strategy and caution would be important.
With that in mind Reeves and Gelsomino took a more cautious approach the start of the Friday stages and took fourth in special stage to the first stage of the day. Through special stages three and four they would consolidate their position before the 35 km special stage five.  The front runners in the WRC had reported that the stage was breaking up with particularly in the short tarmac section with rocks on the road which would mean that the DMACK cars, that were running at the tail of the field would have to be particularly careful.  Reeves had a slight spin, a small error but one ultimately was not costly and he would make it to the end of the first loop of stages.
"It was important to understand how the tyres wear and how the car set-up affects that," Reeves said. "So the first four stages we really focused on that to help us for the afternoon loop of stages that were a repeat".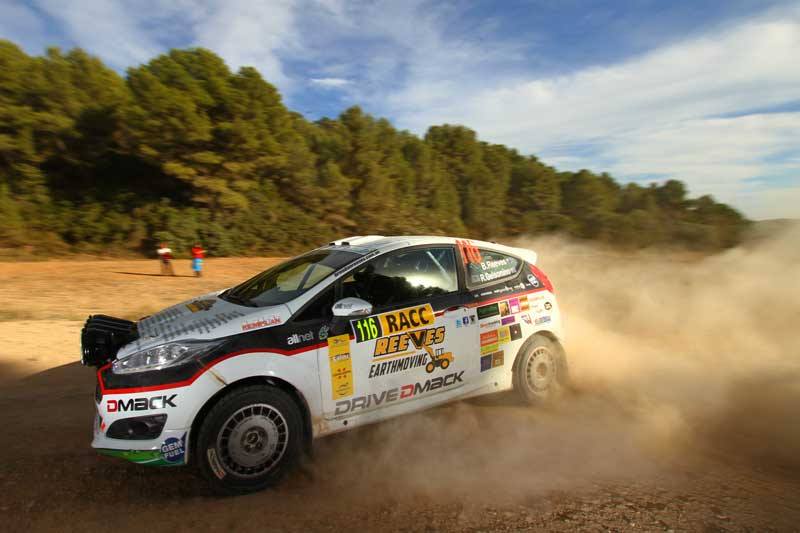 After the first run through Terra Alta Reeves would take on four new DMACK tyres for the second run through the day's stages. He would also carry couple of spares in case of puncture – a smart move given the havoc that we saw through the WRC field where many runners picked up punctures.
There was more grip through the afternoon stages with a lot of the surface dust having been worn away by the cars that had come before.
He was involved in a massive fight with other DMACK competitors, particularly Tom Cave who was 12 seconds ahead of him going into the final stage of the day – the second run through Terra Alta.  In this 35 km though, Reeves and Gelsomino were on the attack and their work known areas pulling in 11 of the 12 second gap to leave just one second between Cave and Reeves at the end of the day.
"I'm really happy with this afternoon's pace," Reeves commented. "We caught quite a lot of dust in the morning but with the two minute gaps this afternoon it was much better. We were able to go to a bit harder set up and this worked on the tarmac section. The car pulled through well today."
With Marius Aasen holding a 20 second lead at the end of day one the fight is on the second.  Cave and Reeves within one second of each other and have a massive gap back to Gus Greensmith in fourth.
Any only mixed surface WRC event of the year the RACC Rally Espania moves to tarmac that Saturday and Sunday.
Reeves and Gelsmonio cry funded a large portion of this event in order for them to get back on the stage and in the world eye.
RacerViews is proud to be a part of their effort and will bring you further updates throughout the weekend.
Stage times for Reeves and Gelsomino
SS1    Barcelona – Montjuic Mountain –    3.20 km
4:15.8    (1st in class)
SS2    Móra d'Ebre – Ascó 1 –    9.62 km
6:50.3    (4th in class)
SS3    Caseres 1 – 12.50 km
8:35.4    (3rd in class)
SS4    Bot 1 –    6.50 km
4:48.9    (4th in class)
SS5    Terra Alta 1 –    35.68 km
27:16.5 (4th in class)
SS6    Móra d'Ebre – Ascó 2 –    9.62 km
6:48.3 (3rd in class)
SS7    Caseres 2 –    12.50 km
8:26.0    (3rd in class)
SS8    Bot 2 –    6.50 km
4:47.9    (3rd in class)
SS9    Terra Alta 2 –    35.68 km
26:49.6    (1st in class)
Drive DMACK Fiesta Trophy Overall after SS9
Marius Aasen 1:38:17.1
Tom Cave +20.6
Brendan Reeves +1.0
Gus Greensmith +2:46.5
Kevin Van Deijne +7:25.4
Max Vatanen + 15:38.6
—
RacerViews was established in 2011 and with the aim of delivering a new web experience to motorsport fans. We bring you more than just the news.  Our exclusive interview and galleries brings you the views from the track, from the racers. Our extensive race review collection allows you to keep up with the action from around the world. Our team of passionate pros have decades of experience in the motorsport field. Our social media presence on Facebook, Twitter and iTunes  bring you more, a holistic experience.  We have more than 3100 followers on Twitter and more than 1.5million views on Google Plus.  Our mission is to bring exclusive content is in safe hands. Over the time we have partnered with motorsport teams likeAndreas Wirth, Stig Richards Motorsport, One of a Kind Motorsport, Dark Horse Racing and MRT Performance in order to give you the best exclusive motorsport coverage.
We are always looking for new people to join our team and we are always looking to publish stories, photos and audio in world-class publications around the world. If this interests you contact us