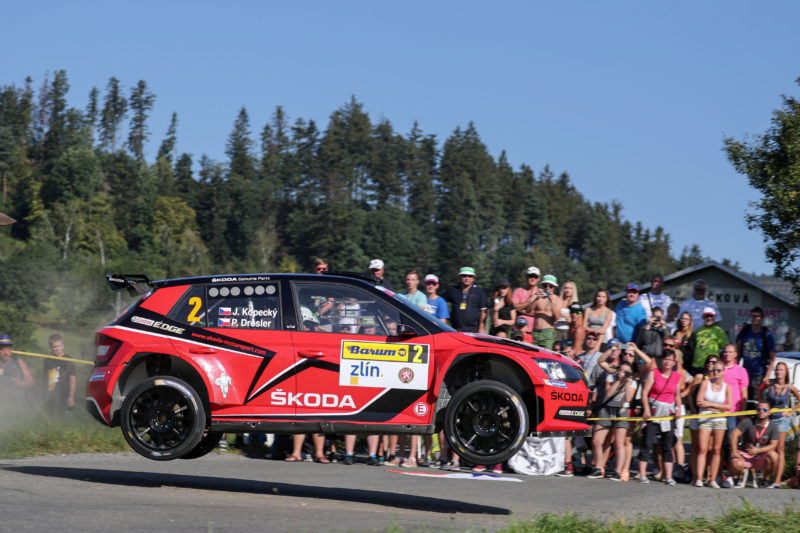 Jan Kopecký has won his home round of the FIA European Rally Championship, Barum Czech Rally Zlín, for the fifth time after a flat-out duel with Alexey Lukyanuk all the way until a dramatic final stage.
The 2013 European champion Kopecký led after all but one of the 15 stages on the asphalt classic in his factory ŠKODA Fabia R5, but never had a margin of more than nine seconds over rapid Russian Lukyanuk, driving the event for just the second time in his Ford Fiesta R5.
Lukyanuk briefly took the lead on Saturday evening and on Sunday he won both runs over the Pindula test to twice slash his deficit to Kopecký. On the second occasion this set up a final-stage decider between the pair, now separated by just 4.6 seconds. However, Lukyanuk's hopes ended when he tagged a water barrel on the inside of the corner on a spectator complex on the Maják test, breaking a steering arm.
He and co-driver Alexey Arnautov were able to make repairs and complete the stage, but lost over 10 minutes, allowing Kopecký to take a special fifth victory on the rally by more than two minutes. "The emotions are really high now," said Kopecký, co-driven by Pavel Dresler. "It's a crazy feeling, I don't know what to say. Thanks to the car, to the team and to my family."
Kopecký, whose ŠKODA was fitted with MICHELIN tyres, paid tribute to Lukyanuk, saying: "Thanks to him, this weekend was amazing. It was a huge battle with him." Lukyanuk, who finished down in 15th place, commented: "We were doing the same pace as the previous stage: I was not crazy. It's my fault because I was too close to it. It was a great weekend, an exciting battle with Jan, I will remember it for a long time but this final mistake has cost me."
Thanks to the points scored for coming second on the first leg, Lukyanuk retains a chance of winning this year's ERC title going to the penultimate round, Rally Liepāja. Defending champion and points leader Kajetan Kajetanowicz was forced to retire from the opening leg with engine problems, but restarted on Sunday. With the Pole replicating Lukyanuk's second place on leg two, the gap between the two remains at 76 points.
The final day drama extended beyond the battle for the win. French asphalt ace Bryan Bouffier began the morning in third, but a slow couple of stages dropped him behind Tomáš Kostka, only for Kostka to suffer a broken differential on the day's third stage, robbing him of front-wheel drive and around 40 seconds. Bouffier took a two-second margin over Jaromír Tarabus into mid-day service but was unable to go any further, with his Gemini Clinic Rally Team Citroën DS3 R5 dropping to three cylinders. Local resident Tarabus then lost his hopes of a dream home podium when he crashed on the next stage.
This promoted Jan Cerný  to third, but when he got held up behind another car on the penultimate stage, it looked as if his podium chances had gone too, with Kostka moving ahead. However, Lukyanuk's misfortune allowed both to celebrate top three finishes: circuit star Kostka bettering his third place finishes from 2012 and 2014 with ERC Junior graduate Cerný achieving an outright podium, having upgraded to an R5 car for the first time earlier this month. Both drove Fabia R5s on Pirelli tyres.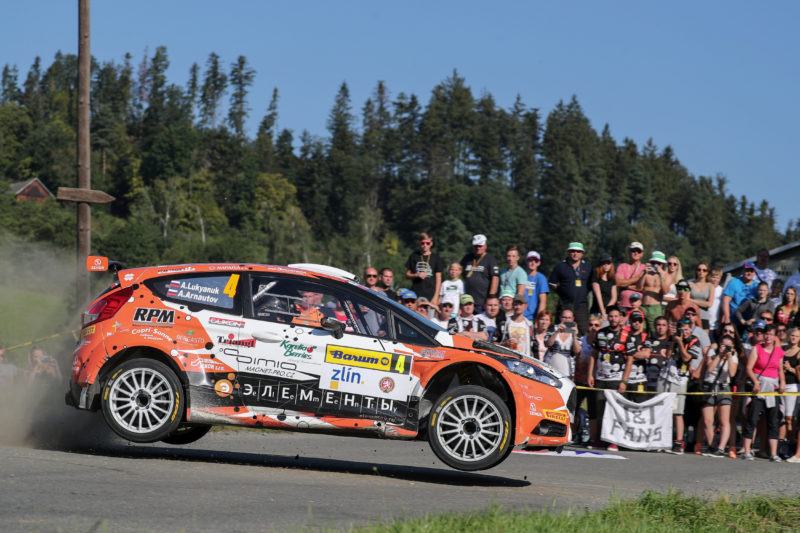 Czech drivers filled the top five places in the end, with Pavel Valoušek recovering from a time-consuming puncture on Saturday to take fourth. ERC debutant Fabian Kreim lost out to Valoušek when he suffered a puncture of his own on the penultimate stage, but the German championship leader still completed a sweep of the top five for ŠKODA, which was supporting the 23-year-old's participation in its home event.
After a clean run at the front of the field on the final day, Martin Vlček finished just 1.8s behind Kreim in sixth place with a Ford Fiesta R5. Belgium's Cédric Cherain – who has ambitions of competing in the ERC on a regular basis next season – charged from 13th to seventh on the final day to finish in front of three more local drivers: Vojtěch Štajf, Miroslav Jakeš and Roman Odložilík, with regular ERC competitors Dávid Botka and Antonín Tlusťák just missing out on more points. A difficult first asphalt rally in an R5 car for two-time 2016 round winner Ralfs Sirmacis ended in a crash on SS11, while reigning Polish champion Łukasz Habaj was closing in on points before he crashed during the final stage.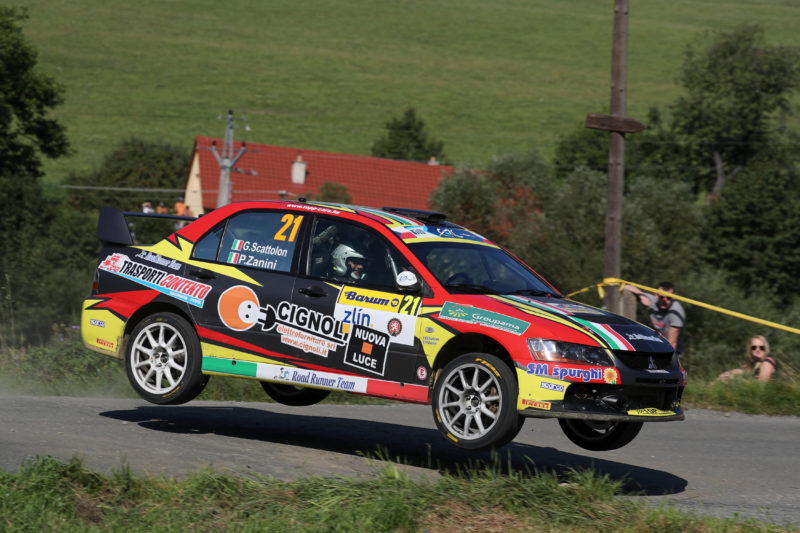 ERC2
Giacomo Scattolon secured his second ERC2 win of the season on Barum Czech Rally Zlín after setting the best time in the FIA European Rally Championship category on almost every stage, beaten only on the final test.
A maximum score cuts his gap to the absent championship leader Wojciech Chuchała to 52 points.
"A great weekend, we are very happy with this position," said Scattolon. "It's our first time here on Barum Rally, and this rally is really difficult, but the car was perfect."
Affected by mechanical problems, Tibor Érdi Jr began the day 13 minutes down but ended his event on a positive note with that fastest time.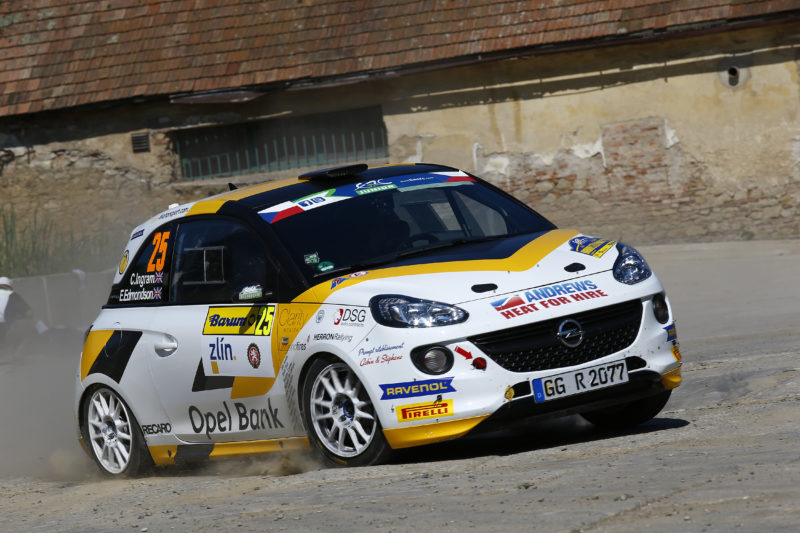 ERC3
Chris Ingram took a well-timed first win of the ERC Junior season on Barum Czech Rally Zlín to strengthen his position at the top of the category standings in the FIA European Rally Championship.
After opening up a comfortable lead on the opening leg, the Briton took it easier on the final day, but still finished 23 seconds clear.
Rival and Opel team-mate Marijan Griebel had been forced to retire from the first leg when he damaged the steering in a deep cut, but was fastest on five of Sunday's six stages and salvaged fifth place.
With the drivers' best four scores counting towards their total in the Pirelli-supplied series, the title race remains open going to the final round in Latvia, where a win for either Ingram or Griebel could make them champion.
Łukasz Pieniążek took his best finish since his Circuit of Ireland triumph in second, while Nikolay Gryazin survived an off into a ditch to complete the podium. Dominik Brož secured his second fourth-place finish of the season on his home event.