Australian Superbike Champion, Mike Jones made his MotoGP debut last time out at the Japanese Grand Prix at Motegi. It was a solid debut in the Avintia Racing Ducati after a very short lead time to get on the bike. He was able to easily qualify for the race and took 18th spot.  RacerView's Leonard Smith was able to catch up with Mike before the Phillip Island round.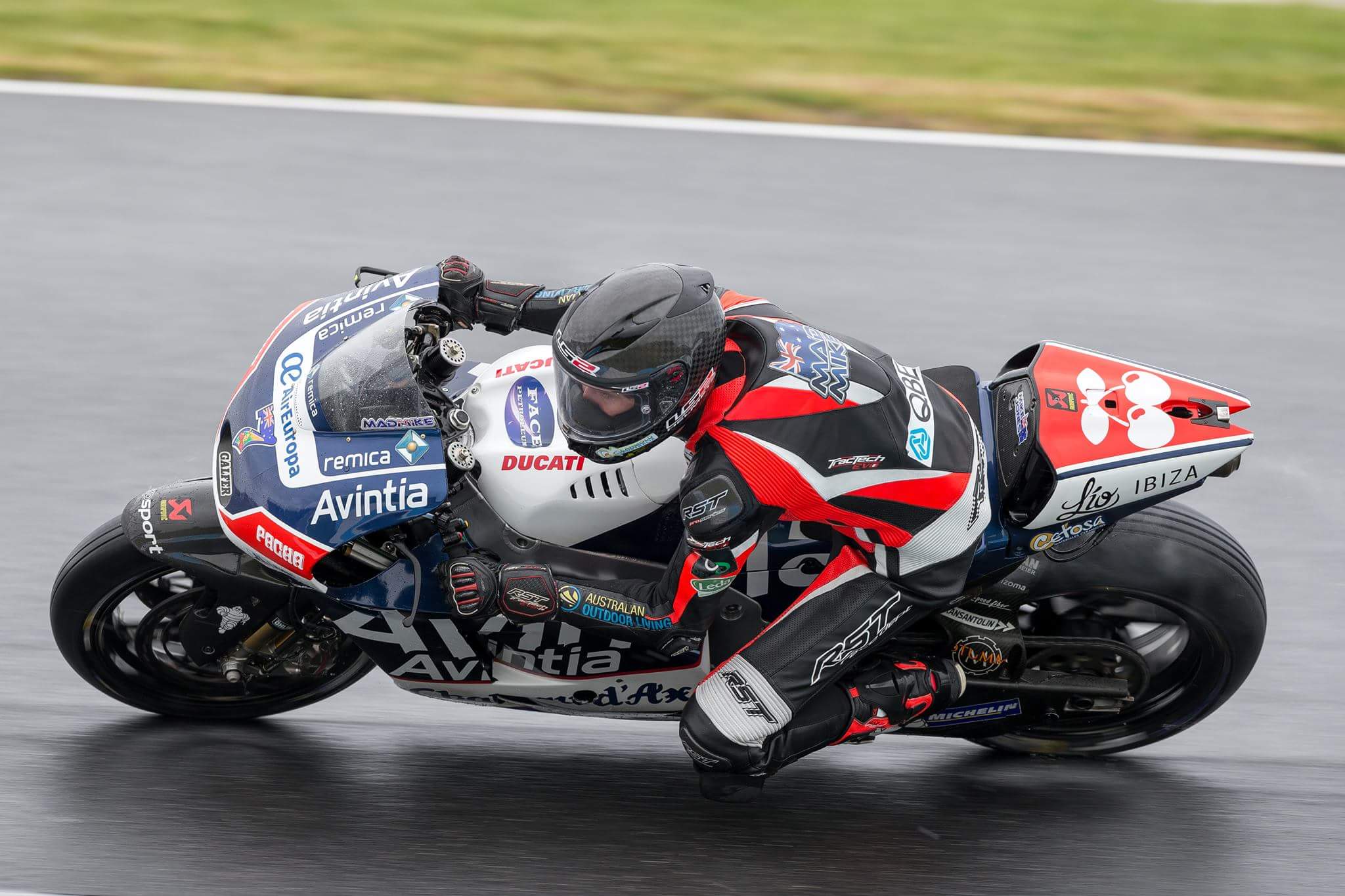 Leonard Smith: What was it like when you got the call from the team to go to Motegi?
Mike Jones: It was the middle of the night on Wednesday. I was a sleep and Troy (Bayliss) contacted me and asked if I wanted to ride at Motegi on the Avintia Racing Ducati. Obviously I said yes. I didn't care that it was the middle of the night! I was immediately excited that I had the opportunity that i had the opportunity to ride the MotoGP bike
Absolutely brilliant! How do you feel now?
For me, even in the middle of the night my heart was pounding so much. It was just a very surreal feeling to have the opportunity to head overseas and ride the bike. I was very nervous and anxious as well.
What I did notice, you were so level headed about it. You had never been to Motegi before had you?
No. It was my first time.
First time on the bike, MotoGP bike, at the circuit.
Not knowing anything, is really difficult, really tough. On a circuit you don't know, on a bike you don't know, with a team you don't know and racing against the world's best rider is a pretty difficult thing to do! You know, at that point in time I was there for the experience and be a part of it. I was there to enjoy that experience and that is what I did.  Certainly being a competitive person, you are always trying to prove yourself. It was good throughout the weekend. I improved and made progress. That was important as people who organised it, people from Ducati, and the team – they were really happy and impressed that I was making progress. That was the main thing – to improve yourself.
The first lap time on Friday was a 1:53.473 and you ended up with a 1:47.631 by Saturday afternoon – that is a six second improvement!
It is quite incredible to improve a lap time by that much. The reason why I started out so slow was I didn't know anything but it was really good to make such a big improvement and not get stuck and any point in time and stay at the same lap time. I kept improving all the time and got better. I'm ecstatic that we got to the lap time that we did. The 1:47.6 was a tenth of a second off my teammate Loris (Baz) and got be onto the back of the world's best riders on my first weekend.
I was listening to the commentary – they said you had to qualify but you'd already put in a good enough time!
[Laughs] Before I even got to Japan, my goal was just to qualify for the race. Just to be able to make the race and do it. As the practice sessions went on, the lap times were getting better and I knew in myself I was able to qualify for the race and once I qualified I was very very happy.  That was the goal and it happened.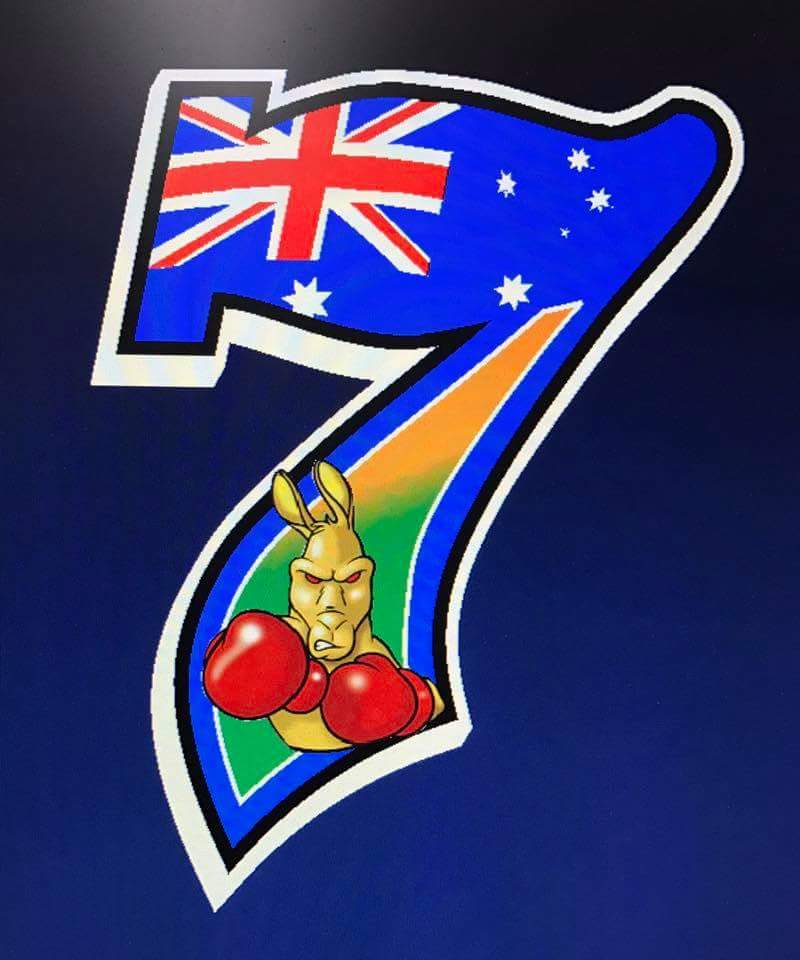 To get on a MotoGP bike, with the power they have got – they don't resemble a motorbike other than they have two wheels.
That is right. The motorbikes I have grown up on and learnt to ride on are very different to a MotoGP bike.  The bike is very special – it is different. Everything about it is different. It is a big learning curve but they are incredible to ride. I am grateful for the opportunity to ride one but the more time you spend on it they better you get on it, adapt to it as there is a big difference between them and the super bikes I have been riding.
What is the breaking feeling like? You can brake from 300km/h to 75km/h at Motegi.
It is incredible, amazing how much force is involved. Coming up to the end of the back straight at Motegi, you brake from just over 300km/h to less than 100km/h and you do that in the space of a couple hundred metres.  The amount of force involved is a massive eye opener.  The breaking in an Australian Superbike is so much less and it is a lot easier to do. When you are on the brake on a MotoGP bike, it is trying to throw you over the handle bars. It takes a lot of strength to hold you back in the seat – to not go over the front of the bike. It is a crazy feeling.
Who was the Ducati boss that came up and congratulated you after warm up on Sunday morning?
We had Davide Tardozzi there but there was two guys from Ducati there – and it was really awesome that they came – they came after almost every session to see how I was going and that I was level headed and make sure I was going ok. It was after the qualifying session on the Saturday – they came down and were stocked and thrilled with the lap time that I did and the position. They were trilled with the progress that I made. They were very happy and was great to make them happy with what I did with my riding.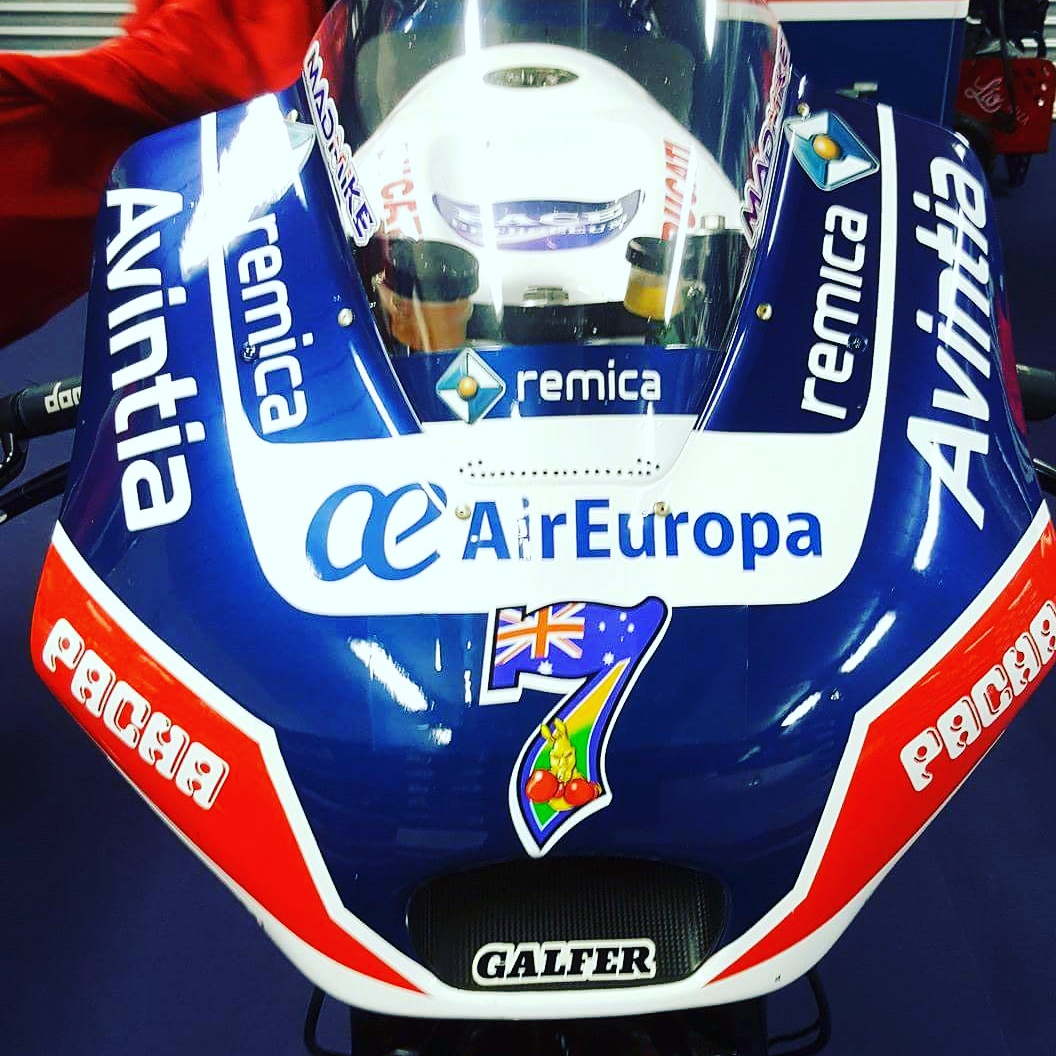 Were you doing all three rounds when you were at Motegi or did you have to prove yourself first?
To be honest, when I was Motegi, I thought was just for Motegi. After the race they asked if I wanted to come to Australia at the moment I don't know if it is for Sepang!  I don't know about it – a few people have asked but I am focused on this weekend. If the circumstances are the same again at Sepang – it is possible that I might come and ride again. The focus is this weekend and I don't know what the future – you just need to do what you can do.
It is the big one – the Australian GP – we are very proud of you!
Thank-you it is good!
Where do you see you finishing on Sunday – the weather will undoubtedly play a role.
The weather will play a big factor. I haven;t ridden the bike in the rain and I suspect that will be a bit learning curve on this bike. The goal is to qualify. It should be a bit easier and I know the track and have now worked with the bike and the team. That should be ok but I am not thinking of a result. The result of the race is a result of the work you put in. I can't guarantee a result for the race but I can guarantee the work I will put in. I will give it 100% and it will be what it will be. The higher up the better. We will see what happens.
Thank-you very much for the opportunity and the time to talk.
No drama at all. It is non-stop. It is really good to have the support. It is fantastic that people are getting behind me and supporting met. It makes me more motivated to give it my best!
The RacerViews info
Interview By Leonard Smith October 2016
RacerViews was established in 2011 and with the aim of delivering a new web experience to motorsport fans. We bring you more than just the news.  Our exclusive interview and galleries brings you the views from the track, from the racers. Our extensive race review collection allows you to keep up with the action from around the world. Our team of passionate pros have decades of experience in the motorsport field. Our social media presence on Facebook, Twitter and iTunes  bring you more, a holistic experience.  We have more than 3100 followers on Twitter and more than 2 million views on Google Plus.  Our mission is to bring exclusive content is in safe hands. Over the time we have partnered with motorsport teams likeAndreas Wirth, Stig Richards Motorsport, One of a Kind Motorsport, Dark Horse Racing and MRT Performance in order to give you the best exclusive motorsport coverage.
We are always looking for new people to join our team and we are always looking to publish stories, photos and audio in world-class publications around the world. If this interests you contact us