When things don't work, disasters tend to form out of nowhere. It looked good for New Zealand's Jono Lester, teaming up with the rapid Blancpain Champ, Liam Talbot. It didn't go their way and when AstroTurf plays a big part in your retirement, you know luck was not with you. Still there is exciting things to come…Lester takes it from here.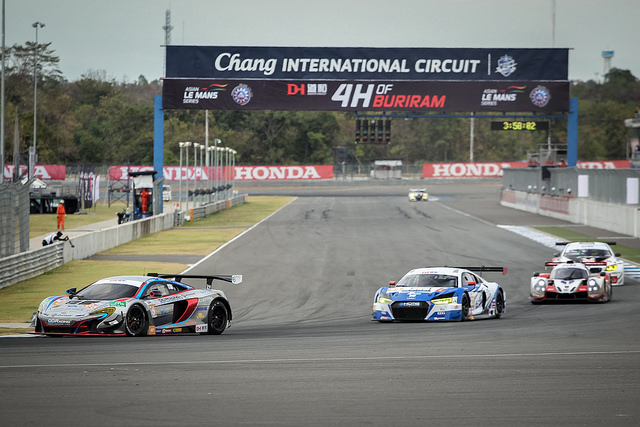 It wasn't my finest hour at Buriram and a disastrous weekend overall for OD Racing.
From running at the front in the last round at Fuji, we found ourselves at the opposite end of the field and no matter what we tried, the McLaren failed to find that competitive edge this weekend.
What we hadn't anticipated was the soaring cabin temperatures during the races, particular in my stint where I had a bit of a meltdown – something that has never happened in a 14 year career and not the best shot of confidence for the start of the 2017 season.
Eventually, the car was retired late in the race when we ran out of brakes.
I have to put my hand up and say that I feel I let the team down this weekend. Other drivers up and down pitlane also suffered in the the heat, with one requiring medical attention but thankfully he was OK.
Rather than dwell on the past, we have to push forward to the team's final round in Sepang in two week's time.
For me, that will be made a little easier by the distraction of a trip to Japan for the Tokyo Autosalon – an automotive extravaganza I've wanted to visit since I was a kid.
I won't be there as a fan though. Instead, we will be announcing my participation in the full 2017 Japanese Super GT Championship – a career-long ambition achieved and partnered with a talented young team who have a big future.
It's going to be absolutely mental! I'll share further details with all you during the week…
The RacerViews info
RacerViews was established in 2011 and with the aim of delivering a new web experience to motorsport fans. We bring you more than just the news.  Our exclusive interview and galleries brings you the views from the track, from the racers. Our extensive race review collection allows you to keep up with the action from around the world. The team of passionate pros have decades of experience in the motorsport field. Our social media presence on Facebook, Twitter and iTunes  bring you more, a holistic experience.  We have more than 3100 followers on Twitter and more than 2 million views on Google Plus.  Our mission is to bring exclusive content is in safe hands. Over the time we have partnered with motorsport teams like Andreas Wirth, Stig Richards Motorsport, One of a Kind Motorsport, Dark Horse Racing and MRT Performance in order to give you the best exclusive motorsport coverage.
If you have a motorsport story to share contact us!