The resounding theme for this year's 55th Rolex 24 At Daytona for the No. 10 Konica Minolta Cadillac DPi.V.R team and its drivers Ricky and Jordan Taylor, Max "The Ax" Angelelli and Jeff Gordon, and especially for team owner Wayne Taylor, was "unfinished business."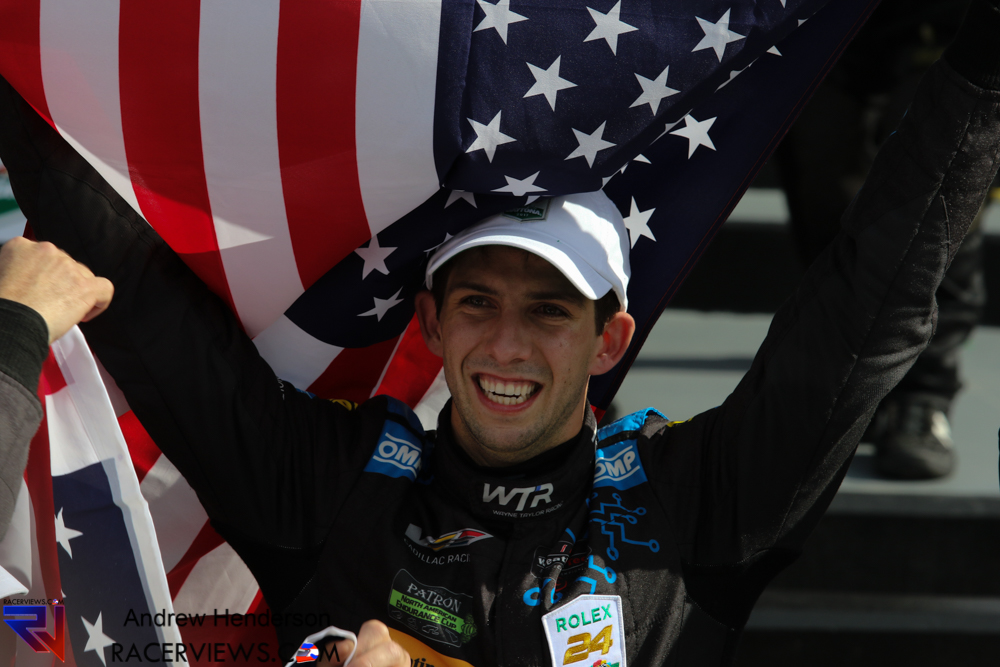 After the team turned in a trouble-free performance for the fifth consecutive year at this weekend's renewal of the traditional IMSA WeatherTech SportsCar Championship season opener, the Taylor brothers, the veteran Italian Angelelli and four-time NASCAR Cup Series champion Gordon were able to seal the deal this time, albeit by surviving a wild sprint to the finish Sunday, in scoring an emotional Rolex 24 victory in numerous respects. Call it "business finished."
Ricky Taylor, who qualified fourth and got things off to a solid start Saturday afternoon during his opening stint, made a thrilling pass for the lead of fellow Cadillac DPi-V.R driver Filipe Albuquerque in the No. 5 Action Express Racing entry just five laps from the finish – with just six minutes to go in the 24-hour marathon. Taylor then held off Albuquerque the rest of the way and took the checkered flag by a .671-of-a-second margin of victory.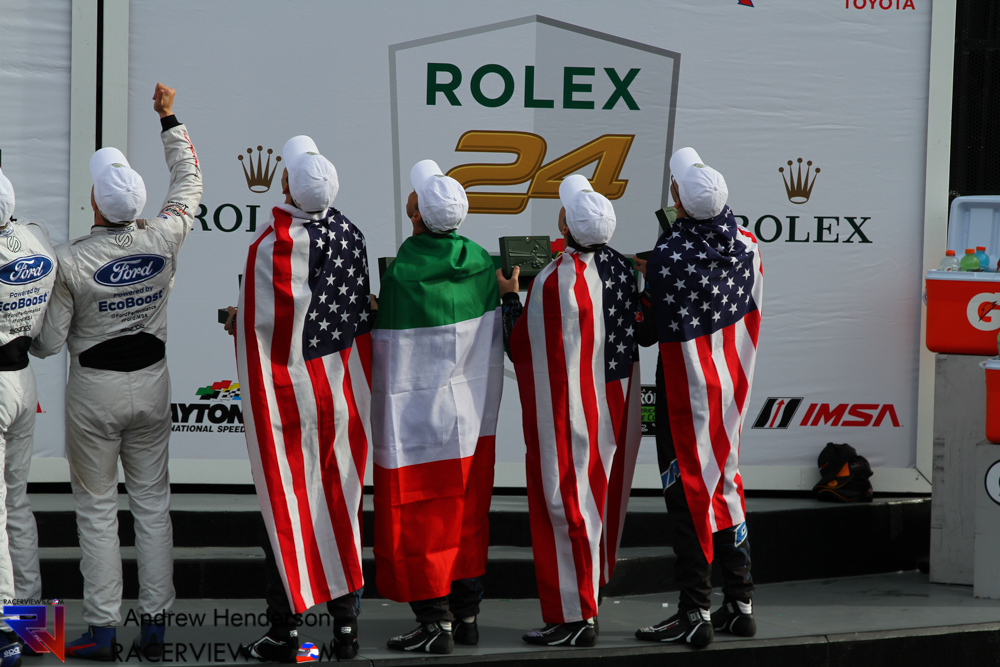 It went a long way toward erasing the relative agony of finishing second, second, third and second in the previous four Rolex 24s despite leading more laps in that time than any other team. With another race-high total of 263 of 659 race laps led this weekend, the team has totaled 963 laps led out of 3,539 total laps in the last five Rolex 24s – 27.2 percent. And, most importantly, the team finally got a well-deserved chance to celebrate in victory lane.
"It's unbelievable, I'm still shaking," said Taylor, who along with his younger brother upped his career victory total to 15. "It's so special, there are so many different storylines. You've got Cadillac's unfinished business from the LMP program which Max and my dad were both a part of the first go-round, and then wrapping that up by starting the new Cadillac program off with a win here at Daytona. And then to finish the way we did – I mean, it was an emotional day, regardless if we won the race, to have our last race with Max – but to win was really cool. And, obviously, we've got Jeff, as well. I mean, to add to his amazing career is a surreal experience. I'm just happy to be able to contribute to that."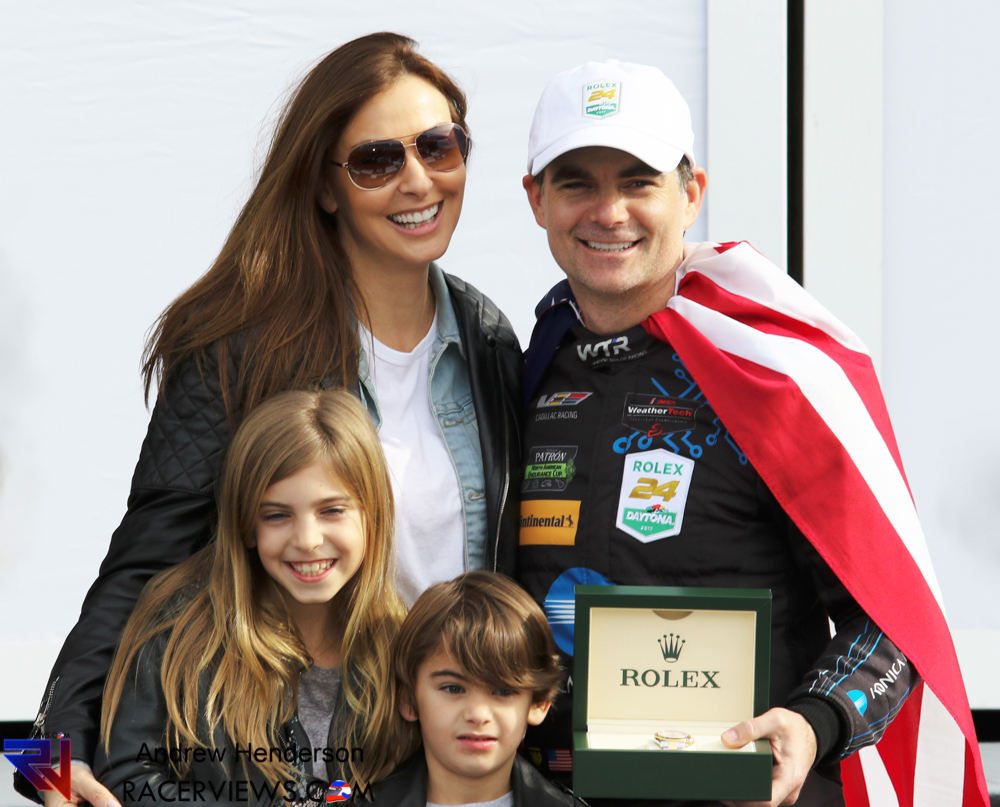 Having clearly the most dominant car that was strong in dry conditions for the first six hours and final three-plus hours of the race, as well as in wet, sometimes treacherous conditions during the middle 14-plus hours, it was only by a sudden twist of fate with just more than an hour to go that Taylor found himself in position to have to make the late pass for the lead.
He had a comfortable six-second lead over Albuquerque when a large piece of debris on the backstraight of the Daytona (Fla.) International Speedway circuit led to a caution period. Albuquerque was in position to quickly dive into the pits for tires and fuel just before the caution flag flew while Taylor had already passed by the entry to pit lane. Taylor then had to make his pit stop under caution and restarted in second place with several lapped cars between him and Albuquerque. Taylor was never able to get closer than within five seconds of Albuquerque, but then came another yellow flag with 30 minutes to go for an incident on track.
When the race went back to green with 20 minutes to go, Taylor was able to dive underneath Albuquerque into turn one on the restart but was unable to complete the move. He held that thought, however, staying close over the next eight laps while awaiting his next opportunity to make a pass. Then, with just six minutes to go in the race, Taylor took advantage of a slight drift by Albuquerque into turn one and was able to muscle his way by for the lead.
"The way I saw it, we came through GT traffic and I was closer than I had been," Taylor said. "He'd been struggling in turn one. Their car didn't look very good there, and we were really strong on the brakes. I had thought about doing this for years and years, and this has always been something – people always open up after that little kink in turn one – they open their hands a little bit, and it's just so easy to release the brake there and pop in there. If you get enough alongside, you can make it work, and I think he saw me coming, he saw me committing, and he closed the door. If he knew I was committing, why would you close the door and make us crash? From my perspective, it's Max's last race. There are a lot of emotions going on. I wanted to win terribly. We were either going to make a move and do something and win, or sit there in second and wait for – wait until next year, basically. I didn't want to do that. It was Max's last race – and we've been family for 20 years now. He's taught us everything we know. We used to have classes with Max. He used to be the 'Professor Ax,' and he'd come over to our house, and we'd have a pen and paper, and he'd teach us about downforce and he'd teach us about overtaking. Today was a good example of one of those lessons, I think. That was an Ax move."
Angelelli certainly was proud of his protégés in his final career race as a driver. He won this race for the first time in 2005 alongside Wayne Taylor en route to that year's driver and team championships. Five years earlier, in 2000, he and their father started a three-year run campaigning the Cadillac Northstar LMP effort but did not experience the kind of success they had hoped for before the program was terminated. This weekend, Angelelli and the Taylors were back to debut the latest-generation Cadillac prototype program that the veteran Italian spent the last two years working behind the scenes with as program manager. He decided to make this weekend's Rolex 24 his swan song as a driver in order to devote full time to his Cadillac responsibilities. And what a swan song it was.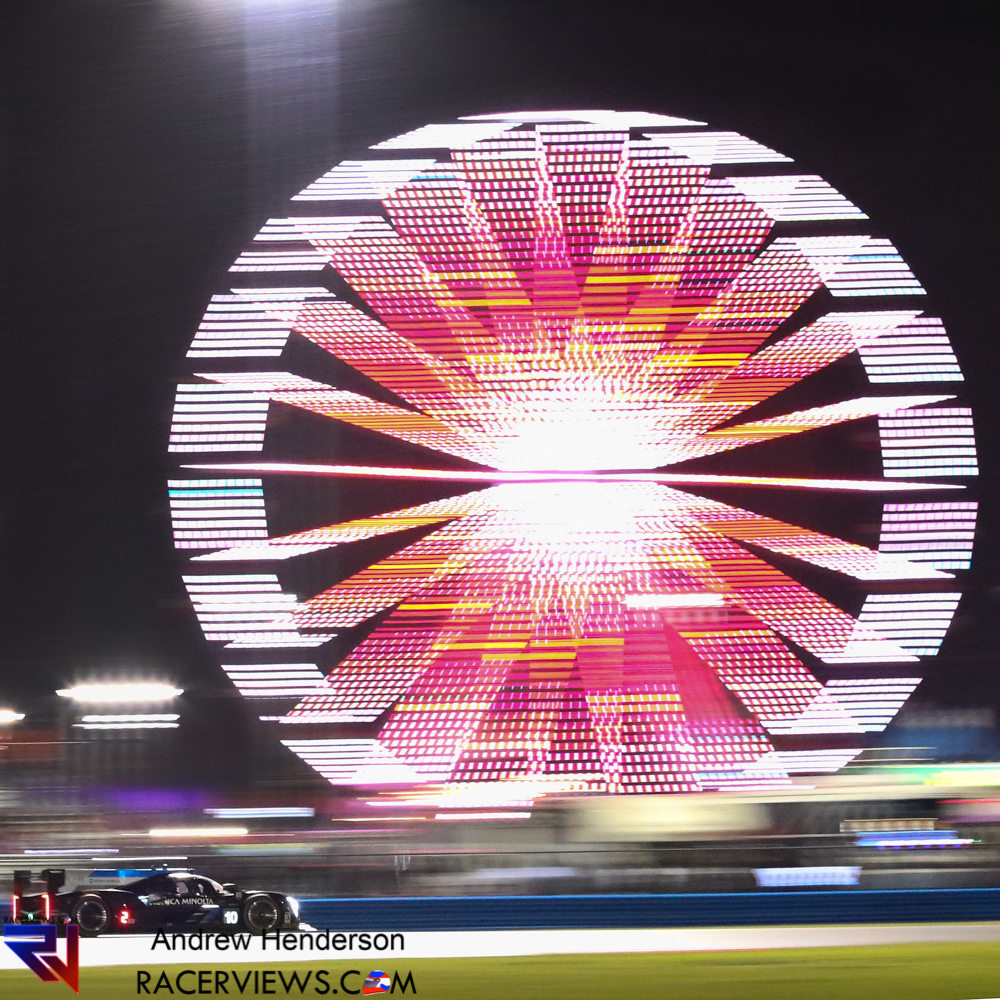 "Oh, it's just wonderful," said Angelelli, whose second Rolex 24 win was the 28th of his career overall – third-most all-time in North American sportscar racing. "I'm just speechless. I could not believe it. What better than this? I'm very happy. Happy for what I did and what I've achieved with the boys and Jeff today, to finish my career with a win, a big win like this one in the Rolex 24, it's great. You know, I'm thankful to the Taylors, the family."
Jordan Taylor and Gordon were equally instrumental in keeping the Konica Minolta Cadillac DPi-V.R in the top-three for all but the opening four laps of the race. Taylor turned in his typically smart, steady performance and worked closely with Gordon in aclimating the retired NASCAR Cup Series driver to the Cadillac DPi.V-R.
"Yeah, the past four years, and now five with this year, we've had flawless runs," Taylor said. "We've never gone to the garage. We've never lost a lap. It's always just been tires, fuel and driver and, thankfully, we had another one of those days today."
Gordon, whose first and only other career sportscar race came at this very race in 2007 with this very team, when he co-drove with Wayne Taylor, Angelelli and Jan Magnussen to a third-place finish, this weekend's effort was much more satisfying, especially in light of the fact he was much more intensely engaged in the team's preparation effort.
"This is very surreal to me, this whole experience and moment, to have this on my résumé," said Gordon, who became only the fourth driver in history – joining A.J. Foyt, Mario Andretti and Jamie McMurray – to win both the Daytona 500 and the Rolex 24. "It's a very elite group that's won the Daytona 500 and the Rolex 24 together. That's something I'm very, very proud of. But I think more than anything is this experience for me of – not to take anything away from 2007 with Max and Jan and Wayne –what amazing racecar drivers both Ricky and Jordan are and how difficult this race is. You know, this experience to me was about building this bond and this friendship that I didn't expect to happen because of the way they welcomed me in, and we had a lot of fun along the way. They answered all my questions because I had a lot of them, and they helped me adapt, and that's what helped us as a group, I think, to go out there and win. And then I was able to learn just how talented they are. I mean, I was so impressed while watching all night. I was glued to the TV every second, every lap. I couldn't sleep because I wanted to watch these guys do what they did in the rain, in the cold, in the most treacherous conditions, and they did it at a level, that I'll be honest, I'm not capable of doing, and I was so impressed. Then you go to the last stint of a 24 hour race and you see it come down to that, and it was a thrill of a lifetime, and I'm just so honored to be sitting here and be a part of this experience."
Wayne Taylor, who won this race as a driver in 1996 as well as in 2005, was especially proud to be able to kick off his second tour of duty with Cadillac by scoring a historic win with his sons alongside his longtime co-driver and business partner Angelelli and with a four-time NASCAR Cup Series champion in Gordon. It was an emotional post-race celebration, to say the least.
"First, I've got to thank everybody certainly for being here," Taylor said. "You know, Cadillac, Max and I drove back in the early 2000s part of our career, and the program ended shortly after that, but I always believed and wanted to come back with Cadillac and have this unfinished business. And today with Ricky, Jordan, Max and Jeff, they gave it to me. It's just been such an honor to have Jeff on board. He came in 2007 with us, we finished third when I was still driving, and another special thing is that Max and I were teammates for so many years. We won the 24 hour together in 2005, and we won the championship together, and now he wins the 24 hour with my kids, which is really, really special. I just have to thank my boys and Jeff and Max and Konica Minolta and Cadillac and my friends Rick Taylor and Mike Mathe and everybody who has supported me over the years."